Two months after her boyfriend killed himself, the Massachusetts woman who allegedly encouraged him to end his life got off a phone call with the man's mother and immediately knew she was in trouble.
"I just got off the phone with Conrad's mom, and she told me … [police] have to go through his phone and see if anyone encouraged him to do it on texts and stuff. Sam, they read my messages with him I'm done. His family will hate me and I can go to jail," Michelle Carter allegedly wrote in a message to a friend.
As Carter's involuntary manslaughter case entered into its second day, the prosecution read from a series of texts in its effort to paint the now-20-year-old as a desperate attention seeker, who encouraged her boyfriend Conrad Roy III to kill himself in 2014 so she could gain the sympathy of her classmates.
Prosecutors read several texts aloud in Taunton Juvenile Court on Wednesday, which were sent by Carter to friends after Roy died on July 12, 2014.
Many were nearly identical.
A text sent by Carter, on the night Roy died, to friend Samantha Boardman said: "Sam, he just called me and there was a loud noise like a motor and there was moaning like someone was in pain … that's all I heard."
She later texted Boardman again, saying: "I think he just killed himself."
In a text to classmate Alexandra Eblan, Carter allegedly wrote: "He called me, and I heard like muffled sounds and some kind of motor running and he wouldn't answer," she later added that she thought Roy was dead.
In another message sent to classmate Olivia Mosolgo, Carter allegedly wrote: "I was talking to him on the phone when he killed himself. Liv, I heard him die. I just wish I got him more help."
Roy died after running a water pump inside his black Ford F-250. But in the hours leading up to his death, while Carter texted classmates and friends that Roy was missing, she was actually in constant contact with him, prosecutors says.
Related: Teen Accused of Coercing Boyfriend to Kill Himself Sent Texts to Grieving Mother
The prosecution alleges that Carter and Roy texted until he parked in the parking lot of a K-Mart and turned on the water pump. When he arrived, they spoke on the phone until Roy died, prosecutors said.
In a message to Boardman in September 2014, Carter again said she had been on the phone with Roy in the moments before his death, but this time allegedly revealed she had been encouraging him to follow through with his plan.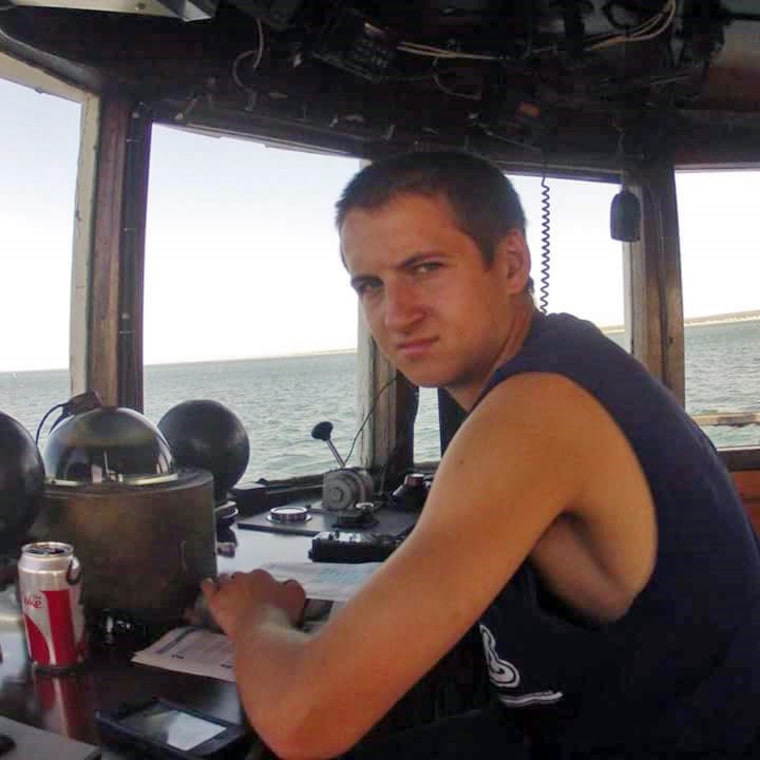 "Sam, [Roy's] death is my fault like honestly I could have stopped him I was on the phone with him and he got out of the [truck] because it was working and he got scared and I f------ told him to get back in Sam because I knew he would do it all over again the next day and I couldn't have him live the way he was living anymore I couldn't do it I wouldn't let him," Carter said in a text to Boardman.
Prior to Roy's death, Carter had also sent a text message asking if there was "anyway a portable generator can kill you somehow," adding that Roy had obtained a generator, but she didn't know why.
Roy had allegedly attempted to kill himself in the days leading up to his actual suicide using a generator to fill his truck with carbon monoxide. However, the generator broke during the process, according to the prosecution and defense.
On July 10, two days before Roy's actual suicide, Carter began sending out texts saying that Roy was missing.
"Conrad's missing. They can't find him anywhere," She wrote in a text to Eblan.
The prosecution called these texts Carter's "dry run."
"She begins to get the attention she craved for," assistant district attorney Maryclare Flynn said during her opening statement on Tuesday. "So she has to make it happen. She has to make him kill himself so that she's not seen as a liar."
Eblan, Mosolgo, Boardman, and classmate Ali Eithier all testified before Judge Lawrence Moniz on Wednesday.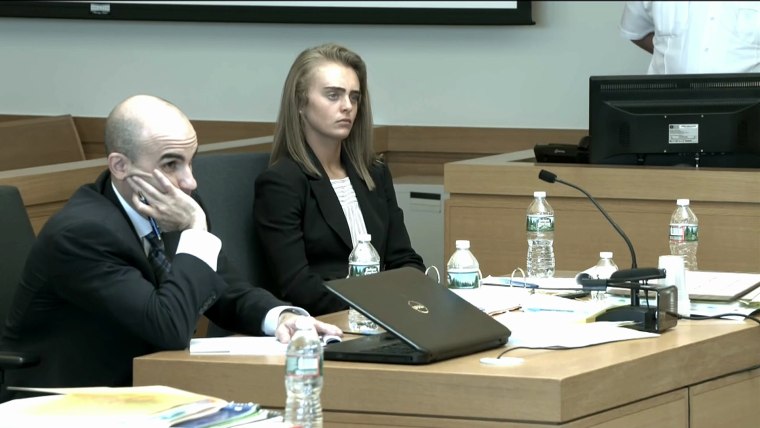 Each woman said they had a sporadic relationship with Carter, mostly involving text messages. Boardman, who appeared to be the closest to Carter, said she tried to help Carter with an eating disorder, but became frustrated when she didn't follow through with her suggestions.
All four women said they tried to console Carter to the best of their abilities when she texted them about Roy's suicide. Eithier suggested Carter speak with a therapist because the women didn't know each other well.
In several texts Carter expressed self-loathing and lamented that she often "pushed people away" and texted them too frequently, typically resulting in the ending of the relationship. In several texts, she stated she had no friends. She also apologized to them often.
Three of the women testified that they attended a fundraiser for suicide awareness organized by Carter about a month after Roy's death. Before the event, called "Homers for Conrad," she messaged Eblan.
"Hey, I put the 'Homers for Conrad' on Facebook. I'm like famous now, haha. Check it out," Carter wrote.
On the first day of the trial, Carter's defense team alleged that Roy was a depressed teen, who had attempted suicide once before by overdosing on Tylenol. The defense also stated that Carter was 30 miles away at the time of the suicide and could not physically force him to comply.
Roy regularly looked up various methods to kill himself, the defense said, and Carter had previously suggested that the both get help for their mental illnesses together.
During a portion of the time Roy and Carter were in contact, Carter was on Celexa, a treatment for depression, which can trigger side effects like irrational thinking, irritability and poor impulse control, defense attorney Joseph Cataldo said.
If convicted, Carter faces up to 20 years in prison.