A substance-abuse counselor who struck a pedestrian with her car and drove through a Los Angeles suburb with the dying man on her windshield was sentenced Thursday to 55 years to life in prison.
A jury earlier this year convicted Sherri Lynn Wilkins, 53, of second-degree murder, driving under the influence and hit-and-run.
Prosecutors said Wilkins' blood-alcohol level was nearly twice the legal limit when she struck 31-year-old Phillip Moreno in November 2012 as she was leaving a counseling center.
Sign up for breaking news alerts from NBC News
She drove 2 miles through the city of Torrance before other motorists swarmed her car at a traffic light and kept her there until police arrived. Moreno was taken to a hospital, where he died.
Superior Court Judge Henry Hall said, "Ms. Wilkins demonstrated an extraordinary callousness in fleeing the scene and trying to shake Mr. Moreno's body off her car. This is a callous murder, not an unfortunate act."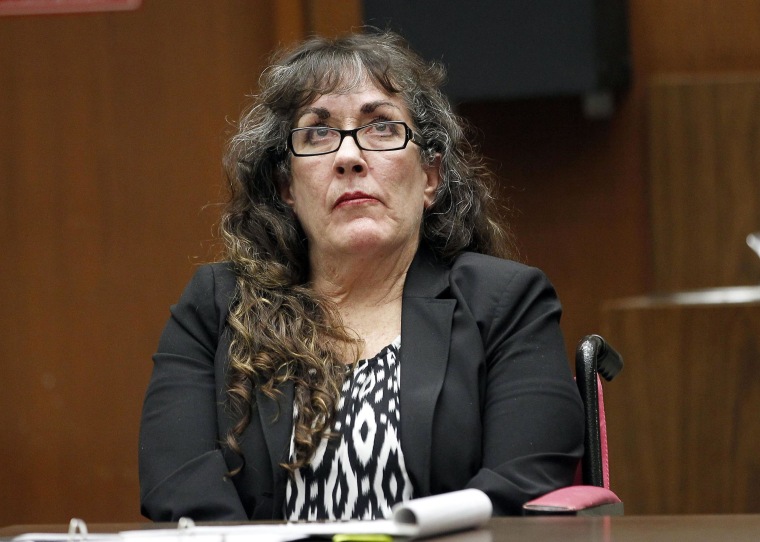 Hall rejected a plea from the defense and sentenced Wilkins under California's three strikes law, citing her long history of drug-related crimes. That tripled the minimum 15 years to life she could have received otherwise before being eligible for parole.
Wilkins, who was a drug addict before she became a drug and alcohol counselor, contended she wasn't drunk that night. She claimed she was "self-medicating" while waiting for knee-replacement surgery and had consumed three single-serving bottles of vodka and a can of Budweiser beer and Clamato before starting to drive.
In her first apology since that night, Wilkins turned toward 16 Moreno family members and friends in the courtroom Thursday and said what happened was a "tragedy."
"I am sorry for the pain I caused you," she said. "It hurt so many people."
The judge said he carefully considered the three strikes element.
"Ms. Wilkins is not what we normally see," Hall said. "She's not a classic violent criminal. But you have to evaluate her history. She had an insatiable desire to become intoxicated."
She also had a "relatively unbroken crime history" dating back 34 years, he said.
Wilkins' attorney, Deputy Public Defender Nan Whitfield, said she would appeal.
- Associated Press