Three women's rights groups joined Wednesday to challenge abortion laws in Alaska, Missouri, and North Carolina, hoping to build on their success in the US Supreme Court earlier this year.
In the most important abortion case in 25 years, the justices in June struck town a Texas law requiring abortion clinics to meet the same construction standards as walk-in surgical centers. It also required doctors to have admitting privilege at nearby hospitals.
The court ruled that the law imposed obstacles on a woman's right of access to abortion without providing any medical benefit.
The new round of lawsuits challenges nearly identical restrictions in Missouri. "The unjust and medically unnecessary restrictions have reduced the number of health care centers in the state to just one," said Julie Rikelman of the Center for Reproductive Rights, which is joining with the ACLU and Planned Parenthood in the new cases.
The law at issue in Alaska bans abortion in outpatient health centers after the first trimester. And the challenged provision in North Carolina says women who need abortions after the 20th week of pregnancy can receive that care only if they face a medical emergency.
"For many women, the right to have an abortion is more theoretical than real," said Jennifer Dalven of the ACLU.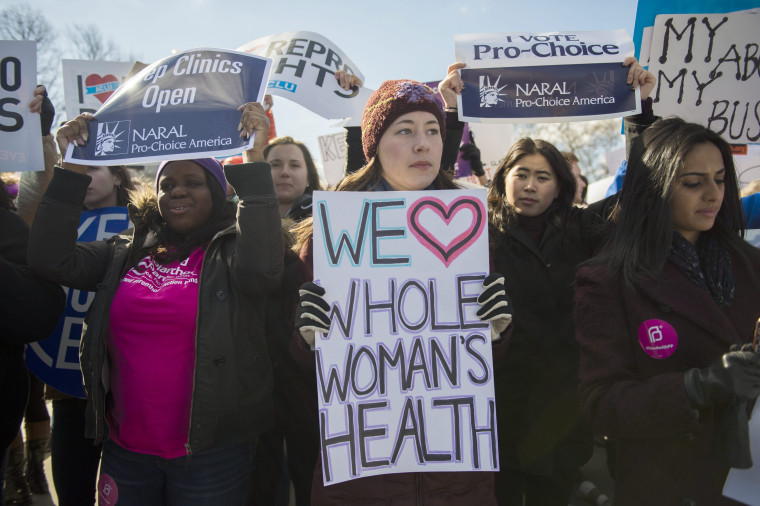 Nearly 99 percent of abortions occur before 21 weeks. "But when they are needed later in pregnancy, it's often in very complex circumstances, the kind of situations where a woman and her doctor need every medical option available," Planned Parenthood said.
While other states have similar restrictions, Rikelman said Wednesday's court challenges are aimed at states where women face the greatest restrictions on access to abortion clinics.
The groups said they are considering whether to file a lawsuit over a new Texas law requiring fetal remains to be cremated or buried, which they said would increase the cost of an abortion. The law takes effect December 19.