Film director Woody Allen has responded to accusations that he sexually molested the adopted daughter of actress Mia Farrow when she was a child.
"Of course, I did not molest Dylan. I loved her and hope one day she will grasp how she has been cheated out of having a loving father and exploited by a mother more interested in festering anger than her daughter's well-being," Allen, 78, says in a response published on The New York Times website Friday.
Dylan Farrow, 28, wrote a harrowing open letter published on Times columnist Nicholas Kristof's blog last Saturday in which she alleged instances of inappropriate touching and other encounters with Allen.
In his response, which will be published in the Sunday print edition of the Times, Allen says that he never sexually molested Dylan Farrow and alleges that she was likely "coached" by Mia Farrow, whom he dated for 12 years. They split up in 1992 after Farrow discovered Allen was romantically involved with her oldest adopted daughter, Soon-Yi Previn, whom he eventually married and with whom he has two adopted daughters.
"Mia insisted that I had abused Dylan and took her immediately to a doctor to be examined. Dylan told the doctor she had not been molested. Mia then took Dylan out for ice cream, and when she came back with her the child had changed her story," he wrote in the Times.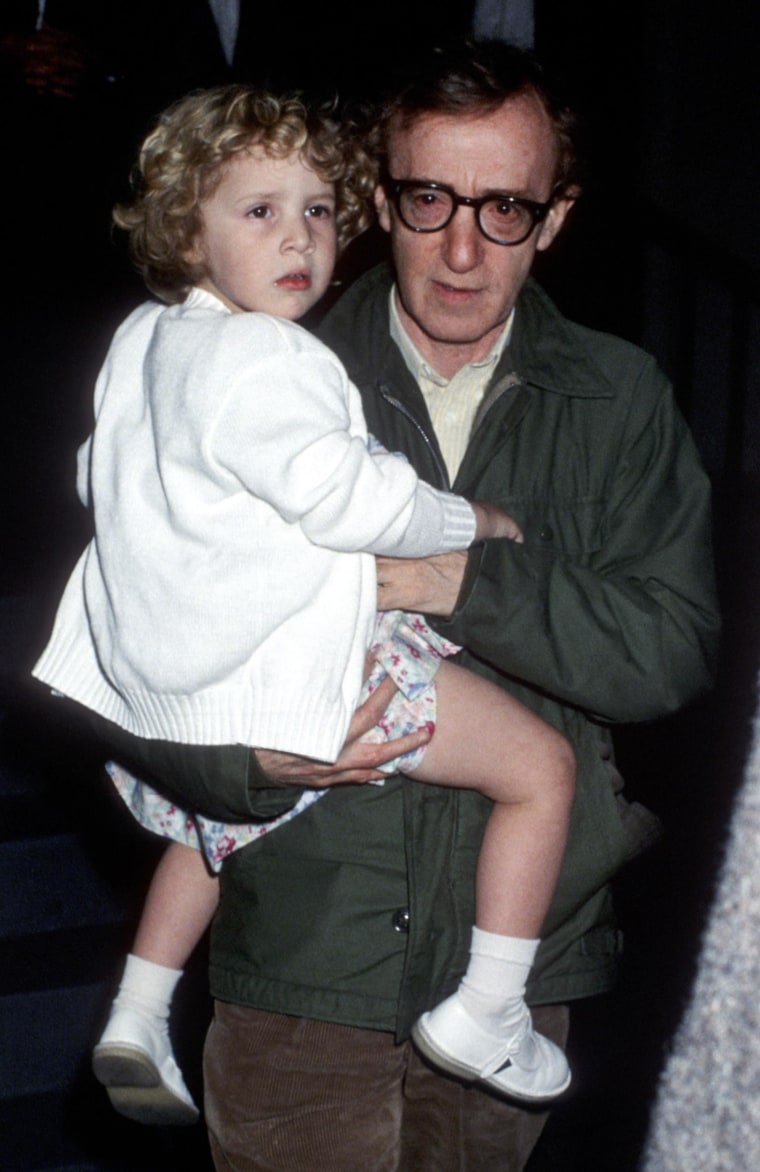 Allen wrote that the Child Sexual Abuse Clinic of the Yale-New Haven Hospital investigated the allegations of abuse and determined that he did not sexually molest Dylan Farrow.
He writes: "Could it be any clearer? Mr. Allen did not abuse Dylan; most likely a vulnerable, stressed-out 7-year-old was coached by Mia Farrow."
After police in Connecticut investigated the charges in 1992, Allen was not charged.
In his response, Allen appears to accuse Mia Farrow of acting vindictively after their romantic relationship ended.
"We were involved in a terribly acrimonious breakup, with great enmity between us and a custody battle slowly gathering energy. The self-serving transparency of her malevolence seemed so obvious I didn't even hire a lawyer to defend myself."
He goes on to say: "Now, suddenly, when I had driven up to her house in Connecticut one afternoon to visit the kids for a few hours, when I would be on my raging adversary's home turf, with half a dozen people present, when I was in the blissful early stages of a happy new relationship with the woman I'd go on to marry — that I would pick this moment in time to embark on a career as a child molester should seem to the most skeptical mind highly unlikely. The sheer illogic of such a crazy scenario seemed to me dispositive."
Allen also appears to cast doubt on Mia Farrow's credibility, suggesting that she may have been sexually involved with Frank Sinatra during her relationship with Allen. In an interview with Vanity Fair last year, Farrow said that Sinatra is "possibly" the father of her 26-year-old son Ronan — not Allen.
NBC News has contacted Mia Farrow's management team requesting a response to Allen's allegations. In a tweet on Feb. 4, Mia Farrow said: "I love my daughter. I will always protect her. A lot of ugliness is going to be aimed at me. But this is not about me, it's about her truth."
In a statement issued late Friday, Dylan Farrow said: "Once again, Woody Allen is attacking me and my family in an effort to discredit and silence me - but nothing he says or writes can change the truth. For 20 years, I have never wavered in describing what he did to me."
Dylan Farrow noted that the New York Supreme Court ruled against Allen's attempt to gain custody of the couple's other adopted children and denied him unsupervised visits. She pointed out that the Connecticut prosecutor in the case said there was probable cause to prosecute Allen but decided not to to spare her from a trial. But legal experts at the time criticized the prosecutor's statements.
Allen, whose most recent film "Blue Jasmine" is nominated for three Oscars, was recently honored with a lifetime achievement award at the Golden Globes, which actress Diane Keaton accepted on his behalf on Jan. 12.
Following that announcement, Ronan Farrow tweeted: "Missed the Woody Allen tribute — did they put the part where a woman publicly confirmed he molested her at age 7 before or after Annie Hall?"