Woody Allen's comments on the sexual harassment scandal is yet another example of "men protecting men," says the president of the largest women's organization in the world.
For Allen, the famed Hollywood director who in 1993 was accused of molesting his 7-year-old adopted daughter, offering thoughts on the Weinstein allegations was a minefield to begin with, women's rights advocates and attorneys say. The allegations, which were lodged in the context of a child custody dispute, has never been proven, and Allen has denied them.
But instead of carefully tiptoeing through, Allen made it worse by downplaying the claims as rumors and by warning against a potential "witch hunt" of men in Hollywood, the advocates say.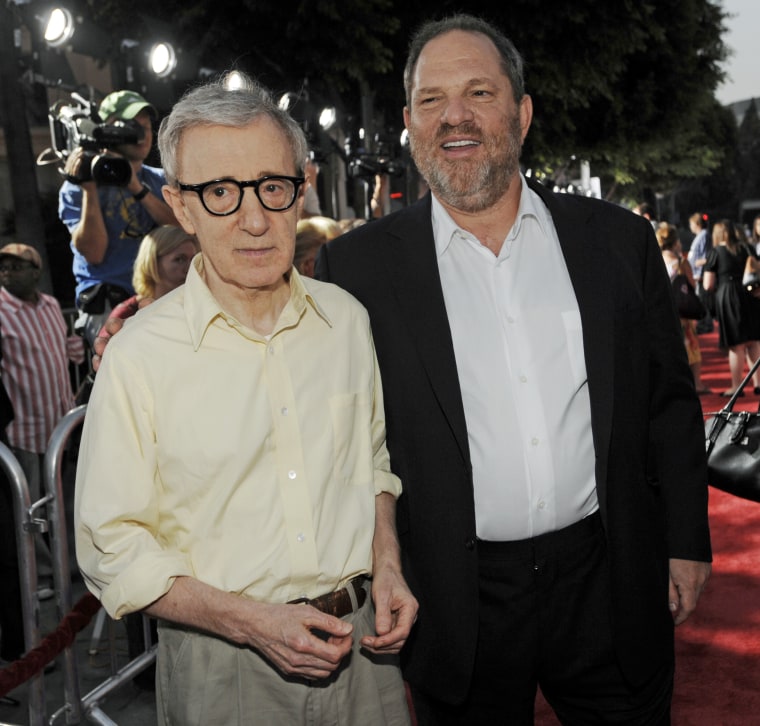 "This is once again men protecting men," Toni Van Pelt, president of the National Organization for Women (NOW), said. "Men get permission from comments like Woody Allen made to continue to isolate women."
Related: #MeToo: Hashtag Becomes Anti-Sexual Harassment and Assault Rallying Cry
Allen, 81, told the BBC on Saturday that the situation was "very sad for everybody involved."
"Tragic for the poor women that were involved, sad for Harvey that [his] life is so messed up," Allen said.
But, he added, "you also don't want it to lead to a witch hunt atmosphere, a Salem atmosphere, where every guy in an office who winks at a woman is suddenly having to call a lawyer to defend himself. That's not right either."
No one ever came to him with "horror stories," Allen continued. "But you do hear a million fanciful rumors all the time. And some turn out to be true and some — many — are just stories about this actress, or that actor."
Allen later sent a clarification to Variety Magazine.
"When I said I felt sad for Harvey Weinstein I thought it was clear the meaning was because he is a sad, sick man," his statement read. "I was surprised it was treated differently. Lest there be any ambiguity, this statement clarifies my intention and feelings."
That wasn't enough for Nina Frank, an associate with New York-based Outten and Golden law firm, who represents employees in discrimination and harassment matters. She called Allen's comments "ridiculous."
She said it's hard enough for victims to come forward without having to worry about being accused of instigating a "witch hunt."
"There's a lot of self-blame that goes on when you're sexually harassed at work. You don't want that to be the reality of your workplace and you try to minimize it to yourself because it's a horrible situation. It detracts from your ability to do your job," she said. "And the way our society works, we don't believe women when they come forward, so it's very difficult to do so."
Related: Weinstein Lesson: Lot to Lose, Little to Gain by Reporting Sex Harassment
Noreen Farrell, executive director of Equal Rights Advocates, a national nonprofit fighting for the rights of women and girls, said Allen's "witch hunt" comment was "laughable and dangerous."
"What more does it take to get everyone in this country to understand that women and girls are the hunted, at schools, college campuses and in the workplace?" she asked.
Allen has denied molesting his adopted daughter, Dylan Farrow. Regardless, said NOW president Van Pelt, that's an important part of his history.
"When he says 'no one ever came to me or told me these horror stories' — why would they?" she said.
"I think that it's very telling that it is his son that is working on this story," she added, referring to Allen's estranged son Ronan Farrow, who wrote the bombshell New Yorker report detailing more than a dozen claims of misconduct against Weinstein. Farrow is also a contributing correspondent for NBC News.
Weinstein was ousted Saturday from the Academy of Motion Picture Arts and Sciences. He has also been fired from the TV and movie company he co-founded with his brother. His representatives say "any allegations of nonconsensual sex are unequivocally denied" by him and that he did not retaliate against women who rejected his advances.
Allen and Weinstein worked on a number of films together, including the Oscar-winning "Mighty Aphrodite." In 1994, Weinstein and his company, Miramax, came to Allen's defense as the allegations of sexual abuse started to chip away at his career.
"Here's my advice to men: Just don't wink."
"Shunned by Hollywood means nothing to Miramax," Weinstein told The Los Angeles Times at the time. "We're talking about a comic genius."
Van Pelt said she hoped Weinstein's case, and Allen's comments, would help illuminate right from wrong for other men.
"Here's my advice to men: Just don't wink," she said.