An American World War II veteran and his wartime girlfriend will spend this Valentine's Day together following an emotional reunion after more than 70 years apart.
Norwood Thomas, 93, laughed Wednesday as he met and hugged Joyce Morris, 88, for the first time since 1945.
"This is about the most wonderful thing that could have happened," said the former U.S. paratrooper, who flew 9,000 miles to Australia to see his long-lost sweetheart after they reconnected via Skype.
Norwood, from Virginia Beach, was 21 when he met a then-17-year-old Morris in London shortly before the 1944 invasion of Normandy.
He returned to the U.S. after the war, and they exchanged letters. Thomas asked Morris to come to the U.S. to marry him, but she misunderstood and thought he'd found someone else, so she stopped writing.
The two eventually married other people. Thomas' wife died in 2001; Morris divorced her husband after 30 years.
However, the flame never quite went out.
Last year, Morris asked one of her sons to look for Thomas online and they found his name featured in an article about D-Day.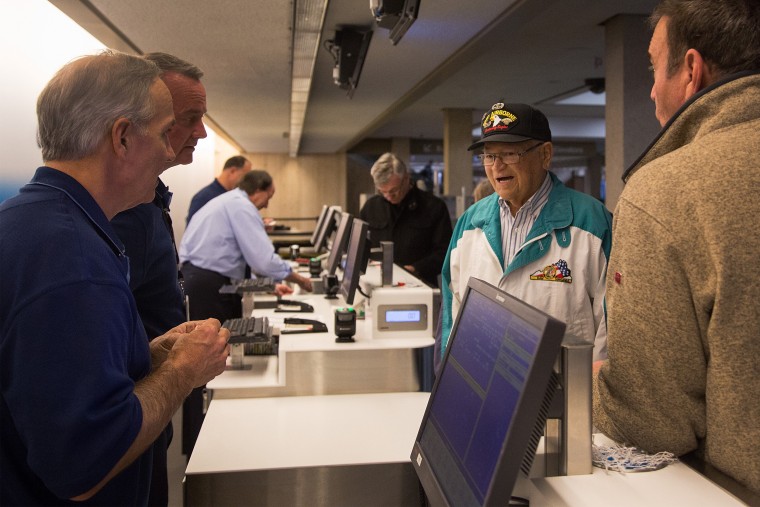 After their story was featured on Australia's Channel 7, hundreds of well-wishers made donations to help fund an emotional reunion.
"We are going to have a wonderful fortnight together," she said to him as they finally embraced in the city of Adelaide.
Norwood said: "It was a nice feeling to see this woman that I hadn't seen in 70 years."
He told reporters about the night he first saw her, in wartime London.
"This friend and I were walking across a bridge at Richmond across the Thames river and we looked down below and saw these two young ladies that were talking to a man about renting a row boat so we decided we'd go down and say 'hello,'" he said.
"This young lady had a smile that would melt you and of course I was melted and it very rapidly developed into something from attraction to a very strong affection."
She recalled: "We snogged, as you call it, when it was dark and nobody could see us."
The reunited couple reflected on how their paths never again crossed — but wished they had.
"I would have had a totally different life … and probably a much happier one," Morris said.