The tires on the 1996 bus that slammed into a big rig in California over the weekend were worn so far below safety standards that the bus could have been taken out of service, investigators said Tuesday.
The motor coach, owned by USA Holiday tours, hit a tractor-trailer early Sunday, killing the driver and 12 passengers and injuring more than 30 other people.
National Transportation and Safety Board (NTSB) officials said a preliminary examination of the tread on the 1996 MCI bus found that multiple tires were worn below safety standards.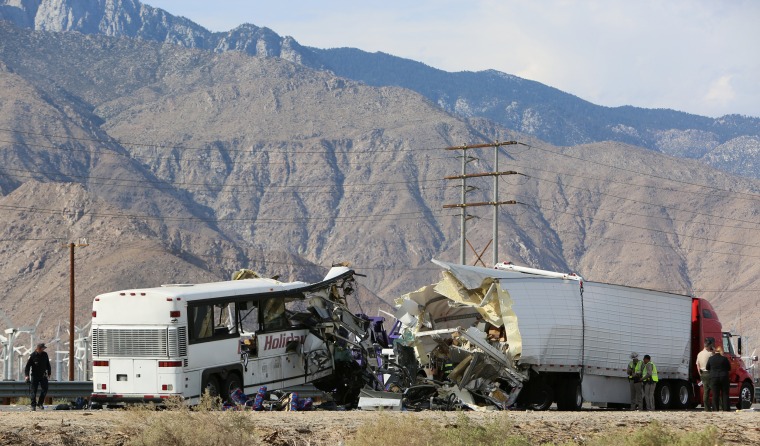 "Based on tire conditions, the vehicle was out of compliance with Commercial Vehicle Safety Alliance inspection criteria, and it could have been placed out of service," Earl Weener, an NTSB board member, said at a news conference.
Worn tires can affect a vehicle's ability to grip the road. Weener said the NTSB will continue to investigate vehicle conditions as well as driver histories to determine what caused the accident, but he cautioned that it could take at least a year for a full picture to emerge.
Related: Police Identify Victims in Palm Springs, California, Bus Crash
The tour bus was returning to Los Angeles from the Red Earth Casino in Thermal, Calif., when the accident occurred.
Jim Abele, chief of the California Highway Patrol's Border Division, said Monday that there was no indication that the driver, Teodulo Elias Vides, braked before hitting the tractor-trailer.
Hospital officials said that the bus model was not equipped with seat belts and that the majority of injuries indicated that passengers were thrown from their seats.
A 2015 NTSB study found that drivers are generally unaware of the importance of tire maintenance and the risks associated with driving on aging tires.