A former Ohio State University wrestler who publicly claimed that his then assistant coach, Rep. Jim Jordan, knew the team doctor molested him but failed to act has sued the school for unspecified damages.
Dunyasha Yetts, who is named in the complaint obtained by NBC News and filed Wednesday, is joined in the federal lawsuit by 15 other former Ohio State students who allege that the school ignored victims' complaints of abuse at the hands of Dr. Richard Strauss. They are seeking a jury trial.
The all-male group includes Mark Coleman and Nick Nutter who have spoken publicly about the alleged abuse.
It also includes Adam DiSabato, who is the brother of Mike DiSabato, the whistle blower whose abuse claims sparked the Strauss investigation and who is part of another ongoing lawsuit against Ohio State that was filed in May.
There are also six John Doe's in the filing, including one who was not identified as a former Ohio State athlete.
The group's lawyer, Rocky Ratliff, is also an ex-Ohio State wrestler who has spoken publicly about being abused by Strauss.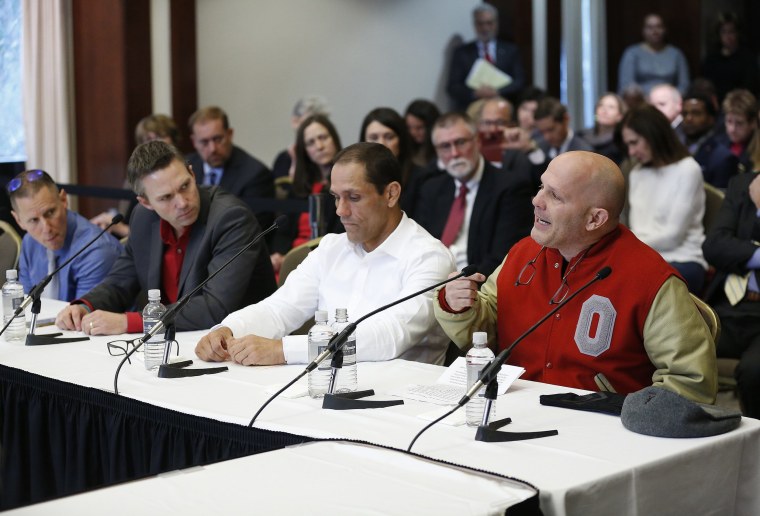 While Jordan is not named in this lawsuit, Yetts told NBC News he expects the powerful Republican congressman, as well as former head coach Russ Hellickson, will be identified in filings to come but will not be named as a defendants. He said the decision not to do so right now was strategic and that the athletes wanted to keep the focus on Ohio State's failure to stop Strauss.
"I told Rocky that I wanted to name Jordan and Russ in my lawsuit," Yetts said. "They will be held accountable."
The lawsuit, which is one of at least five that have been filed against Ohio State, comes on the heels of a report released in May which concluded that Strauss sexually abused 177 male students.
The Perkins Coie law firm, that was picked to conduct the independent investigation, also concluded the Ohio State coaches and other top school administrators knew for two decades what Strauss was doing but failed to sound the alarm or stop him. They said the athletes and their coaches were also ignored when they complained to higher-ups about strangers ogling them in the showers at their training center in Larkins Hall.
When asked for comment on the lawsuit, Ohio State referred NBC News to president Michael Drake's apology on behalf of the university to the victims after the Perkins Coie report was released.
"Our institution's fundamental failure at the time to prevent this abuse was unacceptable - as were the inadequate efforts to thoroughly investigate complaints raised by students and staff members," Drake said in a statement.
Yetts said he and many of his former teammates were outraged after Jordan claimed he was exonerated by the Perkins Coie report.
"For me this is personal because it's a lie he keeps telling that he didn't know," Yetts said of Jordan in an interview with NBC News. "If you're saying you didn't know your guys were being assaulted by a team doctor and you found that out in a report, the first thing out of your mouth shouldn't be 'I was vindicated.' If I knew one of my brothers was assaulted, the first thing I would do is run across the country and say I'm sorry this happened to you."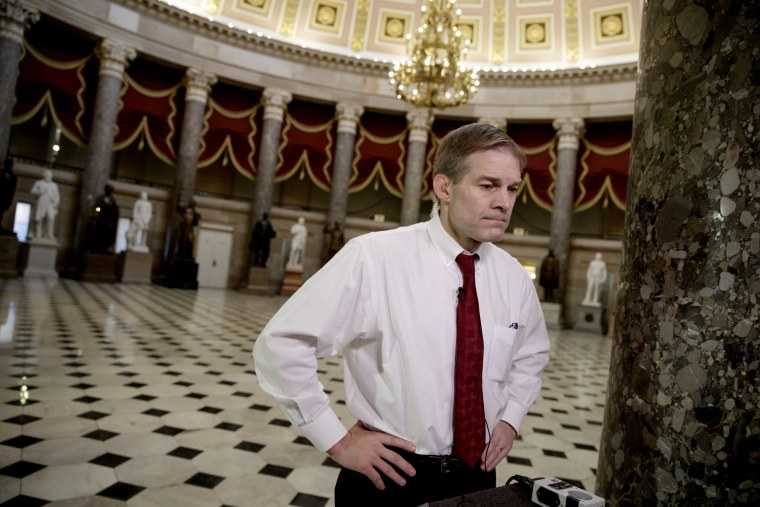 Jordan, who maintains he did not even hear any locker room talk about Strauss, was not named in the Perkins Coie report. But the investigators were unequivocal in the conclusion that Strauss' behavior was an "open secret" at the school.
They wrote that it appeared to students "that their coaches, trainers and other team physicians were fully aware of Strauss' activities, and yet few seemed inclined to do anything to stop it."
Jordan was an assistant wrestling coach at the university from 1986 to 1994. In response to a request from NBC News for comment about the new lawsuit, his spokesman Ian Fury said in an email, "You have our statement."
When NBC News first reported in July 2018 that Jordan was accused of failing to stop Strauss from molesting the student athletes, Fury denied the allegations, saying "Congressman Jordan never saw any abuse, never heard about any abuse, and never had any abuse reported to him during his time as a coach at Ohio State."
Hellickson did not return a call from NBC News for comment. A day after NBC News reported last July the claims by Yetts and others that Jordan turned a blind eye to Strauss' alleged abuse, Hellickson reached out to Yetts and tried to get him to recant, according to text messages reviewed by NBC News.
In the complaint Coleman said Strauss sexually abused him at least 30 times. The former UFC world champion initially told the Wall Street Journal that Jordan had to have known about Strauss' misconduct, but later recanted his claim against the congressman.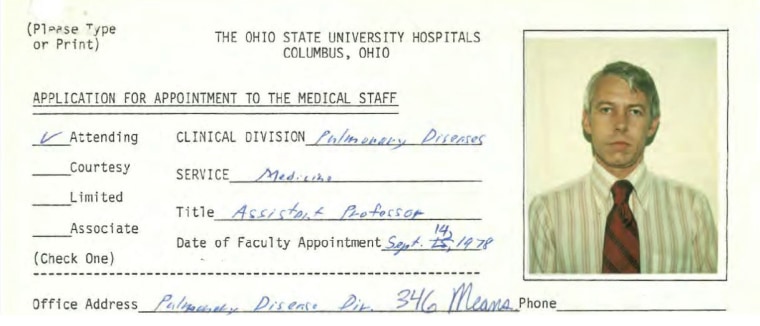 Strauss, who signed on at Ohio State as an attending physician in September 1978 and served as the team doctor in the athletics department from July 1981 to June 1995, killed himself in 2005. His family has expressed regret for his actions and cooperated with the Perkins Coie investigators.
The former Ohio State students all claim that Strauss groped them repeatedly under the guise of giving physicals and "would rarely wear any type of latex gloves," according to the complaint.
Former wrestler William Knight said he went to see Strauss for infected tonsils "and ended the examination with a penis grab."
"For a long time, Mr. Knight believed that Dr. Strauss liked to look at the white wrestlers on the wrestling team and feel up the black wrestlers on the wrestling team," the complaint states.
Knight, in the complaint, said he talked to the coaching staff in 1995 about the "sexual harassment" at Larkins Hall. That was a year after Jordan left the school and was elected to the Ohio General Assembly.
Nutter described how he went to see Strauss at his home for a bad case of poison ivy and found himself being fondled in the doctor's bedroom, "which was dimly lit by a few candles" and said he had "a bunch of black and white photos of bare-chested males on the walls."
The other plaintiffs described other ruses Strauss allegedly used to molest athletes, often in graphic detail.
"Plaintiffs take no pleasure in bringing this lawsuit," the complaint states. "OSU is an esteemed institution of higher learning and a large majority of the Plaintiffs continue to love OSU dearly and remain devoted members of The Buckeye Nation."