OMAHA—For Keny Medrano-Cambara, it was a routine Thursday morning babysitting her niece, a brown-haired, brown-eyed toddler named Brianna Martin: Feed her Cheerios. Change her diapers. Put her down for a nap.
When Brianna awoke at Medrano-Cambara's apartment, she was vomiting. Her temperature was dropping. "I knew something wasn't right," Medrano-Cambara, 34, recently recalled. She immediately dialed Brianna's mother's cell phone.
It was 12:30 p.m. on July 8, 2010.
At 10 p.m. the next night, at the intensive care unit at Children's Hospital and Medical Center, Brianna was pronounced brain dead; shortly after that, her ventilator was removed. She was 17 months old.
The cause of death was blunt force trauma to the head, but doctors also discovered bleeding on her brain, which had swollen, and hemorrhaging in her retinas. These were the classic signs of shaken baby syndrome, the much-debated form of child abuse first identified in the early 1970s.
When Medrano-Cambara was charged with murdering Brianna, her crime became the latest in a region relatively rife with shaken baby abuse cases, according to a recent study by the Northwestern University's Medill Justice Project. The analysis of about 3,000 cases from a 25-year period showed that Nebraska diagnosed shaken baby abuse more often than any other state in the country, with 3.32 cases per 100,000 people; the next highest was Utah at 2.84 cases per 100,000 people.
Nebraska claimed two of the nation's top 10 "hot spots" by county, with Sarpy County, just south of Omaha, ranking first in the nation at 7.45 cases per 100,000 people. Douglas County, which includes Omaha, came in fourth, at 4.85 cases per 100,000 people.
But the diagnosis has been disputed in recent years. Since the late 1990s, experts have dueled over everything from the syndrome's scientific foundation to whether accidental injuries may produce the same "triad" of symptoms seen in Brianna—cerebral edema and retinal and subdural bleeding.
The onset of these symptoms was believed to occur immediately after the abuse. If law enforcement could identify the last known person to handle the child, pursuing criminal charges was that much easier. In many cases, a medical opinion with little or no corroborating evidence was enough to obtain a conviction, said Deborah Tuerkheimer, a professor of law at DePaul University.
"It was a medical diagnosis for murder," Tuerkheimer said. "The doctor would get up on the stand and say, 'This was a baby who was shaken to death. It was so forceful that it couldn't have been an accidental jostle.'"
In a recently published book, Flawed Convictions: 'Shaken Baby Syndrome' and the Inertia of Injustice, Tuerkheimer detailed more than half a dozen successful challenges to shaken baby convictions.
Experts have dueled over the syndrome's scientific foundation and whether accidental injuries may produce the same "triad" of symptoms.
At Northwestern, researchers discovered a range of factors behind several hot spots identified in the study. There were influential doctors and hospitals. There were media outlets that followed shaken baby cases closely, prompting a heightened awareness. There were laws that influenced how those cases were investigated.
In Omaha, experts at Project Harmony, a child abuse protection group that handles shaken baby cases in the region, attributed the area's high rate to the organization's forward-leaning structure: police officers, social workers, forensic interviewers and a pediatrician who specializes in child abuse work as a team out of the group's two-story office building in suburban Omaha.
Some criminal defense lawyers offered a grimmer assessment of Project Harmony.
"Once somebody says, 'The triad theory says this person is guilty,' that's the end of the story," said one attorney, Michael McClellan, who helped defend Medrano-Cambara. "There's no objectivity."
In the winter of 2011, when Medrano-Cambara was charged with child abuse resulting in the death of Brianna, she had no criminal history. Since following her husband to Omaha from Guatemala nearly a decade before, Medrano-Cambara had lived a quiet life. She didn't speak much English, and she spent most of her time tending to their children. Just months before the arrest, she had their third child, a daughter.
Though the authorities found no additional evidence of abuse, they concluded that Brianna was the victim of a non-accidental injury. A combination of the triad, a bruise on the back of the toddler's head and a lack of recent medical problems meant that her symptoms had been swift.
"A vast majority of children who suffer fatal brain injury are immediately unresponsive," wrote Suzanne Haney, a pediatrician at Project Harmony who examined Brianna, according to court documents.
"Brianna's fatal injury most likely occurred at her babysitter's house."
Despite intense questioning from police, Medrano-Cambara denied doing anything wrong. At one point, an officer asked if she had requested forgiveness from God for killing Brianna. "How can I ask for forgiveness for something I didn't do?" said Medrano-Cambara, who is Catholic and did not have a lawyer with her, according to transcripts.
Medrano-Cambara pleaded not guilty. Her husband, Ruben, hired a veteran criminal defense lawyer, Michael Nelson, and a national debate over the syndrome's validity and the use of the triad in criminal cases spilled into an Omaha courtroom.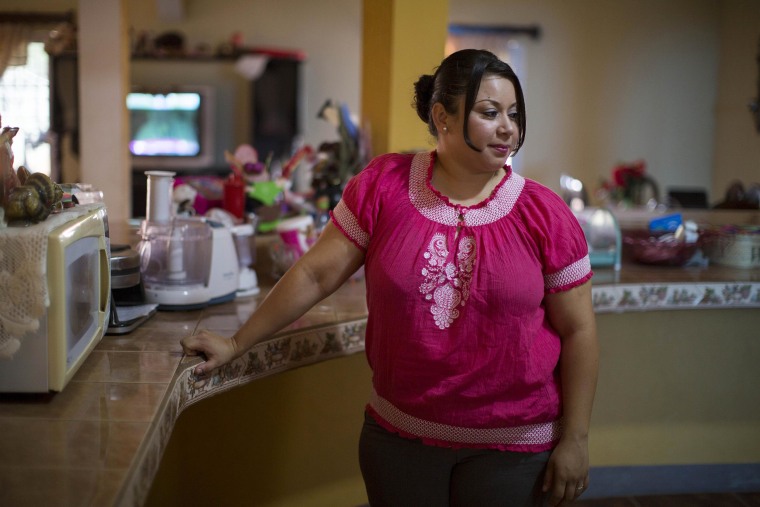 That debate began nearly two decades ago, after a British nanny in Boston was charged with shaking an eight-month-old boy to death. During the televised trial that followed, the prominent criminal defense lawyer and co-founder of the Innocence Project, Barry Scheck, assembled a team of experts who challenged one of the most critical elements of shaken baby syndrome: timing.
Scheck argued that the skull fracture that caused the boy's brain bleed could have occurred weeks before he died. When the jury found the nanny guilty of murder, the judge vacated the conviction, reducing it to involuntary manslaughter; she was sentenced to time served.
A widely circulated, sharply critical letter signed by 50 pediatricians was published shortly after, arguing that Scheck's experts offered little more than a "courtroom 'diagnosis.'"
So began a clash over how well established the evidence behind the shaken baby diagnosis actually was. Doctors questioned whether accidental injuries such as short distance falls can cause the same brain trauma as violent shaking. The original syndrome concept broadened, and different terms, such as "abusive head trauma," were used. Cases with little or no corroborating evidence became less frequent.
Tricia Freeman, the chief deputy prosecutor for Sarpy County, said in an interview that her office would never prosecute a case that relied solely on medical opinion.
"There's always something else," she said.
Freeman recalled one such case from 2006, when emergency workers found an unresponsive young boy in the care of his mother's boyfriend.
Doctors discovered the triad of symptoms, as well as bruising and other signs of physical abuse. The infant's brain was so swollen that part of his skull needed to be removed.
"He'll never recover at this point, at least without some miracle," Freeman said.
The boyfriend pleaded guilty to intentional child abuse and is serving a 20-year sentence in prison.
In Medrano-Cambara's case, however, the forensic pathologist who performed Brianna's autopsy testified that on the day before she died, the toddler showed possible symptoms of traumatic brain injury: she vomited twice. The bruise on the back of her head did not appear to have been caused by abuse, the pathologist said; instead, it seemed consistent with a fall.
Whether that happened is unknown. But Nelson argued that it was never investigated—that the doctors and police officers who work with Project Harmony identified the triad and concluded that Medrano-Cambara killed Brianna.
"It starts a ball rolling and they don't do anything else," Nelson said.
Medrano-Cambara requested a bench trial, and on a March morning two years ago, the judge presiding over her case issued his verdict. Based on the medical experts who testified, the judge, W. Mark Ashford, said that he was unsure if the triad theory was based on sound science. The rest of the criminal investigation had been far too minimal, Ashford said, and in the end, he was left with too many questions.
After 16 months in jail, Medrano-Cambara was freed.
At home, she struggled to adjust. She couldn't sleep, and her youngest daughter didn't recognize her. "I cried a lot," she said in Spanish. "It was a terror."
Her time at home was brief, however. She was undocumented, and after her arrest, Immigration and Customs Enforcement initiated proceedings to deport her. Rather than remain in custody and fight to stay in Omaha, Medrano-Cambara negotiated a deal: after a few months with her family, she would have to return to Guatemala.
Medrano-Cambara now lives in Jutiapa, about an hour from Guatemala City, with her three children, two of whom were born in the United States. From there, she is seeking to return to Omaha legally. Ruben has a work permit and has remained in Nebraska. On February 11th, he and Keny filed a lawsuit against Douglas County officials and Project Harmony for negligent investigation and prosecution. (No dollar amount is specified in court filings.)
"What these people caused to my family is an irretrievable harm," Ruben said in a recent interview.
"How can I ask for forgiveness for something I didn't do?"
Douglas County Attorney Don Kleine did not respond to interview requests. At Project Harmony, neither Haney nor the group's executive director, Gene Klein, would discuss specific cases, and a spokeswoman declined to comment on the lawsuit.
But Haney and Klein disputed Nelson's characterization of their approach to shaken baby syndrome.
"Defense lawyers don't sit in in our meetings," Klein said. "The disagreement that's there is profound on some cases. We want that. We think better decisions are made when you have different perspectives that all have an equal weight in the room."
Haney added that nearly half of the potential abuse cases that Children's Hospital refers to her turn out to be related to an accident or a medical condition.
"It's not a flippant decision, where we're going to call in all these cases and call them horrible parents," she said.
Yet in Sarpy County, public defender Christopher Lathrop pointed to a case a couple of years ago where Haney appeared to have quickly concluded that a caregiver caused a traumatic brain injury in a young girl. After retinal and subdural bleeding was found, the caregiver was charged with intentional child abuse resulting in severe harm; she faced a maximum sentence of 50 years in prison.
During a court hearing, Lathrop recalled, Haney was "emphatic" that the girl's symptoms were immediate. But a prominent pediatrician in Oakland who agreed to review the child's medical history found the opposite: she appeared to have been suffering from brain injury symptoms for a few months, if not since birth.
After the pediatrician discussed the child's history with Haney, the charges were dismissed, Lathrop said. In his view, however, the damage was already done: the babysitter was jailed for two months before posting bond and her day care license was suspended. She since has left the field altogether.
"She is no longer comfortable having kids in her house," Lathrop said.
Haney would not discuss the case. But, she said, "There is never a rush to judgment. I understand and take seriously the implications of every diagnosis I make."
Freeman, the Sarpy County prosecutor, pointed to the dismissal as an example of her office's willingness to re-evaluate a case in the face of compelling evidence.
"I'm not going to say that we're absolutely doing it right all the time," she said. "But I feel pretty confident that when we proceed, we proceed because of the totality of the evidence and a complete investigation."
As for Medrano-Cambara and her husband Ruben, they're pressing forward with their lawsuit, even as they lament how this case has affected their lives.
"Nothing in the world could fix this suffering," Ruben said.