When President-elect Donald Trump was inducted into the WWE Hall of Fame in 2013 before a raucous crowd, he made a point to single out and thank Linda McMahon, the matriarch of the wrestling empire, who would become his pick to lead the Small Business Administration just three years later.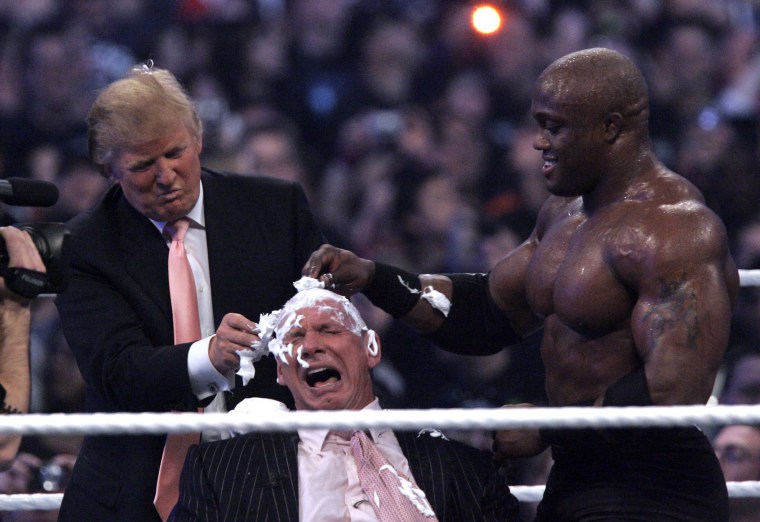 Trump, who spent much of his acceptance speech bragging about how a WWE telecast he participated in had "the highest ratings, the highest pay-per-view in the history of wrestling of any kind," was hailed at the time by McMahon's husband Vince as a "Wrestlemania institution," but that might have been an understatement.
The future president has been a fixture in the theatrical world of professional wrestling almost since the beginning of its modern incarnation in the 1980s.
He infamously appeared at Wrestlemania IV in Atlantic City in 1988, where he was seen on camera alongside the late mobster Robert LiButti, whom Trump claimed he'd never met and wouldn't recognize.
Related: Trump's Cabinet Picks Have a Combined Wealth of $14.5B
And in the years since, Trump has taken an even more active role in the McMahon family business, often playing a foil opposite Vince McMahon, who is usually cast as a villain.
In 2007, he tried to show up McMahon by dropping "buckets of cash" on the crowd at a WWE Raw event ("How dare Donald Trump embarrass me like this!" an apoplectic McMahon bellowed).
In 2009, he pretended to sell "Monday Night Raw" back to McMahon because "I can do whatever the hell I want."
And in 2013, in the "Battle of the Billionaires" (a.k.a. "Hair vs. Hair"), Trump got physical, tackling McMahon to the ground and then pumping his fist in the air. McMahon, the loser of that bout, had his head shaved by Trump.
Even in his Hall of Fame acceptance speech, Trump was still in character, challenging McMahon to a fight the following year. "I will kick his a-- if he wants, I will kick his a--," Trump said.
However, behind the scenes, Trump has enjoyed a much more cordial and friendly relationship with the McMahons. Trump has even hosted two of their Wrestlemania events at his properties.
"Vince is an amazing man, he really is, we kid and we have fun, but everybody knows he's an amazing guy," Trump said backstage after his WWE Hall of Fame induction.
Linda McMahon, who can be seen giving Trump a standing ovation at the end of his speech, donated $6 million to Rebuilding America Now, a super PAC that supported the Republican's presidential campaign, and she and her husband have also given $5 million to his foundation, which would make them that controversial entity's largest outside donor, according to the Washington Post.
Related: Why Donald Trump's Business Dealings Matter
Linda McMahon, a former U.S. Senate candidate in Connecticut, has been critical of Trump's past comments about women.
"He's not helping, certainly, to put women in the best light," she said in an interview with Yahoo's Katie Couric in March of this year. "Maybe he regrets them, maybe he doesn't. I realize he punches hard when he punches back, but that's just over the top."
Later, she conceded in an interview with the Associated Press that while Trump was not her first choice for president (she was a Chris Christie supporter) she believed he could be "a vessel that has housed this anger and this dissatisfaction" and called him "an incredibly loyal, loyal friend."
Just like Trump, her husband and her two children, Linda McMahon has a penchant for playing a direct part in the wrestling action. For example, in 2003 she was 'tombstoned' by a wrestler called Kane.
And in 2005, she got 'stunned' by WWE star Stone Cold Steve Austin in a clip that would come back to haunt her (as well several other videos which highlighted the WWE's treatment of women) during her unsuccessful U.S. Senate bids in 2010 and 2012.
Not all wrestling aficionados are pro-Trump. In wake of his rise up the political ranks last year, a Change.org petition penned by a wrestling fan called for his WWE Hall of Fame honor to be revoked.
"Donald Trump is promoting a violent and discriminatory war on people of different religions and nationalities right here in our country, but WWE still has him in their Hall of Fame! Please sign my petition urging WWE to remove Donald Trump from the Hall of Fame," the petition reads.
The petition argues that if wrestling legend Hulk Hogan was removed from WWE promotional material for past racist statements he made, than Trump should be too for his own incendiary comments about Muslims and Mexicans. The petition currently has just over 10,000 signatures.