Tennessee teacher Frank Michanowicz can't wait for the school day to start.
For the last 30 years, he has set foot in different classrooms at metro Nashville's public schools to substitute teach. But while most subs worry about tending to a class of new names and faces, this 91-year-old World War II veteran can rest assured that he is the highlight for the students who have him.
Mr. Frank, as he's affectionately called, has lent a hand to teachers and schools in need of extra help for almost three decades — this after retiring from a three-decade-long career as an educator in Europe for U.S. government schools.
"When I wake up, I'm so excited to get to school and see those happy faces who are waiting for me," Michanowicz told NBC News. "They give me energy — it somehow transfers from them to me."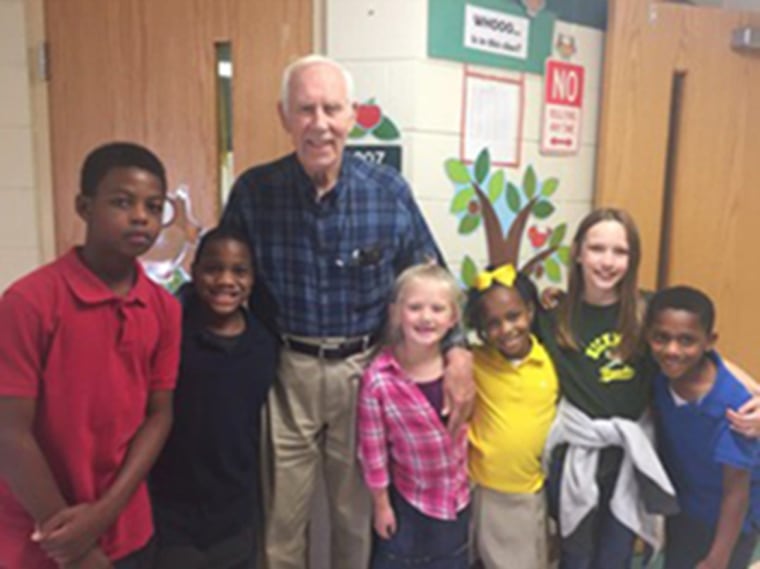 At a time in life when most nonagenarian's are taking it easy, Michanowicz is revving up.
"It's a gift to have him," said Shannon Harrison, a counselor at Hickman Elementary School, one of Michanowicz most frequented schools. "He commands respect, and the children show him nothing but love and appreciate his enthusiasm — and that's tough to do for a substitute teacher."
He still insists on memorizing each of his student's names despite getting a new lot every day, Harrison added.
The son of Polish immigrants, Michanowicz said his calling to teach came in high school when he found himself struggling to connect with his teachers because of his difficulty with the English language. For anyone who didn't fit the norm, school was not enjoyable, he said.
"I had such a hard time, and I had to do what I could to make sure I could make it easier for other kids like me," he said.
So he set out to teach, even though his older brother urged him on a different path to become a dentist. But by that point, the world changed for everyone.
Deployment, Then a Degree
After World War II broke out, Michanowicz, then just 17, suspended his studies to enlist in the U.S. Navy.
He was stationed throughout the South Pacific and distinctly remembers a near-death attack by Japanese aircraft there.
"The aircrafts were dropping torpedoes and bombs all over. And to my right, one of the destroyers that was with us was hit with a kamikaze and it went down in five or six seconds," he said. "We picked up the survivors — one of them was the captain of the ship — and got to safety."
"It's a gift to have him."
The war, which officially ended in September 1945, was over not much longer after that chaotic scene, he said.
The memories of his service flood back to Michanowicz with a sharp precision, even of the tiniest details like the hair color of his fellow soldiers.
"He's sharp as a tack," Harrison said. "Every year we celebrate Veteran's Day, and what other school has an actual World War II veteran working? Not visiting, but working as a teacher."
After getting a master's degree in administration in 1955, Michanowicz moved to Europe to work as an educator and administrator at Department of Defense schools.
After a 30-year career abroad and a comfortable nest egg, Michanowicz could have taken it easy after retiring. Instead, he began a new career in his 60s as a substitute teacher in the public school system.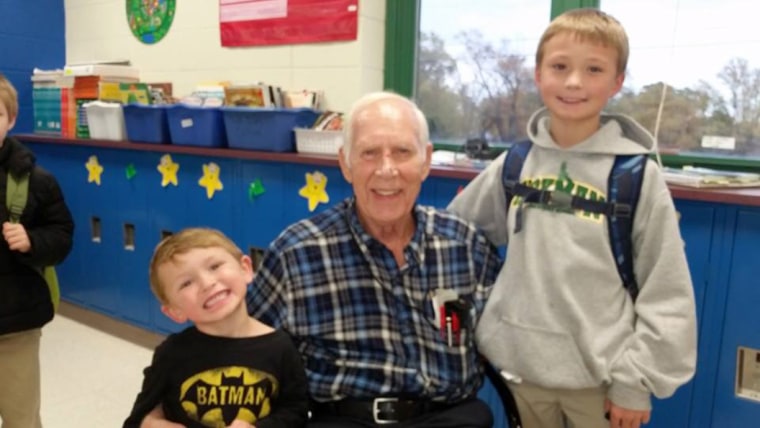 "He's not just an inspiration to these kids but to all people our age," said wife of 62 years, Barbara Michanowicz. "I'm just so proud of him," she added.
And he's never looked back.
"He's my grandmother's age but still has the energy to work with young kids," said Katie Caplenor, whose children are taught by Michanowicz. "Most people are (in) assisted living at that age, but he's still working."
Her 10-year-old son, Max, says he "loves" everything about Michanowicz.
"He's really nice to everyone and he would always read us books and tell us stories about what it was like [in the past]," the boy said.
Finding His Passion
Michanowicz says his secret to children is a simple lesson in listening.
"Children listen to you if you give them time and you're a good listener," he said. "It goes a long way if you just listen to them, and not cut them off. You can learn a lot from listening."
The sage advice works not just for students but for fellow teachers.
When retired Nashville teacher Dianne Hartsfield had a sudden family death in 2004, it was Michanowicz who heard her despair and stepped in as a sub for her 22 first-grade English Language Learners.
"He told me, 'I will take care of you and your classroom as long as you need me,' and gratitude flooded my eyes with tears," Hartsfield said. "This man has a God-given ability to work with children and for several years I watched him comfort and calm the most troubled students in school."
A few weeks ago, the Metropolitan Nashville Public School District honored Michanowicz with a Dedicated Service Award for being the longest-serving substitute teacher.
"I had to trick him into going by saying he was one of my guests," said James Wilson, a teacher at Hickman Elementary. "He's so humble, I'm not sure he would have gone knowing he was getting an award."
He's got this "magic" with kids that most teachers "wish" they had, Wilson added.
Michanowicz — true to his humble nature — doesn't think his work is ultimately about him.
"Children need people like me and it's my pleasure to be around them and be inspired by them," Michanowicz said. "If you find your passion in life, why stop?"