For girls who were depressed, drinking, skipping school or fighting with their families, Trinity Teen Solutions claimed to offer a cure. Desperate parents paid $6,000 a month to send their children to the Christian therapeutic program at a working ranch in a remote area of Wyoming, often without visiting first.
What girls encountered once they got there, according to 22 women who spent time at the ranch as teens from 2007 to 2020, was a nightmare of hard labor and humiliating punishments that left some injured and others with post-traumatic stress disorder. 
In recent interviews and court filings, the women described injuries to their hands, legs and feet, including cuts, frostbite and in one case torn ligaments requiring surgery, from hauling heavy metal pipes to irrigate fields and carrying bales of hay they said weighed over 50 pounds. The girls built barbed wire fences, dragged carcasses of dead animals into a pile and were driven around the county to clean churches and recreation centers, they said.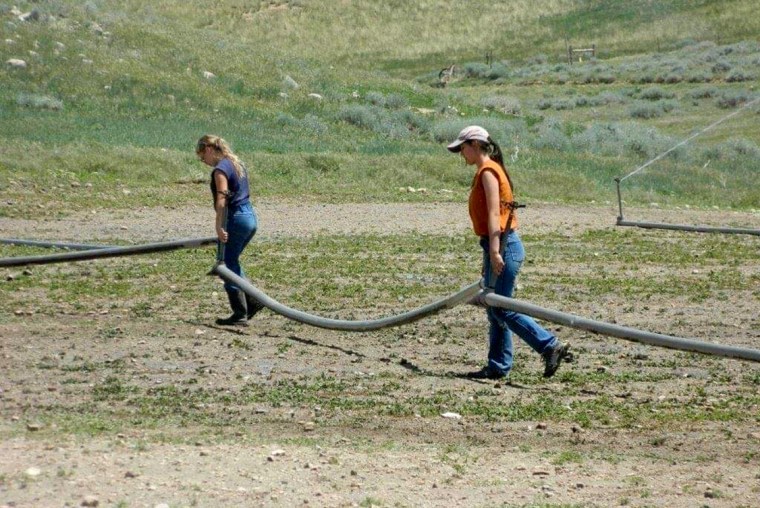 "From the time we woke up in the morning to the time we went back to sleep, we were always doing work. Always," said Taybre Conrad, 19, who left the ranch in 2020. "And they were having us do the type of stuff that grown men do."
If they stepped out of line, girls were forced to run up and down a small mountain, dodging rattlesnakes, or were given only a can of olives and beans for a meal, according to former residents. Three women said that staff members who accused them of being "stubborn" tied them to a goat with a leash for days at a time. 
Down the road from Trinity Teen Solutions, which serves girls, sits Triangle Cross Ranch, a program for boys run by the same family that has also long been accused of forcing children to perform manual labor. The state has confirmed numerous regulatory violations over several years, finding that the ranch made teens box each other as punishment and tried to interfere with government investigations. One former Triangle Cross Ranch resident said staff members branded his arm in the shape of a cross in 2012, leaving a lasting scar.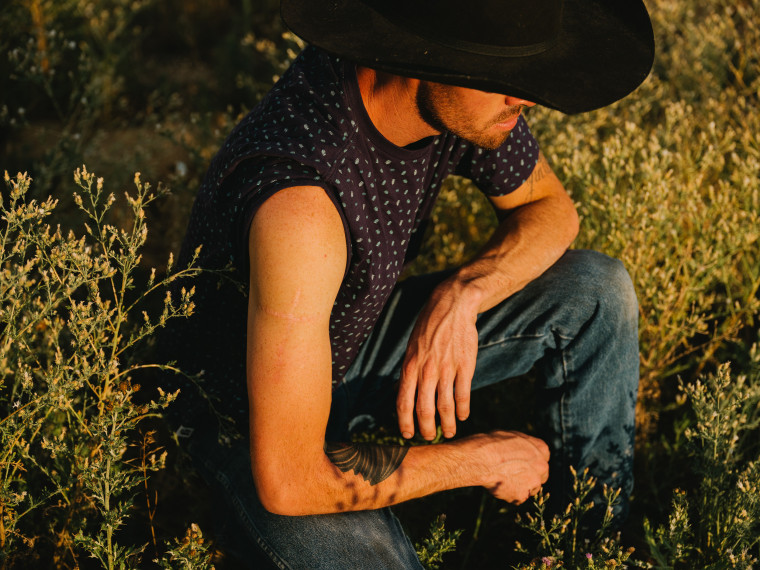 At both ranches, phone calls with parents were monitored and letters home censored. The teens had no way to contact law enforcement, they said. And the ranches are in a rural area bordering the Beartooth Mountains, about 30 miles from the closest gas station, leaving them with nowhere to run.
"Trinity is a bunch of fear-based activities and punishments that were supposed to teach you something, but all they taught you was how to be scared of everything," said Carlie Sherman, 23, who grew up in Illinois and was sent to the girls' ranch when she was 13, and again at age 15.
This account of conditions at the two ranches is based on NBC News' interviews with former residents, their parents, state officials and child welfare experts, as well as dozens of state inspection reports, hundreds of pages of court records, documents the ranches gave to families, medical files, photos from the programs, internal emails from state child welfare officials and blog posts from ranch staff. 
Once the women from Trinity Teen Solutions were released, they said they tried to report what happened to them in every venue they could think of. They filed complaints with the Wyoming Department of Family Services dating back at least 15 years, left negative Yelp reviews, posted TikTok videos, and most recently filed a federal lawsuit with former Triangle Cross Ranch residents. But in response, they said, they faced inaction from government authorities. 
The owners of the ranches, who declined to comment, have broadly denied the former residents' allegations in recent court filings and have said the teens performed "chores" that were part of the therapeutic approach, designed to build self-esteem. In 2016, Trinity Teen Solutions sued three of the women who posted negative reviews online for defamation.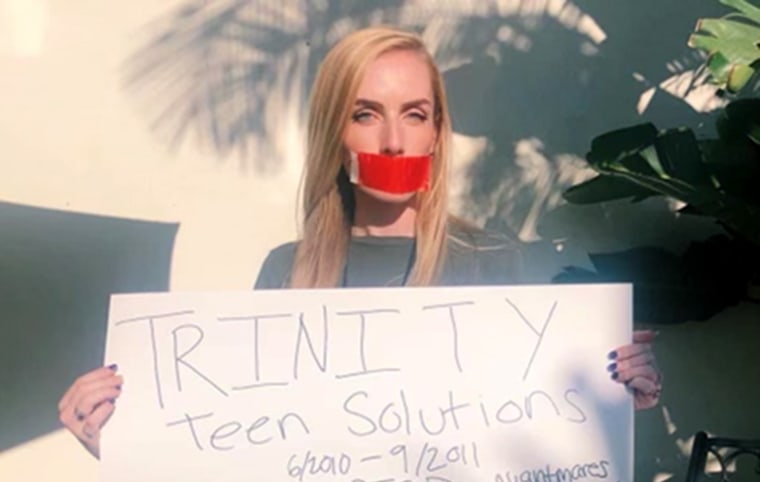 At least a dozen women reported allegations of abuse at the ranch to the Park County Sheriff's Office in 2019. Park County Prosecuting Attorney Bryan Skoric said the case remains under investigation, but seven women who filed reports said they haven't been contacted by prosecutors in two years.
Through all of this, Trinity Teen Solutions and Triangle Cross Ranch have remained open for business, taking in children from across the country. 
An investigation by NBC News raises questions about the safety of children in these programs, and the state's role in keeping watch over them. The former residents' persistent and far-reaching effort to shut down Trinity Teen Solutions, and the long paper trail of state licensing violations at Triangle Cross Ranch, shows how difficult it can be to hold private programs for troubled teens accountable, despite consistent accounts of mistreatment at these ranches, accounts that alarmed four child welfare and farm safety experts who reviewed them at NBC News' request. 
Do you have a story to share with NBC News? Email reporter Tyler Kingkade
The troubled teen industry — a constellation of private boarding schools, boot camps, ranches and wilderness programs — is estimated to serve more than 50,000 children each year. If the programs, like Trinity Teen Solutions and Triangle Cross Ranch, don't take government funding, they are exempt from federal regulations. While many states, including Wyoming, set their own licensing standards, they vary widely and are not sufficient to protect children, advocates say.
"Wyoming doesn't do a good job of having strong regulation for youth facilities," said Donna Sheen, director of the nonprofit Wyoming Children's Law Center, based in Laramie. "We are a state that has the values of small government and less government intrusion. The downside of that is it also allows for those who want to take advantage of the lack of regulation."
The Wyoming Department of Family Services received complaints about the ranches dating back to at least 2007, records show, alleging forced manual labor, lack of proper hygiene and inappropriate punishments.
State regulations give the Department of Family Services wide latitude to take away a program's license, but its policy is to give facilities multiple chances to fix problems before trying to shut them down, according to department officials. Critics, including Sheen, say this is ineffective. 
When state officials found violations at the ranches — such as preventing girls at Trinity Teen Solutions from using the bathroom, forcing them to wet themselves, and Triangle Cross Ranch failing to report violent acts and suicidal and homicidal threats by children — the state did not suspend or revoke their licenses. Instead, the state asked the ranches to attest to changes they'd made in a "corrective action plan."
Roxanne O'Connor, a Department of Family Services senior administrator, said the state is hesitant to shut down youth facilities, in part because doing so would "disrupt" families who would need to find a new place for their child, particularly, "when we aren't seeing the level of severity where we think that children are in danger."
"There's always a reason for our rules," O'Connor said. "We want them to be adhered to, but it's never black and white." 
In an additional statement, the department said that it "emphasizes child safety as one of its core values and investigates all allegations of rules noncompliance to uphold that value." The department added that it could not comment on decisions made prior to 2019, when the current administration began.  
They took complete advantage of my parents who were at a complete loss of what to do."
Samantha Salcido, Former Trinity Teen Solutions Resident
Trinity Teen Solutions and Triangle Cross Ranch rejected NBC News' request to visit, citing the lawsuit several former residents filed in late 2020, alleging that the ranches violated human trafficking laws by sending teens to work at other properties and businesses. Both ranches have responded in court disputing the former residents' accounts of forced labor, unsafe living conditions and dangerous punishments.
"There is a handful of girls that have made it their life's mission to blame Trinity for their failures and to cause harm to our reputation through ongoing slander and defamation," Angie Woodward, founder and director of Trinity Teen Solutions, told a local newspaper, The Cody Enterprise, shortly after the suit was filed. "These claims are obviously a way for them to gain financially."
Woodward noted in an email to NBC News that her ranch has maintained accreditation from the Joint Commission, an influential nonprofit that sets standards for health care and mental health facilities across the country. The Joint Commission declined to answer questions about Trinity Teen Solutions. Triangle Cross Ranch is not accredited by the Joint Commission.
Beyond Wyoming: A troubled industry
Samantha Salcido, 28, who was sent to Trinity Teen Solutions from California in 2011, believes the ranches may have started with good intentions, but she thinks they ultimately harmed her more than they helped.  
"They took complete advantage of my parents who were at a complete loss of what to do," said Salcido, who had asked her parents to send her to rehab to help her quit drinking in high school. "They profited off of that... It's pretty sad and sick. I genuinely wanted help, and my parents thought they were sending me to a good, Catholic, loving place."
'None of it was true'
Anna Gozun struggled with anxiety and depression growing up in Austin, Texas. She was bullied at school, self-harmed when she was 15, and got into heated arguments at home.
Her mother, Angela Alsup, researched therapeutic boarding schools online and stumbled upon Trinity Teen Solutions. The ranch in Park County, Wyoming, founded by married couple Angie and Jerry Woodward in 2002, promises equine therapy, Christian principles and an "experiential learning" approach. The ranch serves about a dozen girls at a time and boasts a 96 percent success rate, though its website doesn't explain how it determined that figure. 
Alsup thought the ranch sounded perfect for her 16-year-old daughter, an outdoorsy kid who loved horses.
"I told them all the things that were important to me, in terms of being a Christian faith-based program, outdoor, equine therapy, those kinds of things," Alsup said. "They told me everything that I wanted to hear."
Gozun knew she needed help, though she was surprised on the early morning of Feb. 2, 2012, when two men from a transport agency — a business routinely hired to take children to troubled teen programs — came to her home to bring her to Wyoming. "I might as well give it a shot," she remembers thinking, assuming she'd be at the program for a few months at most.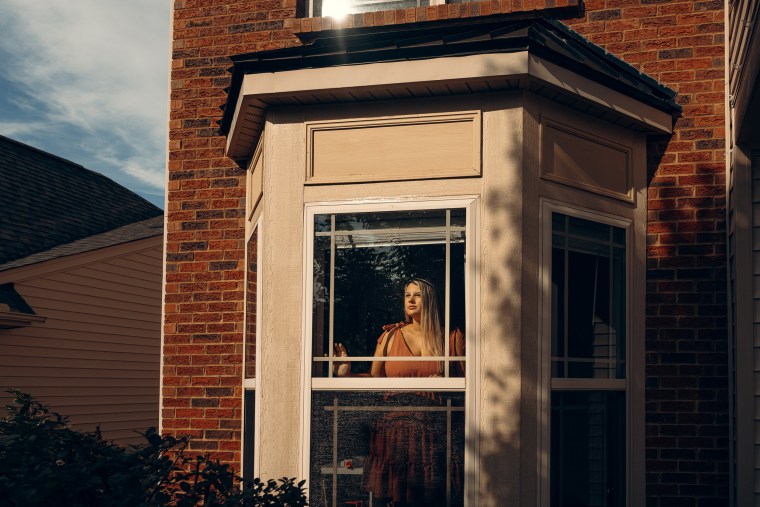 That evening, she arrived at the 160-acre ranch near the Montana border. The property carries a musty, camp-like smell, former residents said. There are several cabins, livestock pens, a house and grazing fields, encircled by mountains inhabited by grizzly bears and elk.
The staff strip-searched Gozun and gave her used clothes to change into, she said. Then, they walked her into a cabin where about a dozen other girls were sitting in plastic chairs. One by one they turned to her and said their name and how long they'd been there: a year, 18 months, two-and-a-half years. 
"They looked so defeated," Gozun recalled. "It just didn't feel right at all. And I was like, 'Oh my gosh, like, do my parents really know where I am?' It was like the first real moment of terror."
Trinity Teen Solutions encourages families to send girls to the ranch for an extended time. Otherwise, according to its website, girls "frequently revert back to the way they were before treatment." Two mothers of former residents said the ranch wouldn't accept girls for less than six months, a period of treatment Alsup had agreed to, but Gozun didn't know that at the time.
Ellie Lovering said her first moment of terror at Trinity Teen Solutions came during the strip-search. When she arrived from Texas as a 17-year-old in 2018, she said, staff members made her get naked and stand with her arms out and her legs slightly spread while a staff member took pictures of her with a small digital camera to document any scars. (Lovering was one of four women who said they were required to be nude during the search; seven others said their underwear remained on.) 
"It made me feel severely uncomfortable," she said. "It was one of those things like a light switch. Like, OK, this is not a good place, I just need to do whatever I can to get the f--- out of here."
In a court filing, the ranch denied that girls were strip-searched upon arrival.
Days at the ranch were busy, former residents said. There were homeschooling courses and calisthenics. Once a week, the teens had private sessions with staff therapists. 
But the girls spent most of their time working — six to 10 hours a day, according to former residents, which included all of the cooking and janitorial work, as well as farm labor. They laid irrigation pipes, baled hay, chopped firewood and shoveled manure. The girls also trained and groomed animals for 4-H shows, scrubbed the floors at a church and installed fencing at other ranches, according to interviews and the ongoing lawsuit against the ranch. Three former residents said in interviews that they were driven into town to clean houses. 
On its website, Trinity Teen Solutions states that girls complete "tasks with integrity." Woodward has also told the state in letters that families send their daughters to the ranch because of the "unique approach to treatment, in other words they choose us because of pig shifts and doctoring animals, cattle drives, fixing fence etc." (The pig shifts, as described by former residents and a complaint to the state, involved staying awake in the barn overnight monitoring mother pigs, to ensure they didn't roll over on piglets.)
In a court filing earlier this year, Trinity Teen Solutions said that "chores and physical exercise were part of its program," and disclosed to parents before girls arrived. It disputed that girls performed labor for other ranches and properties, but confirmed that girls cleaned a church "as part of its therapeutic program." The ranch also said in a court filing that it switched to an automatic irrigation system in 2019.
Four child welfare and farm safety experts said carrying out ranch work like that described by the former residents can be dangerous for children.
"You think about kids, their bodies are still developing, their brains are still developing," said Margaret Wurth, who researches child labor for Human Rights Watch, a watchdog group. "If they're doing these repetitive motions day-in and day-out … something like that can have lifelong repercussions and injuries."
Gozun has Ehlers-Danlos syndrome, which causes her to easily bruise and dislocate her joints. Alsup said she told Woodward about her daughter's condition, noting that she could not put extra weight or stress on her ankles. Gozun said Trinity Teen Solutions staff members disregarded her mom's instructions, and forced her to run and haul large pipes through the mud, while wearing ill-fitting and worn boots.
"I was like, 'I'm in pain, I'm getting hurt, you guys know that I'm not supposed to do this,'" Gozun said. "They said I was lying and manipulating them."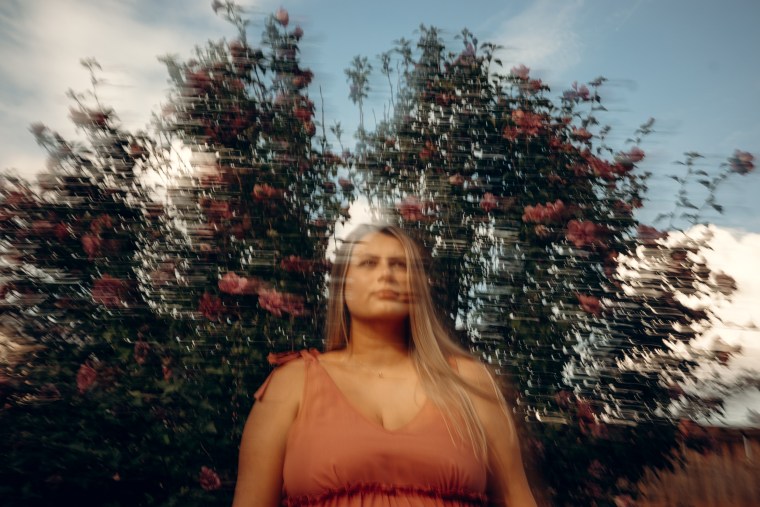 Gozun's parents didn't find out about the work she was doing until they visited her after nearly five months. By that point, she needed surgery on her ankles to address pain, instability and torn ligaments. After she flew home for the procedure in late June 2012, Gozun said she broke down and told her parents what was happening at the ranch.
Alsup was livid. She decided not to send her daughter back.
"These people do not know what they're doing," she said. "They may think that what they do is an OK thing, and that they turn out healthy, well-adjusted girls. But I'll tell you what: When Anna went, she was depressed and she had anxiety, and when she came home, she was terrified of everything. She didn't trust us. She had nightmares. She had full-blown PTSD."
Many former residents said they wanted to tell their parents about the problems at Trinity Teen Solutions, but they were too scared to. Julia Arhelger, who was 15 when she was sent to the ranch from Colorado in 2016, said she feared losing all contact with her parents if she complained.
"Any time we wrote in our letters to bring us home, or, like, told the truth, they would rip the letters up in front of us until we rewrote them," Arhelger said. "We had to just say good things, like they would tell us to write that we were playing with horses and having a good time. And like, none of it was true."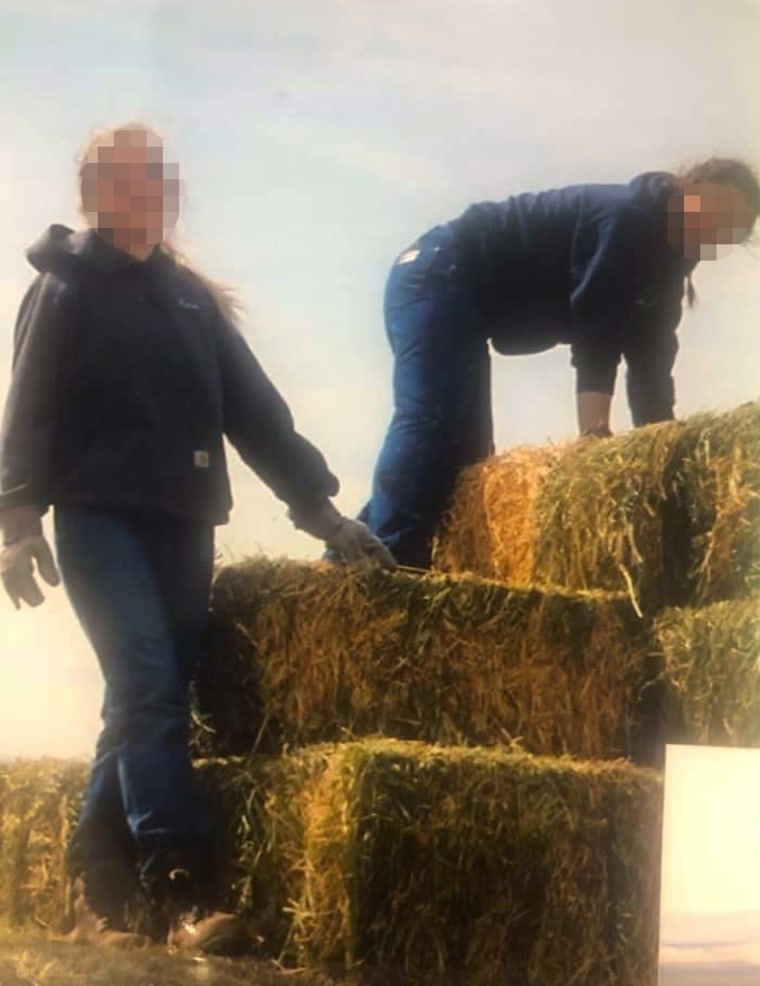 Trinity Teen Solutions repeatedly suggests to parents in a handbook that their daughter will lie and manipulate them in an attempt to get pulled out of the program. The Holy Cowgirl Manual, the facility's children's handbook, which is currently available on Trinity Teen Solutions' website in a version dated 2008, tells girls that complaining is prohibited and that they will be punished if they engage in "manipulation."
In addition to Gozun, two other women described injuries in the 2020 lawsuit that they say they sustained at the ranch, including a twisted ankle, capillary damage from frostbite and lacerations from irrigation pipes.
Separately, Arhelger said that she repeatedly complained to staff about pain in her leg, which she had injured before arriving at Trinity Teen Solutions. She said a staff member told her she was "spoiled and never heard the word 'no' before," and staff continued to assign her to lift hay bales. Her mother, Rebecca, said that staff similarly told her in weekly updates that Arhelger was spoiled and lazy, "all these things that I've never been told or had that opinion of my daughter." 
Roughly five months into Arhelger's stay, Rebecca said, staff informed her that they would no longer let her call or write to her daughter. Rebecca said she pulled her daughter out of the program early, and afterward, she learned that Arhelger's knee-cap was broken and she needed surgery.
Clarice Steg, 27, who was at the ranch in 2012, said her finger was smashed while installing an irrigation pipe. She said she passed out repeatedly, and after about two hours the staff brought her to the emergency room to have her wound closed. She provided NBC News with a photo she said was taken shortly afterward at Trinity Teen Solutions, showing her with a metal finger splint on one hand.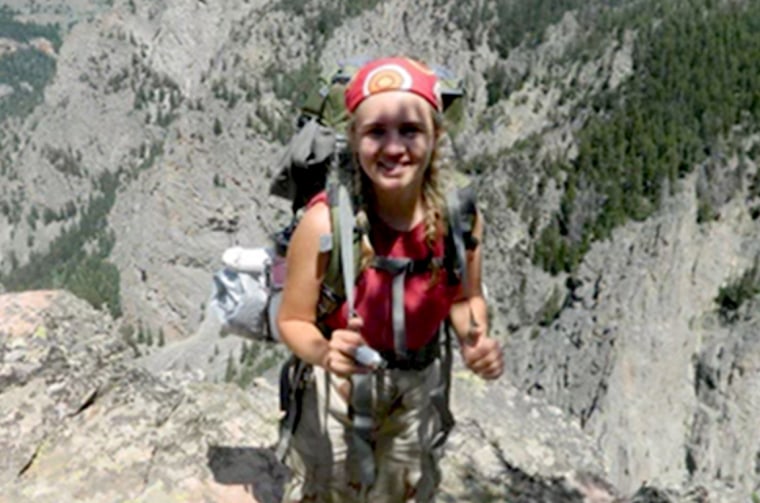 Aubrie Bak-Jensen, 26, who was sent to Trinity Teen Solutions from California for three years in 2009, said she was injured at the ranch when a horse she was riding became frightened, took off running and threw her off. She said she landed on a barbed wire fence next to cacti and rocks, cutting her arm in several places, creating a large gash on her leg and filling her back with cactus needles. The staff took her to urgent care, she said.
"They had them clean my wounds, wrap me and brought me back to the ranch, and then put me right back to work," Bak-Jensen said. "And I was told I was absolutely not allowed to speak a word of what had happened to me, even though it was very obvious that I was severely injured."
Bak-Jensen provided NBC News with a photo that she said was taken on the ranch in the weeks afterward. Two other former residents recalled Bak-Jensen returning from urgent care in bandages and immediately returning to the required tasks, such as picking up rocks from a field.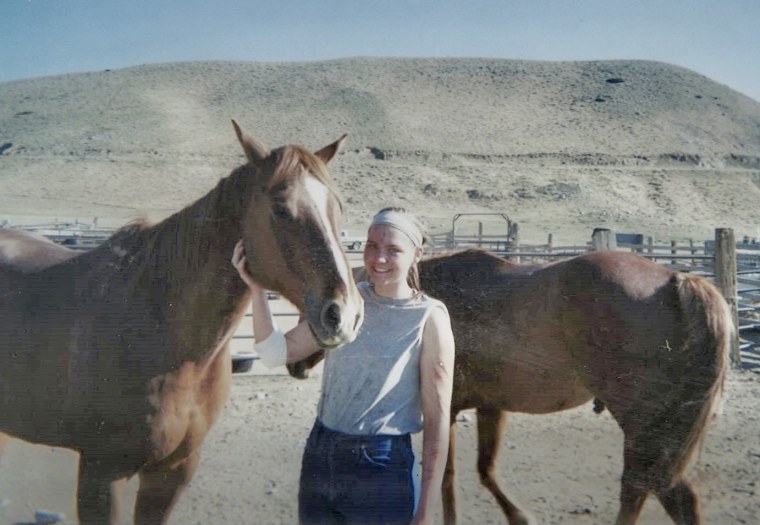 Kelsie VanMeveren, 28, who was sent to Trinity Teen Solutions from Colorado in 2010, said she asked staff for weeks to go to a doctor because the tips of her toes became black and numb from frostbite. Staff members told her to soak her feet in epsom salt, she said, and by the time they took her to see a doctor after five months, the doctor said there was nothing he could do. Her toes eventually healed, she said.
Department of Family Services officials said it can be difficult to substantiate allegations from former residents if the current children at the ranch don't corroborate them. State inspectors are supposed to visit programs like Trinity Teen Solutions at least once a year and "talk to some of the residents," ideally alone rather than in front of staff members, according to the Department of Family Services' policy. Yet of the 22 former residents interviewed, only two remember a state official visiting and speaking with youth, and both said a staff member was present, which made them too frightened to share complaints.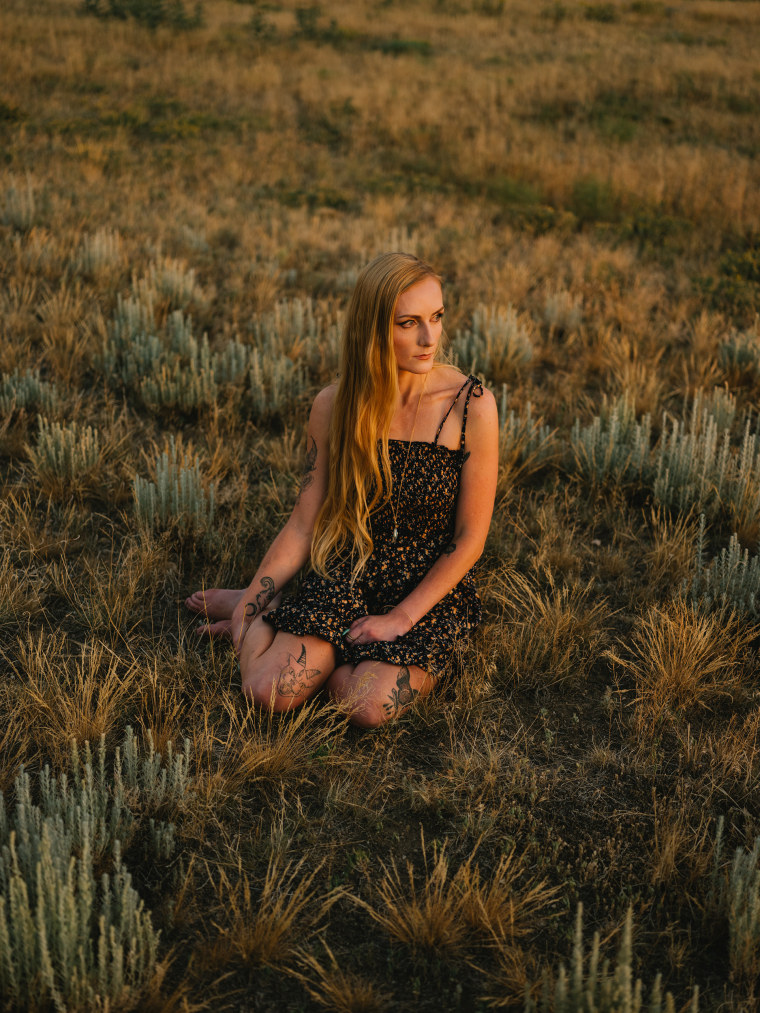 "It's like as long as they're not breaking a law in your face, at this moment, then it's fine," VanMeveren said of the department's oversight of the ranch. "They're not doing their job, which is to protect children."
The department said in a statement that it has a hotline available for children to report maltreatment in facilities. Former ranch residents said they didn't have unmonitored access to a phone. 
An alleged branding at the boys' ranch 
When Woodward created Trinity Teen Solutions in 2002, she followed in the footsteps of her father, Gerald Schneider, the founder and owner of the nearby Triangle Cross Ranch.
As Triangle Cross Ranch's website recounts, Schneider obtained a bachelor's degree in engineering from DeVry University in Chicago, but gave up office work after two years to take up ranching in Wyoming. In 1973, he purchased the land that became Triangle Cross Ranch.
Schneider started his troubled teen operation in 1996, a few years after his horse fell on top of him, partially paralyzing him. He started taking in young people to help him raise cattle and keep the ranch afloat, and said on the website that he realized his true calling was helping at-risk youth. It's become a family business: Two of Schneider's six children, Matt and Mark Schneider, have helped run Triangle Cross Ranch in recent years, and Woodward opened Trinity Teen Solutions several miles away.
It appears to be more a ranch using free child labor at the expense of the parents and grandparents."
A concerned Grandmother in a 2015 complaint to the state
At Triangle Cross Ranch, boys go through "Reality Cowboy Therapy," as a 2020 brochure puts it, which Schneider once explained in court meant tasking the boys with "whatever work needs to get done around the ranch," with the promise that they'll overcome their bad behavior. As of 2015, the ranch charged parents $4,800 a month.
"Why don't I go to a real ranch and get paid rather than paying you five grand a month?" a judge asked Schneider during a 2014 licensing dispute.
"Because you're unemployable," he replied.
Andrew Scavuzzo, a plaintiff in the current lawsuit against the ranches, said the labor went far beyond simple chores; the boys had to build barns and repair vehicles at the ranch, install air conditioning units at a church, work in construction and bag coffee grounds for a monastery up the road from the ranch that has its own business, Mystic Monk Coffee. 
The monastery, ​​Monks of the Most Blessed Virgin Mary of Mount Carmel, is run by Daniel Schneider, another of Gerald Schneider's sons. The monastery and its coffee business did not respond to requests for comment. Triangle Cross Ranch disputed in a court filing this year that it required boys to work at the monastery.
"It was child labor," said Scavuzzo, 27, who was sent to the ranch from Colorado in 2012, when Schneider operated it under the name Mount Carmel Youth Ranch. "Basically, you were just a slave for the owners because we were 'troubled,' and they were going to strengthen us into men or something like that."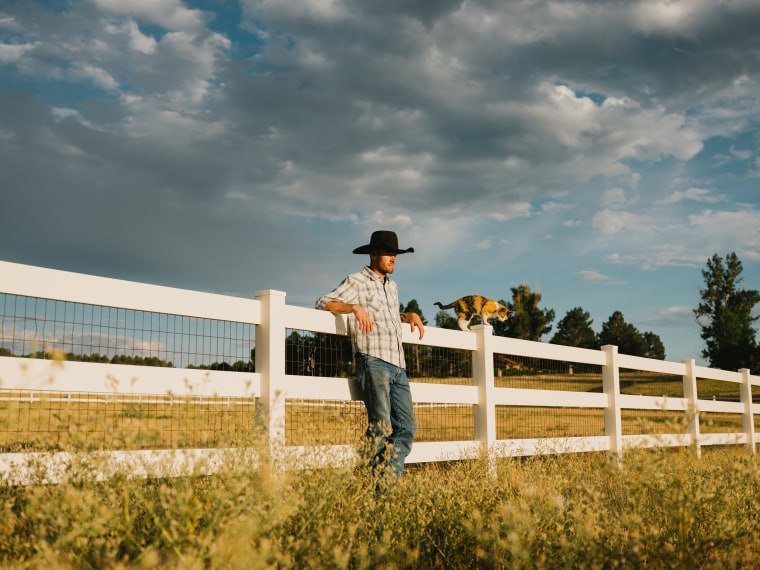 In 2015, a concerned grandmother sent a letter to several state agencies complaining that the ranch failed to help with her grandson's wayward behavior. 
"It didn't happen," she wrote, according to a copy obtained from the Department of Family Services through an open records request. "It appears to be more a ranch using free child labor at the expense of the parents and grandparents."
Scavuzzo said in court filings that boys were subjected to dangerous tasks and absurd discipline. In an interview, he said they had to pull dead cows out of ponds and use their mouths to siphon gasoline out of vehicles, and teens were forced to box each other as punishment. His mattress was once taken away because he refused to stick a pitchfork through a dying calf's chest, he said.
At one point, while he was staying at Gerald Schneider's Montana property, Scavuzzo said two staff members branded his arm in the shape of a cross with a hot piece of metal; he shared photos with NBC News of the bloody injury that he said were taken shortly afterward. 
He was told he needed to endure the branding to get into the ranch's young adult program, according to the lawsuit, but he said he later found out he was the only one who was branded. Even after the wound oozed pus, staff members didn't offer him medical treatment, he said. His parents pulled him out as soon as they saw his arm during a July 2012 visit, the civil complaint states.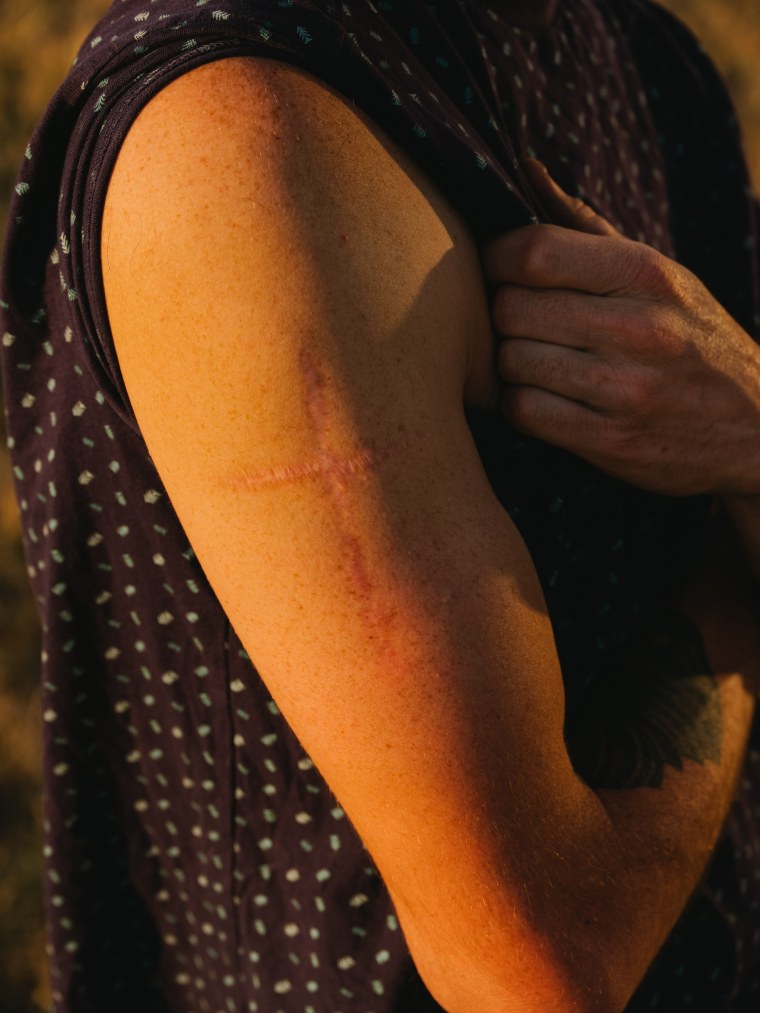 "My parents just thought it was basically like a dude ranch where you're taking care of horses and cows and fixing fences and just doing cowboy stuff," Scavuzzo said. "They didn't know about all the other crap that we're doing for them."
Triangle Cross Ranch denied Scavuzzo's account of the cross branding in court documents.
Over the past decade, the Department of Family Services confirmed at least 28 violations at Triangle Cross Ranch. 
In 2015, state officials found Triangle Cross Ranch misrepresented its services online, censored mail and cut calls off with parents if the boys complained about their treatment, records show. The state also found that ranch staff misled the agency about its staffing levels during an investigation. 
State regulations allow the Department of Family Services to revoke a facility's license if staff members make misleading or false statements to inspectors. However, the department told NBC News that its policy is to "resolve issues of noncompliance prior to recommending revocation" of a facility's license. So inspectors instead told the ranch's owners to create a corrective action plan explaining how they would avoid the violations in the future.
More problems emerged.
In late 2020, the state discovered Gerald Schneider made boys come into his house to help him off the toilet and to care for his wife, who has Alzheimer's, records show. The state also found that staff members had told the boys not to speak with state officials during inspections, and that the boys had been punished for doing so in the past. Matt Schneider "presented with a threatening posture" when a state agent asked him about it, clenching his fist, according to investigation files.
Gerald, Matt and Mark Schneider declined to comment to NBC News.
In 2021, the department launched a multistep process for addressing repeat violations by youth facilities, which allows the state to take intermediate steps — such as limiting how many children can be housed at a facility, or shortening the length of a facility's license — before forcing a facility to close. The department can also require repeat offenders to comply with a specific corrective action plan, rather than letting these facilities write their own plan.
The department wrote a corrective action plan for Triangle Cross Ranch in 2021 after finding staff members had possessed guns in cars with children, made children come into the owner's house to do work for him, failed to complete employee background checks, didn't feed the children well and forced boys to physically restrain other boys. The department noted that several of these incidents had occurred before, but officials decided not to suspend the ranch's license, instead instructing the owners to follow state rules and provide documentation showing as much. The agency is monitoring to ensure Triangle Cross Ranch complies, officials said. 
"There are some programs that do struggle and have repeated issues of noncompliance, and we work with them," said Nichole Anderson, a licensing supervisor in the department. "They implement a corrective action plan that we all agree to, and then work through that and then they can maintain clients."
Department officials said in July that going forward, the agency will post youth facility licensing violations online so parents can do their own research. The department hasn't launched the webpage yet because it hasn't confirmed any violations recently, officials said. 
"It is the Department's intent to provide opportunities for success for youth, families, and community partners, while maintaining accountability, transparency and most importantly, well-being of the children and families served," a spokesman said in a statement.
'It was like being abused again'
Over the past decade, former residents of Trinity Teen Solutions found one another online and shared their experiences. In spring 2014, one sent testimonials from several women alleging abuse at the ranch to Edwin Heimer, who is now a Department of Family Services field administrator, pleading for the state to investigate the program. 
The testimonials described being forced to repair fences on properties that belonged to friends of the Woodwards, according to copies of the emails shared by the woman who sent them. One woman said cows and colts had kicked her, and pigs bit and trampled her. The women described staff withholding food and sent photos of a girl wearing a shirt with "Do Not Trust Me" written on it with marker, and another wearing a backpack they said was full of rocks.
Some of the former residents' concerns were familiar to the department. Wyoming licensing officials confirmed 15 years ago that Trinity Teen Solutions limited girls to only two five-minute showers a week, censored their communication to parents, made girls go to the bathroom in a bucket, and required children to perform construction and veterinary work — and said that was fine. (In 2011, the ranch told the state that the girls were no longer forced to use a bucket as a bathroom.)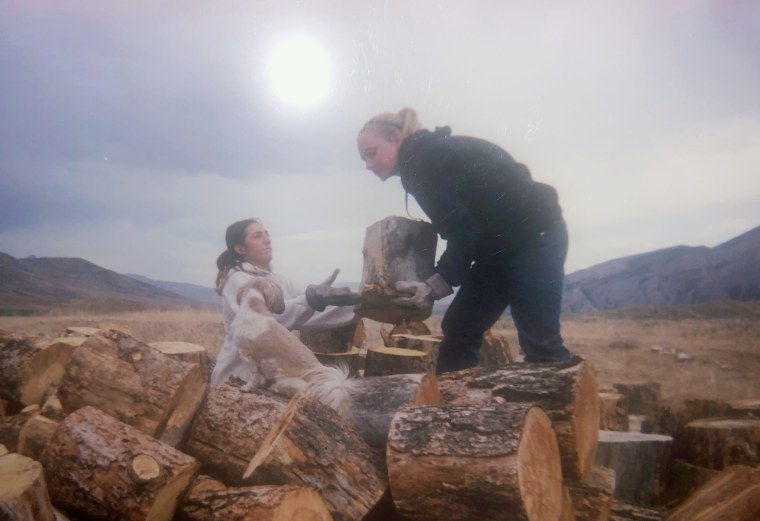 The state found that other complaints, including certain allegations of humiliating punishments and overworking children, were unsubstantiated and determined that no action was needed. Inspection files often omit the steps the state took to investigate the allegations, which the department does not require inspectors to detail.
Heimer replied to the woman who sent testimonials in 2014 that he and others were reviewing the information, which he had forwarded to the department's facility licensing division. The department said the emails sparked an investigation regarding youth safety at the ranch, culminating in a June 2014 report that declared there was "not enough evidence to support a rule violation." In a box labeled "explanation for findings," a department official wrote, "None." 
In the months that followed, some former residents posted negative reviews about Trinity Teen Solutions on Google and Yelp, wrote blog posts and filed complaints with the Better Business Bureau.
In response, Trinity Teen Solutions sued three women in 2016 for defamation over online reviews, accusing them of damaging the ranch's business. The ranch's owners said in court that they had to spend time convincing prospective customers — parents — not to believe the online testimonials. 
The three women responded in court filings that their statements were true. But they said they lacked the money to make their case. They settled under an agreement that has not been made public, and many of their posts were removed. 
"It was like being abused again, outside of the facility," said Mollie Jelinek, one of the women who was sued. She was sent to Trinity Teen Solutions from Florida at 15 in 2010, and stayed for two years. 
"When we were at the facility, they would put us 'on silence,' which was essentially revoking your ability to speak or even communicate nonverbally," she said. "And it was the same type of bullying tactic being mirrored outside of the facility."
After the defamation suit, former Trinity Teen Solutions residents met in a private Facebook group to discuss what else they could do to publicly share their experiences at the ranch. 
In early 2019, a few of them realized there is no statute of limitations for crimes in Wyoming, so they decided to file complaints with the Park County Sheriff's Office alleging abuse at the ranch. Word spread, and soon more than a dozen women had called to report abuse.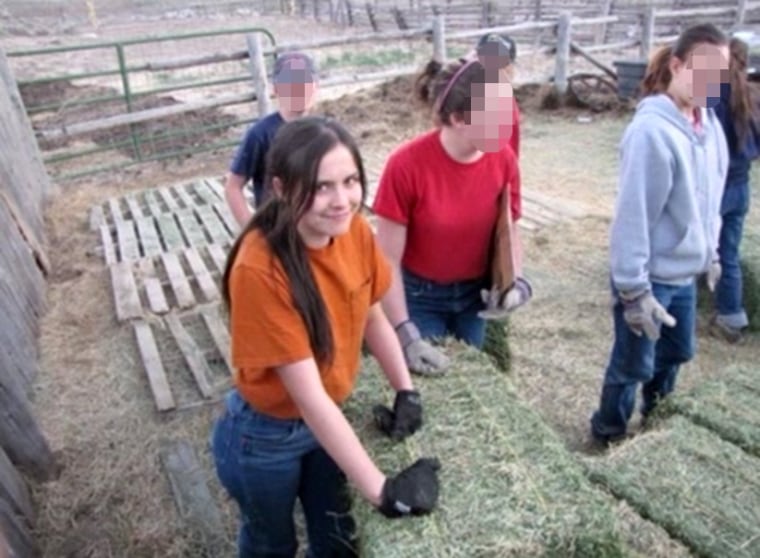 The Wyoming Division of Criminal Investigation was called in to help with the case. In late 2020, the state agency turned over the investigation to Skoric, the county prosecutor. Skoric said in an email this month that there is "much follow-up investigation to be done" before he can decide on filing charges, and that he believes attorneys representing the women in their civil suit against Trinity Teen Solutions have information relevant to the criminal probe. Neither Skoric nor the sheriff's department has contacted the women's lawyers, the lawyers say.
The state, the sheriff's department and county prosecutor all declined to release copies of the women's reports. Park County Sheriff Scott Steward said in an email that his office has "always taken these complaints seriously and not brushed them aside," but due to "the ongoing investigation and the complexity of the case, I cannot provide further comment."
Many of the women assumed the criminal investigation had petered out. Gozun, one of the women who filed a report, said she hasn't heard from law enforcement in over a year.
"It really broke my heart," Gozun said. "At first, I believed in our justice system, but experiencing being blown off when you're a victim of abuse, and you have photos of proof and evidence — it's really sad."
'I'm not alone'
Two years ago, activists who oppose abusive programs for troubled teens started posting TikTok videos about their experiences. 
In response to these videos, a sheriff's department in Missouri began investigating Circle of Hope Girls' Ranch, which led the state to remove children from the program. The owners were arrested last year on 100 felony charges. (They have pleaded not guilty and are awaiting trial.)
The former Trinity Teen Solutions residents saw the activists' success in Missouri and decided to post their own videos. Their TikTok posts have been viewed more than 98 million times. 
Among those viewers were officials at the Department of Family Services. 
In September 2020, child welfare and licensing officials circulated a link to one of the videos describing forced labor and injuries at Trinity Teen Solutions, according to emails obtained by NBC News. 
Lee Thurmond, who has inspected the facility at least 20 times over the past decade, noted that women had previously complained to state and local officials. Heimer, who'd received the testimonials in 2014, replied, "I had forgotten most of this … but I do recall now." Anderson, the licensing supervisor, said the sheriff's department had heard about the allegations in the videos "many times over the last 6 years or so … maybe even longer."
They're targeting parents thousands of miles away to send their kids there. That is the hallmark, in my mind, of the type of business that Congress really ought to be regulating."
Brice Timmons, Attorney For former residents of the ranches
Several officials met on Sept. 29, 2020, to discuss the situation. Thurmond told colleagues that Trinity Teen Solutions had made many improvements over the past several years, and that it was difficult to investigate some of the women's reports because of a lack of records from the facility, according to an internal email.
Another person who saw the TikTok videos was Brice Timmons, a Memphis, Tennessee-based lawyer. He was horrified by what the women described and left a supportive comment. 
"These women — many of whom had never met or hadn't seen each other in many years, had no other relationship besides having survived this place — were almost all telling exactly the same story," Timmons said.
The women were worried about Trinity Teen Solutions suing them, and asked Timmons for help. 
Timmons agreed, and then he went one step further: He began researching the labor that the former residents of Trinity Teen Solutions and Triangle Cross Ranch described, and he believed that it violated the Trafficking Victims Protection Act. He offered to sue on the former residents' behalf.
"The coercion of people into labor for some kind of benefit is illegal," Timmons said, "and that's what these girls were all describing having happened to them."
In November 2020, Timmons filed the federal lawsuit on behalf of former residents, including Gozun, Sherman and Scavuzzo, against Trinity Teen Solutions, Triangle Cross Ranch and the ranches' owners, as well as against some local businesses, a church and the monastery accused of benefiting from forced labor. Thirty-six women submitted sworn declarations in August attesting that they had been abused and had not received the therapy they were promised.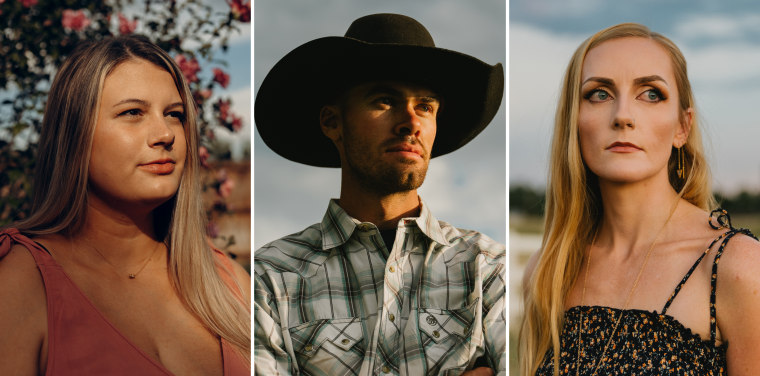 In court filings, lawyers for the ranches said that the manual labor was merely chores, part of a treatment program, and that the parents who paid for the teens to be there never expected their children would receive wages. The ranch owners tried to get the case thrown out, but a federal judge declined last November, stating that if the lawsuit's allegations are true, they exceed what a parent would consent to and that the ranches' owners "knew or should've known" that this sort of labor is illegal. 
The local businesses and religious entities have disputed in court filings that they had any knowledge of illegal activities, or had any arrangements with the ranches to obtain free labor. The litigation is ongoing, and the plaintiffs are seeking class action status.
Facilities for troubled teens in Indiana, Missouri, Mississippi, Oregon, Ohio and Utah have also been accused of forcing youth to perform manual labor, either as part of the programming or as a punishment.
"These places all advertise all over the country," Timmons said. "They're targeting parents thousands of miles away to send their kids there. That is the hallmark, in my mind, of the type of business that Congress really ought to be regulating."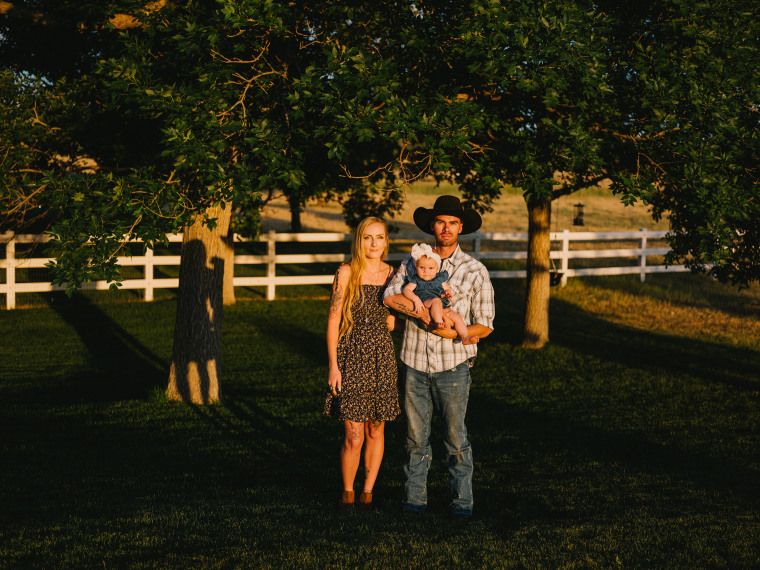 Unsilenced, a nonprofit activist group pushing for tougher oversight of the troubled teen industry, has spent months meeting with congressional lawmakers and staff, prodding them to introduce a bill that would guarantee basic rights for children in these programs, including a prohibition on forced manual labor. No legislation has been introduced. 
Gozun is now married, with three children, living in South Carolina and working on a bachelor's degree in psychology. She also volunteers for Unsilenced, driven not just by her own experience but also the stories she's heard from people who have attended other troubled teen programs.
"There are thousands upon thousands of children that have gone through similar abuses," Gozun said. "Finding out that there are many others that have experienced something very similar to me and are still struggling with it to this day as adults — it was nice to know that I'm not alone, but it's pretty messed up."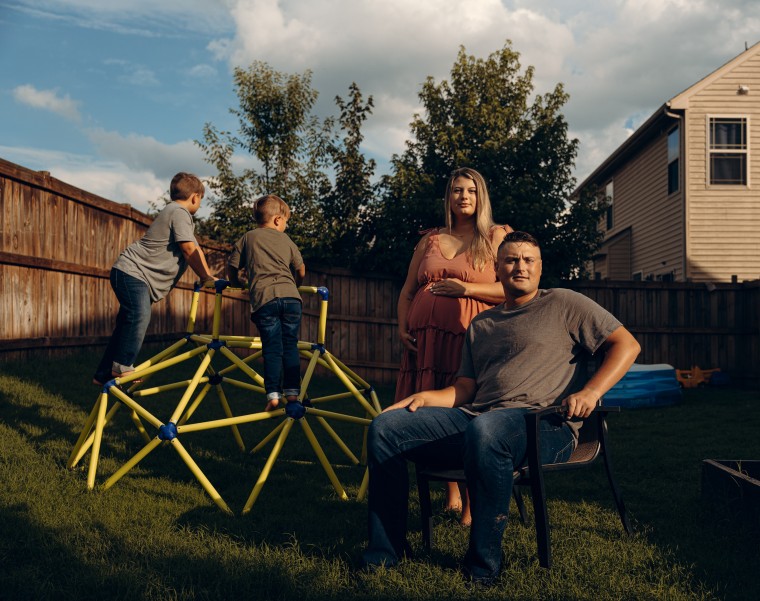 CORRECTION (Sept. 7, 2022, 5:46 p.m. ET): A previous version of this article misstated the length of time Aubrie Bak-Jensen spent at Trinity Teen Solutions. She arrived in 2009, not 2010, and stayed for three years, not two.