Yale University announced Saturday it is renaming one of its colleges that honors a former white supremacist politician and slave owner — reversing a decision last year to keep the moniker intact.
The Ivy League school's president said Calhoun College would no longer be named after John C. Calhoun — America's seventh vice president in the early 19th century — because racism was at the foundation of his political legacy.
Related: Yale Keeps College Named for Slave Owner
"As a national leader, Calhoun helped enshrine his racist views in American policy, transforming them into consequential actions," Yale President Peter Salovey said in a statement. "Yale has changed magnificently over the past 300 years and will continue to evolve long after our time; today we have the opportunity to move the university forward in a way that reinforces our mission and core values."
Instead, the college is being renamed after alumnus Grace Murray Hopper, a pioneering computer scientist, mathematician and Navy rear admiral.
The fight to rename Calhoun College has been a source of contention at the New Haven, Connecticut-based school for years, pitting university leaders hesitant to gloss over the school's racial history against students and community members who say the building and its namesake run counter to its core values.
Demand to rename the college reached a fever pitch in 2015 after nine people were killed at a historically black church in Charleston, South Carolina.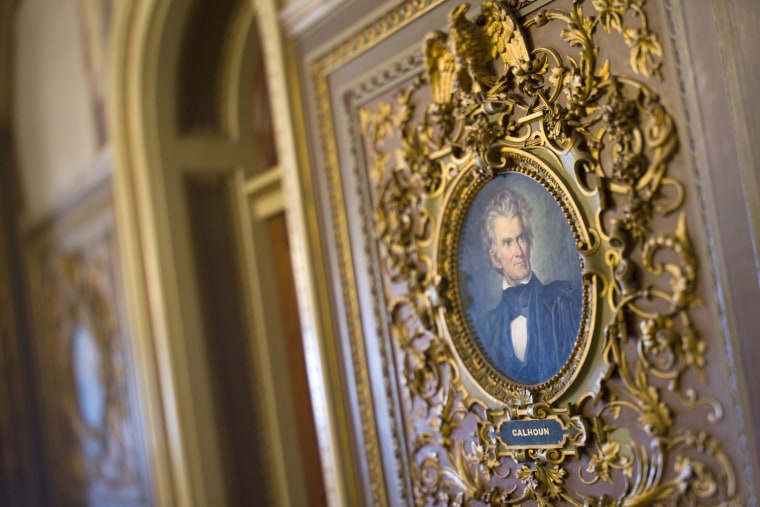 But last April, the school decided that the building would keep Calhoun in an effort to teach students about "the most troubled aspects of our past."
University officials, however, continued to study and monitor similar debates around controversial public figures that were taking place at campuses across the country before arriving to their new decision.
In soliciting suggestions for a new honoree for the college, Hopper was the most frequently requested Yale graduate, the school said.
A trailblazer in her field, Hopper earned her master's degree and Ph.D. in mathematics and mathematical physics from the school in the 1930s.
She went on to become one of the country's first computer programmers, and after enlisting in the Navy, Hopper used her background in mathematics to fight fascism during World War II. She died in 1992.
In November, then-President Barack Obama presented her with a posthumous Medal of Freedom.