Two people were killed when a cargo plane veered off an airport runway Friday morning and crashed into the hillside in Charleston, West Virginia, authorities said.
Preliminary reports suggest the twin-engine turboprop — identified as a Short 330 — made a hard landing with one of the wings striking the runway at Yeager Airport and causing the plane to cartwheel.
"The aircraft hit the runway before the runway actually began," Kent Carper, president of the Kanawha County Commission, told NBC News.
The pilot and co-pilot died, officials said, but no other people were believed to be on board.
The incident occurred just before 7 a.m. ET, prompting a fleet of emergency vehicles to rush to the scene. The bulk of the wreckage could be seen just off the runway.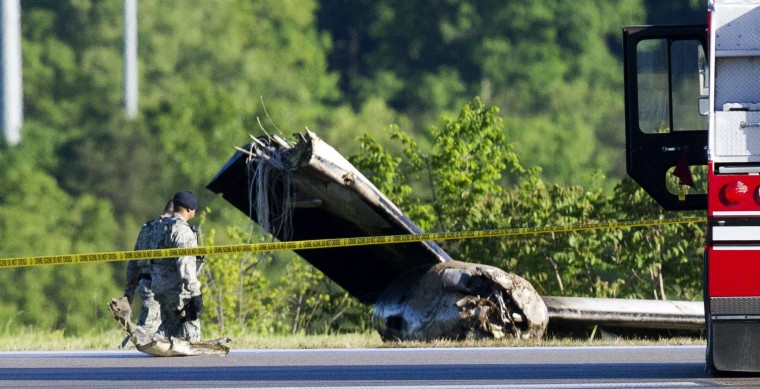 Airport spokesman Mike Plante told reporters that the flight was routine, and there was nothing to indicate the plane was having trouble landing.
Plante added that accidents at Yeager are rare and that the runway's length is on par with major airports in New York and Chicago.
"There's nothing particularly challenging about Yeager Airport for a pilot," Plante said.
But the website Airfarewatchdog.com has previously included Yeager on its "scariest U.S. airports" list.
"Yeager's lone operational runway is relatively short and sits atop a flattened mountain," the website says. "It runs between two cliffs, which means that if a pilot miscalculates, there's nowhere to go but down.
The plane was being operated by Air Cargo Carriers Inc. as a subcontractor for UPS, which told NBC News the flight had originated from Louisville at 5:35 a.m. and was supposed to land at about 6:20 a.m.
"As we attempt to learn more about the situation, we are keeping the crew involved in our heartfelt thoughts," UPS said in a statement.
An investigation was underway.
Yeager will remain closed into Saturday and a state of emergency was declared for the airport, which services both cargo planes and passenger airlines.