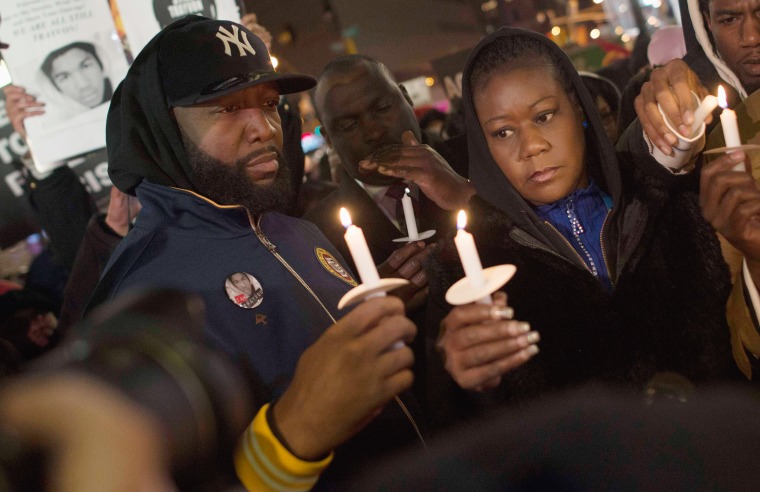 The father of Trayvon Martin, the unarmed black teenager shot to death in Florida last year, said Tuesday that the family will "never move on" and will fight to make sure his memory "won't be tainted by this whole situation."
On the anniversary of his son's killing, Tracy Martin also said that lawmakers across the country must take a hard look at gun laws and who should get gun permits. He cited not just his son's death but the elementary-school massacre in Newtown, Conn.
"Why would you need a semiautomatic weapon to be hunting? That's senseless," Tracy Martin said on MSNBC.
George Zimmerman, a former neighborhood watch volunteer, is charged with second-degree murder in Martin's death. Zimmerman, who is of white and Hispanic descent, has pleaded not guilty and says he shot Martin in self-defense after Martin attacked him.
The case ignited a debate over race and gun rights in the weeks after the shooting. It became a rallying point for activists protesting what they said was the targeting of an unarmed black youth because of his race.
Zimmerman's trial is scheduled to begin June 10.
Various demonstrations and memorials took place Tuesday night to mark the first anniversary of Martin's death.
Hundreds joined Martin's parents for a candlelight vigil in New York City as part of what they called a "Million Hoodie March" — because Martin was wearing a hoodie the night he was killed.
"We are all Trayvon Martin," demonstrators chanted as they gathered in the city's famed Union Square.
In the Orlando suburb of Sanford, Fla., where the incident occurred, a moment of silence was held at 7:15 p.m., the time Martin was killed.
The vigil there was organized by Geri Hepburn, a white parent whose son became politically active after the shooting became a focal point of the nation.
"I figure it's a lifelong thing," Hepburn told Reuters.
Tracy Martin said on MSNBC that "as parents of a slain child, we never move on. And we'll do our best to keep it in the media and to keep people's attention."
He added: "We don't expect Trayvon to be the top story every day. He's definitely the top story in our life. We took a vow to make sure that his honor and his legacy won't be tainted by this whole situation."
Martin's mother, Sybrina Fulton, said that the family is holding up "fairly well" and relying on one another.
"It's been a somber year, a sad year, a year I won't soon forget," said Tracy Martin.
Editor's note: George Zimmerman has sued NBCUniversal for defamation, and the company has strongly denied his allegations.