A federal judge will hear arguments Friday in San Diego on whether to delay the legal case against Donald Trump in connection with Trump University.
But once Trump becomes president, can he still be subject to civil lawsuits over something he did before he was elected? Would he have to give testimony if the judge ordered it? The answers are clearly yes.
The U.S. Supreme Court settled that question in 1997 when it ruled unanimously that a sexual misconduct lawsuit filed by Paula Jones against President Bill Clinton could proceed. Clinton's lawyers had argued that he was essentially immune and that the case should be delayed until after he was out of office.
Related: Donald Trump's Lawyers Ask for Delay of Trump U Trial
But the court ruled that despite the demands of the office, time could be made to take a deposition. Jones, they said, "has a right to an orderly disposition of her claims," just like any other citizen.
The court dodged the question of whether a president can be compelled to testify in court, but it said testimony could be taken at the White House "at a time that will accommodate his busy schedule."
In the current case, former students of Trump University say the school fraudulently misrepresented what students would be taught and falsely claimed that instructors were handpicked by Trump. The trial is scheduled to start Nov. 28.
Trump's lawyers last week asked the judge to delay the trial, including the taking of further testimony from Trump, until after the inauguration. The 69 days of transition, they said, "are critical and all-consuming."
Lawyers for the students countered that they don't need any more testimony from Trump and that there's no reason to delay the trial.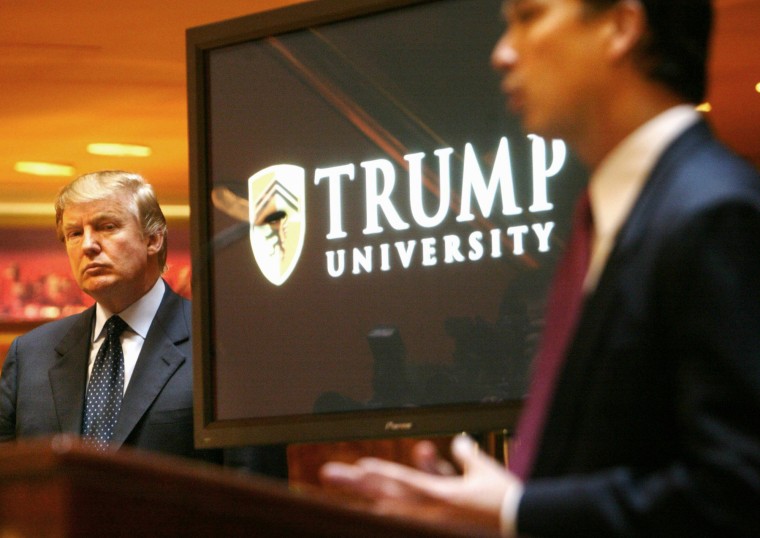 "He has submitted 510 pages of briefing and exhibits without identifying a single admissible fact that his testimony could establish that is not already in the record here," they said.
No sitting president has ever testified in open court. President James Monroe responded to written questions as a witness in a military trial in the first quarter of the 19th century. President Gerald Ford gave a deposition in 1975 in the criminal trial of the woman who aimed a gun at him in San Francisco.
President Clinton twice gave videotaped testimony in criminal cases. And after the Supreme Court ruling, he gave a four-hour videotaped statement in the Paula Jones lawsuit. That was the first time a sitting president ever gave testimony in a civil case in which he was a defendant.
The federal judge in the San Diego case, Gonzalo Curiel, is the judge who Trump said during the campaign was hostile to him.
"I believe he happens to be Spanish, which is fine. He is Hispanic, which is fine. And we haven't asked for recusal, which we may do," Trump said in May. "But we have a judge who is very hostile. Should've been thrown out. Wasn't thrown out."