NEW YORK — Breitbart Tech editor Milo Yiannopoulos apologized and resigned Tuesday amid a backlash to his reported comments about child sexual abuse.
"I do not advocate for illegal behavior," Yiannopoulos, who described himself as a "proud free-speech warrior," said at a news conference in Manhattan. "I do not support child abuse. It's a disgusting crime of which I have been a victim."
Yiannopoulos said the decision was his alone.
"I would be wrong to allow my poor choice of words to detract from my colleagues' important reporting," he said. He thanked the site for allowing him "to carry conservative and libertarian ideas to communities that would otherwise never have heard them."
Organizers of the Conservative Political Action Conference on Monday rescinded Yiannopoulos' invitation to speak this week after a conservative advocacy group, Reagan Battalion, posted video clips in which he appeared to defend sexual relationships between young teenagers and adults in certain circumstances.
Related: CPAC's Organizer Explains Why He Invited (and Disinvited) Yiannopoulos
In the video, Yiannopoulos discussed romantic relationships between teenage boys and adult men while being interviewed for the Drunken Peasants podcast in early 2016.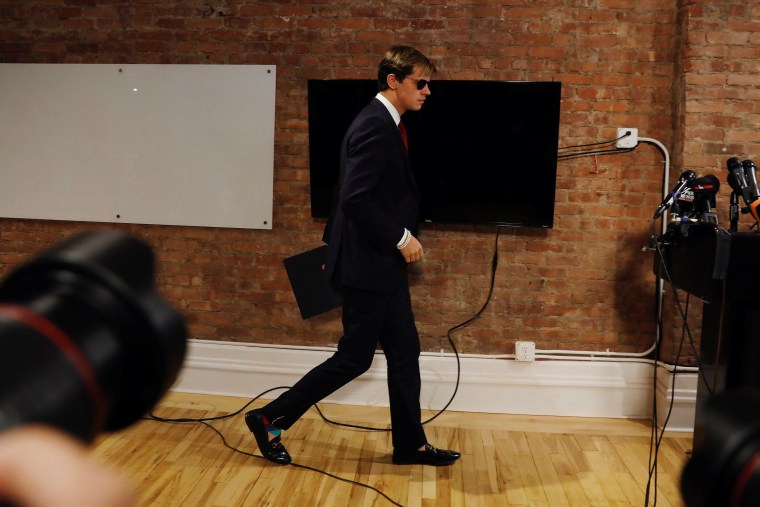 Asked whether he was advocating for "cross-generational relationships," Yiannopoulos said: "Yeah, I don't mind admitting that.
"And I think particularly in the gay world, and outside the Catholic Church — if that's where some of you want to go with this — I think in the gay world some of the most important, enriching and incredibly life-affirming, important shaping relationships very often between younger boys and older men," he said. "They can be hugely positive experiences."
Yiannopoulos, self-described libertarian who has made a career of advocating far-right opinions, said Tuesday that his apology was the first he has ever made. He said he was spurred to apologize out of concern for other victims of childhood sexual abuse, which he said he suffered at the hands of two men from the ages of 13 to 16.
He stressed that he was apologizing for the fallout of his comments on other abuse victims — not for his views themselves.
"I will not apologize for dealing with my life experiences in the best way that I can, which is humor," he said. "No one can tell me or anyone else who has lived through sexual abuse how to deal with those emotions."
At the same time, he seemed to minimize the impact of sexual abuse, saying: "It's not the worst thing that's ever going to happen to you. And I know that some people will find that in itself to be an outrageous statement, but it simply isn't the worst thing that will ever happen to you. Going bankrupt is worse."
Yiannopoulos said he was "very proud to be introducing what I would consider to be 'normal gays' to conservative America. ... We don't have to be the stereotype — the pink suit and ludicrousness of a lot of gays that you see on television."
Yiannopoulos said Tuesday that he wouldn't attend the CPAC conference, which President Donald Trump is scheduled to address on Friday. But he said he was moving forward quickly.
Yiannopoulos said he plans launch his own media company, the name of which he didn't reveal.
"I look forward to making you laugh, cry and think for decades to come," he said.
And he said that he had found a new publisher for his planned book "Dangerous," which Simon & Schuster canceled in response to the controversy. He didn't name the publisher, but he said the book was on schedule to be published sometime this year, with proceeds going to child abuse charities.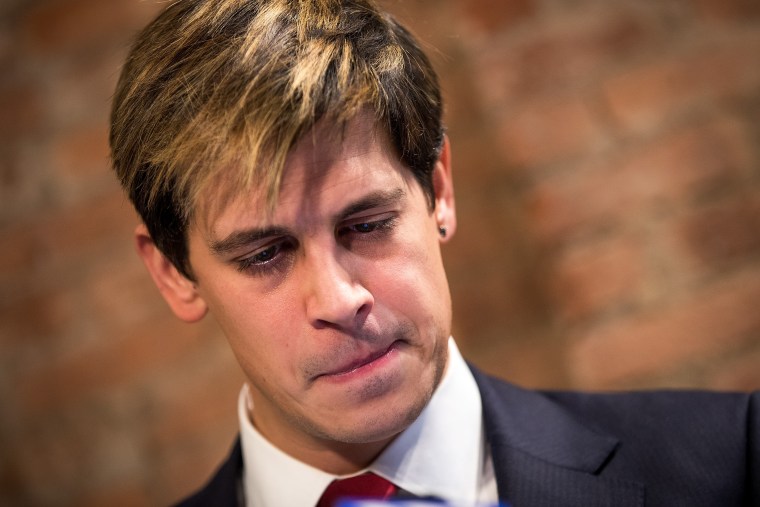 Yiannopoulos first rose to prominence as a voice of the "Gamergate" movement involving alleged sexual harassment in the video game culture. He has been widely criticized for his remarks about transgender people, rape culture, gay and lesbian sex, women, Islam and race.
Tuesday, he appeared to reject the idea that homophobia may have played a role in his current controversy.
"I've probably done more for gays in the fly-over states than all of the gay charities, the activist groups and the gay publications of the last 30 years," Yiannopoulos said.
But "if there's any extent to which homophobia plays into CPAC's decision, I'm not aware of it," he said.
Still, he said, "CPAC has a long and complex history with gays."
Log Cabin Republicans, an organization of gay Republicans, alleged in 2015 that the American Conservative Union, which organizes CPAC, had banned it from sponsoring the conference.
"We do not bar any groups or individuals based on sexual orientation," ACU Chairman Matt Schlapp said in a statement at the time.