At a kosher butcher shop in Borough Park, a Brooklyn neighborhood with a large population of Orthodox Jews, Eli Eisenberg said the spate of anti-Semitic attacks that have struck his close-knit community is nothing new.
"We live with it," said Eisenberg, a Hasidic Jew who was born and raised in Brooklyn, "You just have to live with it."
When five people were stabbed over the weekend at a rabbi's home during a Hanukkah celebration in Monsey, New York — a suburban Orthodox enclave — Eisenberg was sad but not surprised, he said.
"There have been incidents ever since we've lived in New York," he said. "It's been happening for 30 years."
The Monsey stabbing occurred during a Hanukkah week that was marked by at least eight other reported anti-Semitic incidents in New York City, where Orthodox Jews were verbally and physically assaulted.
The rise in violence, which comes in the wake of the deadly kosher market attack in Jersey City, New Jersey, has "terrified" left Brooklyn's Jews, according to the Anti-Defamation League, which tracks anti-Semitic incidents.
Grafton Thomas, 37, was arrested in Manhattan hours after the Monsey attack and was charged with federal hate crimes on Monday. Authorities said a search of Thomas' home turned up journals with anti-Semitic writings.
Download the NBC News app for breaking news
New York Mayor Bill de Blasio, who said President Donald Trump is in part to blame for the 21 percent uptick in anti-Semitic crimes in the city, responded by sending more police officers to patrol Brooklyn neighborhoods like Borough Park, Crown Heights and Williamsburg, where most of New York's Hasidic Jews live.
The mayor said he has a plan to address the violence: ramped-up security, increased education in middle schools and high schools, additional light towers and creation of neighborhood safety coalitions.
Some welcomed the moves, like Esther, of Borough Park, who declined to give her last name for privacy reasons.
"It's scary," she said Monday, sitting at the counter of an internet cafe on a street lined with awnings in Hebrew. "We are Jewish people, and it's always been this way, but these past couple of incidents have changed things."
Four local Jewish lawmakers called on Gov. Andrew Cuomo to deploy the National Guard, describing the violence as a "slow-rolling pogrom." They also asked the governor to declare a state of emergency over anti-Semitism in the state.
While there is a widespread feeling within the Orthodox community that anti-Semitism is increasing in Brooklyn, the community hasn't reached a consensus on how to tackle the recent uptick in violence.
While Eisenberg wants the city to support those who have been affected by the violence, he dismissed the mayor's plan as lip service.
"I don't give a crap about the mayor, and he doesn't give a crap about me," he said.
Eisenberg went on to say that he believes the attacks are just the sad reality of being a visible Jew, and he urged residents not to let this stop them from living their lives. "No one should run for their lives or hide in a cave because of it," he said.
Michael Cohen, a shopkeeper in Borough Park, said he feels the same way. He expressed an acquiescence when asked about his reaction to the violence. "What is there to say? Everything is OK," Cohen said. The violence, while terrible, is a part of life, he said.
Cohen said the mayor "should be ashamed of himself" for trying to place the blame of what has been an ongoing problem for years on Trump. "He'll blame the president for everything."
David Katz, also of Borough Park, expressed indifference about having more police officers on the streets.
"Why go through the hassle?" he said. "Even if you add more cops, they won't be able to do anything."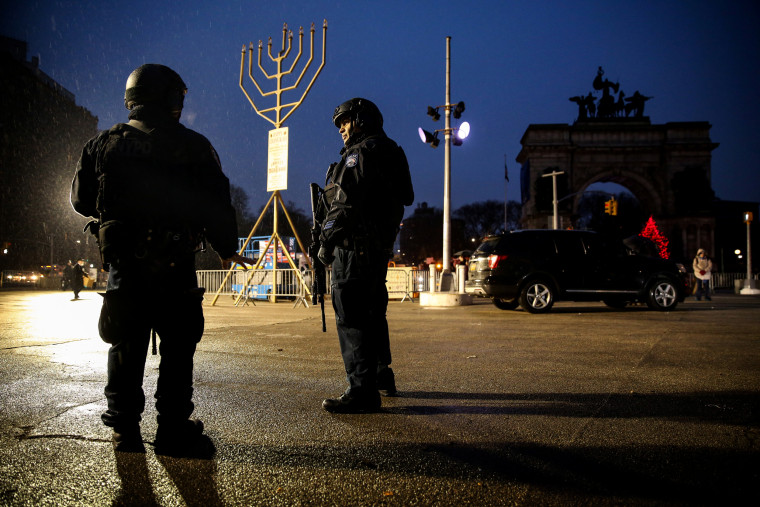 Non-Jewish neighbors of the Orthodox community remain similarly torn over the best way to respond to the violence.
In South Williamsburg, Peter Blagian, who works at a plant store, said he supports the mayor's plan. "They're one of our best customers," he said of the Orthodox Jewish community. "Anything that will help them is good with me."
Jen Patton, who works in a cafe in the same neighborhood, was skeptical. She said she's concerned that the increased police presence could lead to negative encounters between police and the black and Latino residents who live in many of the same neighborhoods as Orthodox Jews.
"Can we make sure the police know de-escalation tactics instead of just shooting people?" asked Patton, adding that outreach and community building were the best ways to address anti-Semitic violence. "Even just getting to know each other helps."
Joe Toronto of South Williamsburg said more education around hate crimes and Judaism in schools was a good idea, but he said that's a "long-term" solution. He added that while "there is violence occurring," he doesn't believe a more robust police presence in communities of color is the solution.
As the mayor called for neighborhood safety coalitions, Katz said he is already on one and has been for five years. He said that while he waits to see whether adding more police officers on the streets will stymie the attacks, he'll be out patrolling the neighborhood himself.
"I'll be going out tonight," he said.