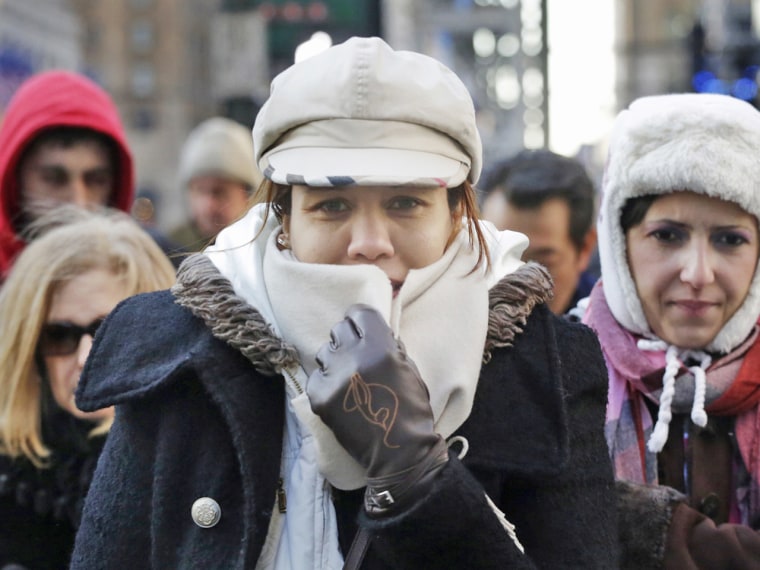 Arctic air kept a cold blanket of misery over the Northeast Thursday as the region experienced the kind of temperatures that have left the Upper Midwest shivering for days.
Temperatures struggled to break zero Wednesday in New York and New England, while dangerous wind chills and lake-effect snows continued to threaten large parts of the Midwest and Northeast into Thursday and beyond.
The deepest freeze was felt in northern Minnesota, where the thermometer dipped to 27 degrees below zero, according to the National Weather Service.
For comparison's sake, that was 109 degrees colder than the nation's warmest spots, both in Texas.
Around New York City, the coldest air in two years seized the area on Wednesday, NBCNewYork.com reported, noting that while highs will reach the 20s Thursday, winds will be higher, so it will still feel brutally cold.
The temperatures were so low that New Hampshire's Wildcat Mountain ski resort was closed Wednesday and Thursday, The Associated Press reported. Temperatures were already in the negative double digits, but the wind chill reached a numbing 48 below zero, making conditions unsafe.
The AP said that four deaths -- two in Illinois and one each in Wisconsin and Minnesota -- have been attributed at least partly to the cold.
Also in the Northeast, victims of the massive storm Sandy were hit hard by the cold. Some who were left in makeshift homes sought shelter in tents equipped with propane heaters, while those in damaged homes suffered frozen pipes, according to The AP.
The misery is spreading southward, as well. The Weather Channel predicted a wide belt of snow in the Mid-Atlantic and lower Midwest, with ice storms possible in as far south as the northern Atlanta suburbs.
The National Weather Service expects below freezing temperatures and light rain toward the end of the day Thursday. By Friday, forecasters said up to a quarter inch of ice was possible across parts of Georgia, Tennessee, Virginia and North and South Carolina.
That could create treacherous driving conditions and cause some power outages, Weather.com reported.
And just as the current system moves out to sea, another is pushing into the West Coast.
"The calm before the storm is the best way to describe the weather Thursday," weather.com lead Meteorologist Kevin Roth wrote.
The Associated Press, weather.com and NBCNewYork.com contributed to this report.