A Trump ally who made strikingly offensive remarks about the Obama family last week was on Thursday told to resign immediately from his position on a Buffalo, N.Y., school board.
In a 6-2 vote, the Buffalo County School Board gave controversial businessman Carl Paladino 24 hours to resign his seat, or the decision would go to the Department of Education. Paladino was absent from the meeting.
Related: Trump Ally Carl Paladino Slammed for 'Racist' Wish List for Obamas
Paladino, an outspoken ally of President-elect Donald Trump, came under fire last week for his racist response to a local survey on New Year's wishes, telling the paper that he wished President Obama would die of mad cow disease and for the First Lady "to return to being a male and let loose in the outback of Zimbabwe."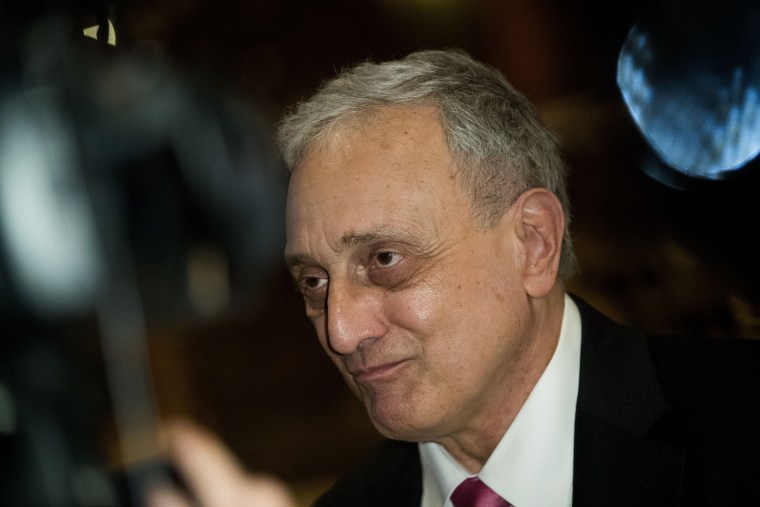 His remarks were greeted by swift outrage, with protesters around the country demanding his resignation. The board's decision Thursday was greeted by a loud and sustained standing ovation from the school board chambers.
Paladino, who was chair of Trump's New York campaign before the election, also once sent an email to a female anti-Trump Utah GOP delegate saying she should be "hung for treason" and promised to "be in your face" at the convention.
Related: Analysis: The Vengeful World of Donald Trump, and Why It Matters
In a closing statement before the vote was held, district President Barbara Nevergold said Paladino had failed the students under his care — especially those who are minorities — by reducing their role models to "depraved individuals."
"Words matter Mr. Paladino," Nevergold said. "As a sitting board member you have amassed a record and established a pattern of behavior that is equally egregious and violates your oath of office and professional ethics as a board of education member."
Nevergold went on to describe hundreds of "incredulous" complaints she and fellow board members said they'd received since Paladino's statements were made public.
"They would like me to tell you, 'You're fired,'" she said to applause. "But those are not my words. So I'm asking you to do the right thing and resign."
Paladino apologized somewhat for his remarks in a statement Tuesday, telling the Buffalo News that he'd mistakenly sent the responses to the outlet — he meant to only share the outlandish racism with his friends — and didn't intend for them to hurt the "minority community."
But he also remained defiant, vowing not to leave the school board in the face of backlash from what he called, "vanquished progressive haters."
"I don't intend to yield to the fanatics among my adversaries," he said. "I certainly am not a racist."
But for many members in both the board and the community, Paladino's apology wasn't enough.