President Obama met with survivors in flooded Louisiana Tuesday, touring a hard-hit Baton Rouge suburb strewn with debris and rubble.
"Sometimes when these kinds of things happen, it can seem like too much to bear. But what I want the people of Louisiana to know is you're not alone, even after the TV cameras leave," Obama said at a press conference Tuesday afternoon after walking through destroyed homes and shaking hands with residents.
The visit to the Castle Place neighborhood of Zachary, Louisiana, came more than a week after the historic floods inundated the southern part of the state, killing 13 people and damaging more than 60,000 homes. Tens of thousands have been displaced.
Obama said Americans are "heartbroken by the loss of life" and said the floods have cost survivors more than property.
"I was just speaking to a young woman whose husband died shortly after the birth of her second child, and she was talking about how her daughter was trying to gather all the keepsakes in her bedroom that reminded her of her father," he said.
The Red Cross has called it the biggest natural disaster to strike the United States since Superstorm Sandy in 2012. On Monday, the organization appealed for more donations from the public.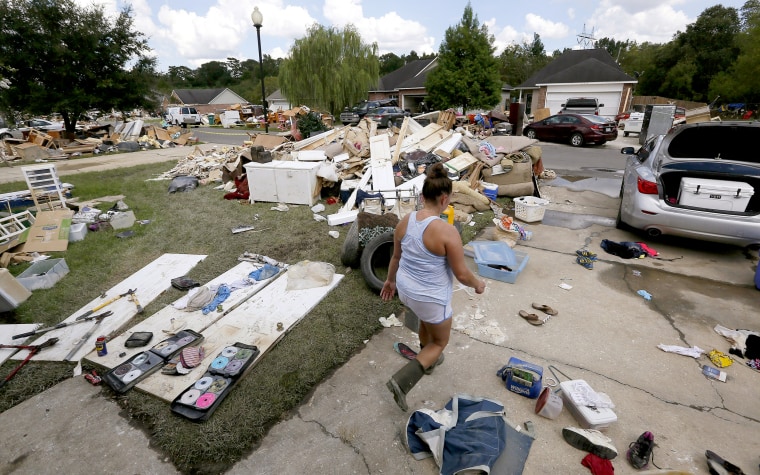 "The Red Cross has received approximately $7.8 million in donations and pledges designated to support Louisiana — not nearly enough to cover our costs of at least an estimated $30 million. The needs of the people of Louisiana are great, and we ask the public to please donate as generously as they can," it said.
Related: Obama to Visit Louisiana, Where Donations Barely Trickle In
Obama signed a federal disaster declaration over a week ago, freeing up $120 million in aid. But many felt that wasn't enough — particularly because the president chose not to leave his Martha's Vineyard vacation last week.
White House spokesman Josh Earnest, who on Monday pushed back against Obama's critics, reiterated aboard Air Force One Tuesday to Louisiana that the federal response so far has Obama "confident that with continued tenacity, skill and attention to detail this community will rebuild and come back stronger than ever."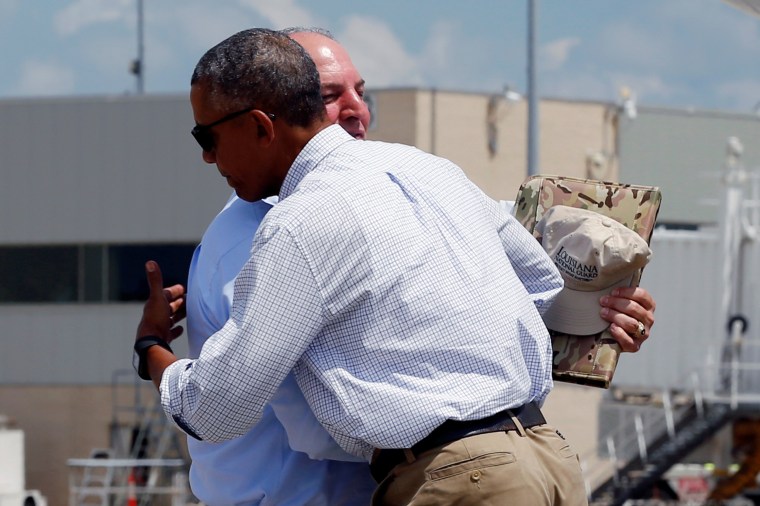 The White House has not yet received a formal tally of how much federal funding is needed, he said. In addition to state and local aid, he encouraged Americans to take the Red Cross up on their request for more pledges.
Related: Obama More Concerned With Louisiana Response Than Optics: White House
"We want to keep that kind of charitable work moving. This is an opportunity for the American people to make a donation to this effort," Earnest said.
Obama made the same plea during his press conference in Zachary, urging Americans to "make sure you find out how you can help" by visiting VolunteerLouisiana.gov or FEMA.gov.
The president praised Federal Emergency Management Agency Administrator Craig Fugate for his rapid coordination with state and local officials, drawing a contrast to the Bush administration's botched response to Hurricane Katrina in 2005.
"I know how resilient the people of Louisiana are, and I know you will rebuild — again," he said, later adding, "I could not be prouder of the work FEMA's done."
Obama was greeted at the airport in Baton Rouge by Louisiana Gov. John Bel Edwards, Lt. Gov. Billy Nungesser and Louisiana Sens. Bill Cassidy and David Vitter.
Zachary, located 10 miles north of Baton Rouge, was most severely impacted by the floods, receiving just over 26 inches of rain, according to the National Weather Service.
"The whole country is going to support you and help you until we get folks back in their homes, and lives are rebuilt," Obama vowed. "Sometimes once the flood waters pass, people's attention spans pass — this is not a one-off, this is not a photo-op issue. This is, how do you make sure a month from now, three months, six months from now, people are still getting the help they need?"
When asked by a reporter how he felt about the fact that the disaster has been politicized — Republican presidential nominee Donald Trump made a surprise visit to Louisiana and criticized Obama for not doing the same earlier — Obama joked, "One of the benefits of being five months short of leaving, I don't worry too much about politics."
Ultimately, he said, residents and first responders don't get caught up in partisan politics.
"What they care about is making sure to get the drywall out, carpet out, no mold, and start rebuilding."
After speaking, Obama went to a food pantry and community center in Zachary. Before leaving Baton Rouge, he will meet with the family of Alton Sterling, the black man killed during a struggle with two white police officers, last month. He will also meet with the families of fallen and injured Baton Rouge police officers.