Nasim Aghdam repeatedly aired her frustration with YouTube on online accounts and on a website linked to her, before she allegedly opened fire on the company' headquarters in San Bruno, California, on Tuesday.
Aghdam, 38, was found dead from a self-inflicted gunshot wound after injuring four people during her shooting rampage, according to local police officials. On Wednesday, the police said they believed that Aghdam was motivated by her anger with YouTube.
YouTube policy changes in recent years have made it harder for video creators to earn money on the platform. YouTube has also narrowed what is considered acceptable — and monetizable — content, moves that have sparked heated criticism from some video creators.
"We know that she was upset with YouTube, and we've determined that right now that's the motivation we've identified," San Bruno Police Chief Ed Barberini said, adding that it has not been determined whether her actions were related to terrorism.
In a statement Wednesday night, YouTube said it was increasing security at all of its offices worldwide, and called the attack "deeply shocking and disturbing." It did not address Aghdam's allegations that newer policies had worked to deny her and other users revenue.
The Mountain View Police Department released a statement saying that Aghdam's father informed them that his daughter was in the area after "she made a series of vegan videos for her channel on YouTube and that the company had recently done something to her videos that had caused her to become upset."
According to a review of Aghdam's online account history conducted by NBC News, she posted videos to four YouTube channels, with most of her work focused on veganism and animal rights. Other videos featured bizarre parodies or exercise videos set to strange music. Her four channels collectively earned more than 9.2 million views on YouTube since she joined the site in 2010.
Aghdam's grievances with YouTube stemmed from changes made by the company to how it pays video creators for ads shown before or alongside their videos. Those changes, some of which occurred less than three months ago, included making it harder for video creators with smaller followings and view counts to make any money from their videos. Some in the YouTube community have criticized those changes.
Aghdam's issues with YouTube appeared to have swelled last year. A file in an image folder on Aghdam's personal website showed what purported to be an email she received that appeared to come from an account associated with YouTube's legal support team in response to a complaint she levied on June 16, 2017. The picture is not displayed on Aghdam's website, but was uploaded to an index folder containing all images hosted on the site.
In the email, which was added to her website June 27, 2017, Aghdam complains of "discrimination and hatred problems against me," alleging a "huge drop in views" after she began uploading videos in Farsi and Turkish.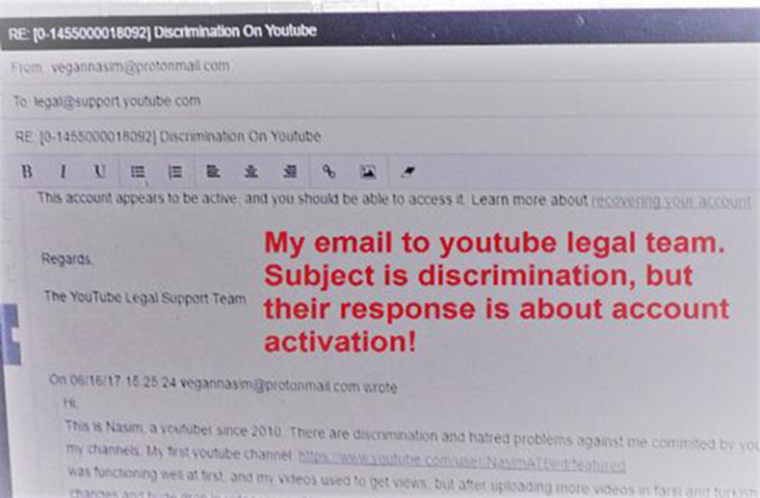 Aghdam appended a message in a red font atop a screenshot of her purported interaction with a YouTube support account.
"My email to youtube legal team. Subject is discrimination, but their response is about account activation!"
YouTube did not respond to requests for comment.
Aghdam's family confirmed her YouTube usage to NBC News on Tuesday. In a brief phone interview, her father, Ismail Aghdam, said the platform had "stopped everything and now she has no income."
Ismail Aghdam later told The San Jose Mercury News that his daughter "was angry" and "hated" YouTube.
Charts on the analytics site SocialBlade show that Aghdam suffered a substantial decline in viewers and subscribers on her main YouTube channel in June 2016. Aghdam opened several other YouTube accounts over the course of 2016 and 2017, all of which received noticeable drops in viewership within months.
It's unclear how much money Aghdam was making for her views, but SocialBlade estimated that she was making $661 to $10,614 a year from her four YouTube accounts.
"On YouTube, a creator can estimate that they'll get somewhere between 25 cents and $4 per 1,000 views. These data points change from time to time and are not an exact science, but generally hold true for most channels," SocialBlade CEO Jason Urgo said.
A website registered in Aghdam's name and a hub for her now-deleted YouTube accounts, NasimeSabz.com, prominently features several videos about YouTube demonetization under the heading "Youtube filtered my channels to keep them from getting views!"
The section includes three active YouTube videos, one by vlogger Casey Neistat, another from a channel called "Bite Size Vegan," and another by InfoWars writer Paul Joseph Watson.
Watson and InfoWars, a website known to frequently spread conspiracy theories that was founded by Alex Jones, have posted dozens of YouTube videos and articles decrying what they deem to be "censorship" at YouTube. One of InfoWars' videos on YouTube from last month is titled "These are the videos they want banned from YouTube" and "Internet censorship is here and it's time to fight back."
InfoWars has amped up attacks against the tech giant since receiving two "strikes" against YouTube's community standards. YouTube has said that it will ban InfoWars from YouTube if it has to issue a third "strike."
YouTube currently allows its users to monetize their videos through the YouTube Partner Program. The program now requires a channel to reach 4,000 watch hours over the course of the past 12 months and 1,000 subscribers to be eligible for partnership, according to YouTube's help center.
Those rules were put in place on Jan.16 as part of an effort to to weed out "bad actors" like spammers and impersonators, according to Variety. The prior threshold for a channel to qualify for monetization was 10,000 views.
"This is part of an effort to strengthen our requirements for monetization so spammers, impersonators and other bad actors can't hurt our ecosystem or take advantage of creators, while continuing to reward those who make our platform great," YouTube says in the post.
Once users meet the requirements, they must agree to the terms of service; sign up for AdSense, a Google program that allows publishers to run advertisements; and set their monetization preferences before submitting videos for review by the site. If approved, the channel can begin to make money.
But YouTube's monetization process was not always this rigorous.
The "Adpocalypse," what many major YouTubers refer to as the beginning of the site's crackdown on who is and isn't monetized, began in early 2017.
Many content creators say the rules have been nebulous and some claim that they videos that that do not violate the company standards have been demonetized. Because of this, many YouTubers have turned to Patreon, a subscription service for content creators, or YouTube Red, a Google subscription service that costs its users $9.99 a month.
Demonetization appeared to be a source of contempt for Aghdam, who posted at least one image to her website noting that she made 10 cents for a video that received more than 366,000 views.
"Youtube filtered my channels to keep them from getting views!" Aghdam wrote on her website. "There is no free speech in real world & you will be suppressed for telling the truth that is not supported by the system. Videos of targeted users are filtered & merely relegated, so that people can hardly see their videos!"
Aghdam appeared particularly motivated to spread her political views, specifically veganism. She wrote dozens of memos outlining her views that were accessible in nonpublic parts of a website registered in her name, NasimeSabz.com. In one of the memos, Aghdam likened terrorists to meat eaters, saying, "Only name those who murder humans terrorists and have closed our eyes on the crimes that are committed daily against animals."
"Most people hate terrorists (human murderers), but if they look at their own true faces in treating innocent animals, they will see they cause violence and murder just like terrorists, either directly or indirectly," one file on Aghdam's website reads. "The whole world may mourn for the death of one person but ignores thousands of animals being tortured and killed every day!"
Aghdam's brief brush with YouTube fame came two years ago, when her videos were mocked by a Turkish YouTube star. A compilation of Aghdam's videos, with underlying commentary by the user Yorekok, received over 800,000 views.
"In today's episode, we have stocked enough nightmare fuel for years," Yorekok said.
CORRECTION (April 5, 2018, 2:55 p.m. ET): An earlier version of this article misstated the address of Nasim Aghdam's website at one point. It is NasimeSabz.com, not NasimSabz.com. (NasimeSabz.com has been taken down.) The same error appeared in a caption.