In less than a year, Candace Owens has gone from a rising political YouTube personality to one of the leading faces — and voices — of the conservative effort to win back the votes of young and minority Americans.
Owens, 28, spends her days zigzagging across the country, speaking at GOP fundraisers and on college campuses as the communications director of Turning Points USA, the country's most prominent and contentious conservative student group.
She became the new darling of President Donald Trump at lightning speed last month when a video of her berating black protesters at the University of California, Los Angeles, as "privileged Americans" obsessed with "shouting about slavery" went viral. Shortly after, rapper Kanye West tweeted, "I love the way Candace Owens thinks."
Trump called in to "Fox and Friends" and said Owens was "the hottest thing out there right now." And this month, Trump followed a 20-minute face-to-face meeting with Owens at the White House with a tweet about the "big impact" she was having on politics: "so good for our Country!" he wrote.
The plaudits she's received from the right have been met with equal loathing from the left, which has called Owens out on social media, labeling her "stupid," "token" and "exclusively reactionary, rage fueled and hyper emotional."
It's been a stunning ascent for a person who now loudly advocates for Trump but didn't vote for him, or anyone, in 2016. She didn't vote for Barack Obama in 2012, either.
"Yeah, I didn't vote exactly," Owens said in an interview with NBC News. "This is the first time I've been politically inclined and active, and I think Donald Trump is a tremendous president. And I wanted to be educated. I wanted to do a deep dive before I started going out there and saying stuff as opposed to other people who mindlessly vote."
The platform
Owens' conservative awakening embodies what the Republican Party hopes to see across the country — young people, minorities and women embracing the ideas of Trump's America.
But she's not doing that by softening any of the platform that has emerged on the far-right. Owens has called Black Lives Matter advocates "whiny toddlers," advocated for the end of all welfare programs, and likened black Democrats to slaves on plantations.
For Owens, climate change is a lie used to "extract dollars from Americans," abortion is the "extermination" of black babies, undocumented immigrants brought to the U.S. as children should be immediately deported, and concern over rising white nationalism is "stupid," an opinion she expressed after a white nationalist drove through a group of counterprotesters last summer in Charlottesville, Virginia, killing a woman.
Owens cites George Soros and "globalists" among the country's most looming threats and has called for the imprisonment of Hillary and Bill Clinton, former FBI director James Comey, special counsel Robert Mueller and the TV anchors Jake Tapper, Rachel Maddow and Anderson Cooper, among others.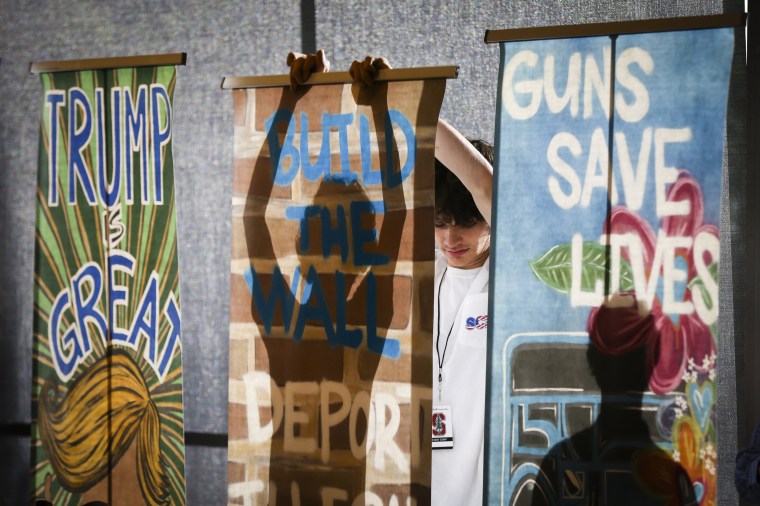 That contrarianism and aggressive Trumpian delivery, combined with a talent for angering those on the left, has led Owens to amass 560,000 Twitter followers in the last year, and her YouTube videos have racked up 7 million views. She's moved from appearing on fringe online conspiracy websites to guest hosting gigs on Fox News.
"Everybody in our immediate family has met Candace on multiple occasions," Donald Trump Jr. told NBC News, "and deeply appreciates what she has done to bridge the polarizing delta left by leftist politicians and their media cohorts, who wish to see this country divided."
Owens isn't just pushing buttons on the left. After she blasted the #MeToo movement for having "turned sexual assault into a trend," predicated on the idea that women are "stupid" and weak," Charlie Kirk, her boss and the president of Turning Points, asked members in a group message not to walk out or boo Owens during her speech at an upcoming women's leadership conference. (Owens called reports of internal discord "fake news, and says conservatives critical of her or her message generally are "secret socialists.")
She recently dove into Twitter feuds with Fox News' Tomi Lahren over Kanye West and warned Ben Shapiro, the editor-in-chief of the popular right-wing news website Daily Wire: "Don't talk down to me. Ever again," after he tweeted critically about the president's recent meeting with Kim Kardashian West, Kanye's wife.
At a time when the digital pundit economy rewards division over consensus, those episodes have only helped to magnify the profile of the self-described "most controversial black woman in America."
"What is Ben Shapiro, the god of my thoughts, now that I'm a conservative?" she asked. "No. I'm Candace Owens."
The pedigree
Just a couple of years ago, Owens was like many other 20-somethings in New York City.
She grew up in Stamford, Connecticut, and, according to her telling, was raised by her grandparents after her parents divorced. Owens rarely speaks of her immediate family, but often invokes her grandfather as a model black American.
At Turning Points events and in videos, she says her grandfather Robert Owens was born in segregated North Carolina, picking cotton and laying out tobacco from the age of 4 on a sharecropping farm. She says he went on to start a business, raise a family and eventually retire in North Carolina, buying the very land that he had once worked.
Owens went to the University of Rhode Island to study journalism, but she said she was forced to leave because of an issue with her student loan. A representative for the university said Owens dropped out after her junior year.
By 2015, Owens was living and working in New York, paying off debt and looking for her next move when she and a co-worker founded Degree180, a marketing agency that offered consultation, production and planning services. The site included a blog that featured writing from Owens on a variety of topics including anorexia, acne, breakups and dating — and occasionally politics. In one post, she wrote about the "bat-shit-crazy antics of the Republican Tea Party," adding, "The good news is, they will eventually die off (peacefully in their sleep, we hope), and then we can get right on with the OBVIOUS social change that needs to happen, IMMEDIATELY."
In the spring of 2016, the women of Degree180, led by Owens, launched a $75,000 Kickstarter campaign for a new website called Social Autopsy. The idea, according to the promotional video, was to create "the first-ever search database that compiles and allows the public to easily access the digital footprint of individuals and companies."
"Wave goodbye to cyberbullies and trolls," it announced.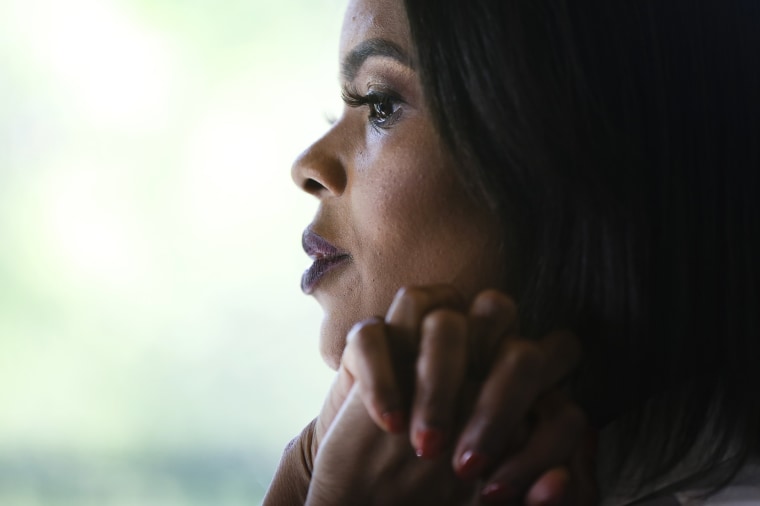 The project soon ran into problems. In the pitch, Owens claimed her team had already amassed profiles on thousands of individuals, using real Twitter, Facebook and Instagram posts. Privacy is one of the few topics that can unite the internet's warring factions, however, and Social Autopsy, to a lot of people, felt like an online destination for "doxing," the malicious practice of posting a person's identifying details on the internet, usually with the implied invitation to harass the person in real life. These days, Owens acknowledges that the endeavor was "well intended but totally naïve."
In response, people began to dox Owens, posting her address, family members, workplace, contact information and social media profiles. Owens received threatening emails and texts, many of them racist.
That led her to stumble into one of the internet events that helped fuel the so-called alt-right: Gamergate, which pitted progressive video game developers and their supporters against gamers who revolted against the move to make video games more inclusive.
With scant evidence, Owens blamed the progressive side of Gamergate for her doxxing and the ultimate failure of Social Autopsy's Kickstarter project, leading her to unexpected allies: the Gamergate faction whose anti-feminist, traditionalist positions often overlapped with politically conservative ones thanks to prominent Trump supporters Milo Yiannopoulos and Mike Cernovich, known for spreading conspiracy theories and far-right ideology.
"I reached out to offer some moral support, told her to keep her head up and not let the hate get her down," Cernovich told NBC News, referring to Owens.
The support Owens received from Cernovich and others on the far-right made an immediate impact.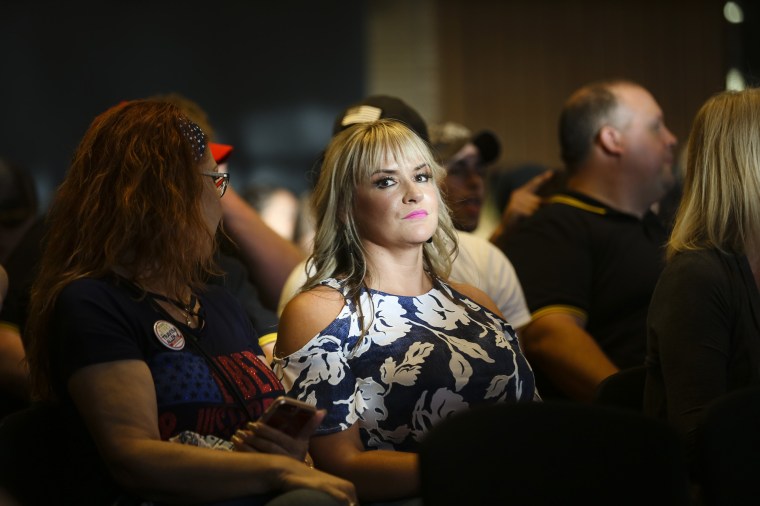 "I became a conservative overnight," Owens said in 2017 on an online talk show hosted by Libertarian political personality Dave Rubin. "I realized that liberals were actually the racists. Liberals were actually the trolls." At the same time, she explained, Trump's message of "fake news" began to resonate.
"Social Autopsy is why I'm conservative," Owens later explained.
The awakening
By the summer of 2017, YouTube had become a destination, and a major funding stream, for a new crop of conservative political commentators, each with their own niche corner of the market. Armed with a new ideology, Owens quickly found a new home, alongside millennials, gays and gamers preaching right-wing politics in online videos.
She joined a handful of existing black conservative YouTubers, posting videos under the handle RedPillBlack, a reference to her race and the internet-speak favored on manosphere and conspiracy sites meaning she had discovered some secret truth. In her first video, "Mom, Dad … I'm a conservative," Owens acted in a one-woman sketch announcing her new identity to her parents (played by herself) and effectively the world.
Owens started new Facebook and Instagram pages, a YouTube channel, a Twitter feed and a connected patreon account, a subscription service where she collected monthly donations in exchange for content. Her videos quickly started to attract attention, but it was "I Don't Care About Charlottesville, the KKK, or White Supremacy" — her response to the media coverage of the deadly white supremacist rally last summer — that went viral and attracted the notice of InfoWars' Alex Jones and Paul Joseph Watson, Rubin and Jesse Watters of Fox News.
More recently, Owens has started to eschew those fringier parts of the far-right media. She refused to speak negatively of InfoWars or its hosts, but has distanced herself from the site since finding mainstream success. Jones told viewers last month that Owens had ghosted him after the Kanye tweet.
"It does hurt your feelings," Jones said.
The message
Owens' tweets regularly rack up thousands of replies, likes and retweets, but it's not clear whether her message resonates outside of the far-right echo chamber.
At a Turning Points USA event at Stanford in May, Owens took the stage in front of roughly 300 people. Despite Turning Point president Kirk's saying on Instagram that the free event had attracted a "sold-out crowd," some 100 chairs sat empty in the hall.
Dressed in a starched white button-down shirt and Adidas track pants, and wearing purple matte lipstick, Owens talks quickly in sound bites and statistics. Speaking with her about her issues feels less like a conversation than an admonishment. She punctuates each talking point with a rhetorical, "Right?"
Owens said that her goal with Turning Points is twofold: to "level the playing field" for young conservatives ("If you say that you believe in free markets and capitalism, you get called a white supremacist") and to "wake up black America, that we have been lied to and that racism is now being used as a way to control us, to instill fear in us."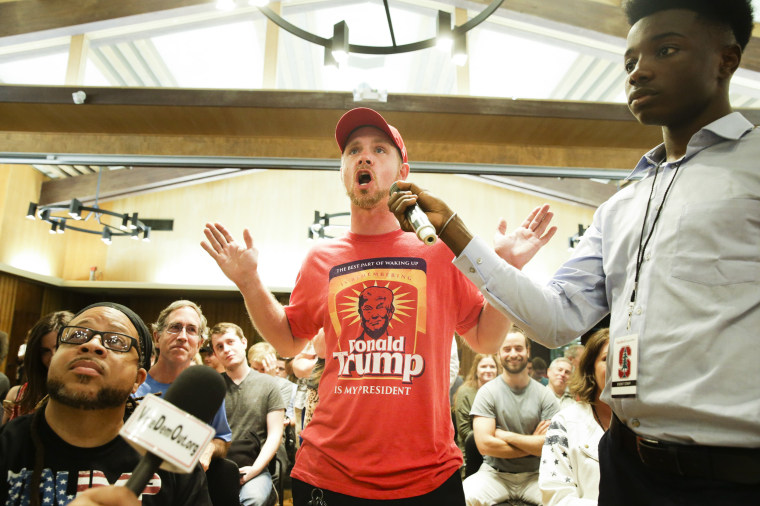 The main problems for the black community, as she explains it, are "a system of government dependency" and a lack of fathers in African-American homes. When asked about specific policies that might improve life for black Americans, Owens demures.
"I'm not a politician, I'm not in Congress. You know what I mean?" she says. "I'm just a black girl that makes YouTube videos and tries to teach dialogue in campuses so they think before stepping into a voting booth."
The crowd was a mix of Stanford College Republicans, curious nonpolitical students, and local Trump supporters, including 20 men in black-and-gold Fred Perry polo shirts — members of the Bay Area Proud Boys, a fraternity of self-described "Western Chauvinists," founded in 2016 and designated a hate group this year by the Southern Poverty Law Center.
College campuses may have become a political flashpoint, but for all her online contrariness, Owens' found little opposition at Turning Point's "Make Stanford Great Again" event. It could have been that liberal students on the Palo Alto campus were busy studying for finals. Perhaps the Stanford College Republicans' purge of suspected infiltrators had done its job. Or maybe, as the college conservative hosts boasted on Facebook, "the Stanford Left had lost its will to resist."
But for whatever reason, no one had come to protest Owens.
"She's the opposite of what you'd expect," Erin Smith, a Californian by way of Mississippi said before Owens arrived. Smith, 38, is a transgender woman with hazel eyes and a nose ring. A Yellowstone National Park hat sat atop her long red hair. She said she likes Owens for the same reason she likes Trump: They're "framing the debate."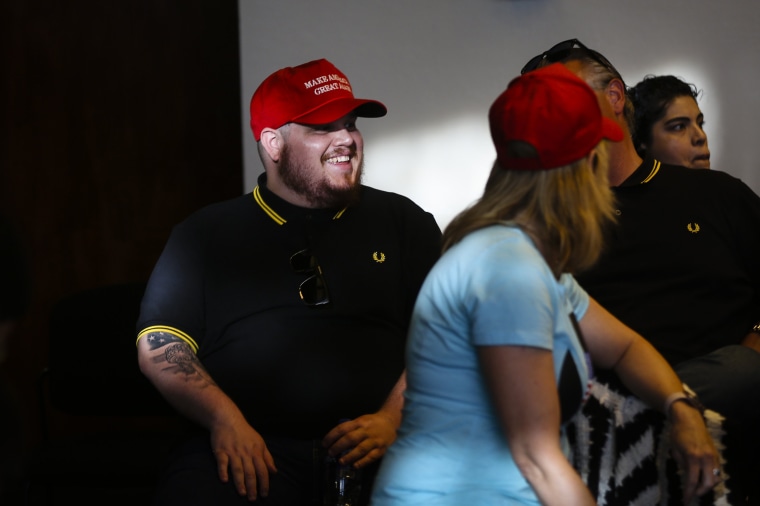 Owens took the stage with Kirk, sitting on chairs in front of five painted banners meant to serve as a kind of road map for the hour-and-a-half-long talk. Backlit by Silicon Valley's setting sun, the banners read: "White privilege is a lie; There are only two genders; guns save lives; Build the wall; and Trump is great."
In front of the Stanford audience, Kirk laid bare the reasoning behind Owens' power. "Candace is such a threat to what I consider to be the largest potential to break the Democrat Party in modern history," Kirk said, using a party name many Democrats consider derogatory.
"Thank you, and that is the goal," Owens replied, before pivoting to the point that black Americans were "doing better" when Jim Crow laws codified racial inequality in the segregated South.
"I can't think of the last Asian that I ran into that talked about internment camps," she said to the crowd. "But black people always want to talk to me about slavery."
Two African-American women sitting near the back row audibly gasped and shifted in their chairs. Before the event had begun, one of the women, a 19-year-old student named Alexia who identified herself as liberal, explained she had come because it was "important to understand both sides."
Afterward, she shook her head.
"That was pretty ignorant."
The media
Owens has adopted a variety of Trump's political positions and style — including a distaste for the media.
"I don't get why they hate us so much," she said in a text message.
Owens and I had been speaking for weeks — in person, through emails and by phone — mostly about the media. Owens feels like the national news media has a liberal bias that she says leads to unfair coverage of her and conservatives like her. Recently, Owens shared with me an email from a fashion website reporter who wrote to apologize in advance for a profile that became in Owens' estimation "a hit piece."
Add it to the pile, Owens says.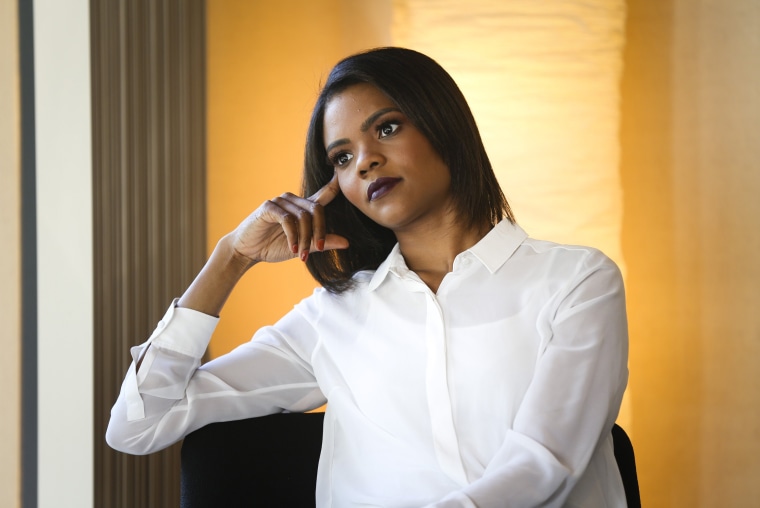 The press has labeled her an opportunist and a neo-Nazi defender. Even the National Review, ostensibly on her side of the political debate, "carefully painted me as a moron," Owens says.
But in her own words, Owens "punches back." Owens says she's writing an opinion piece for The Wall Street Journal on "how journalists have become closet sadists." But to really punch back, Owens relies on a small but reliable set of fans who religiously watch her videos, comment on her Twitter and Facebook profiles and mobilize en masse against reporters and critics.
And for a woman who detests groupthink, Owens revels in the power of a horde. When NBC News tried to verify biographical details provided to the Stanford audience by Kirk, she tweeted to her followers, knowing that they would be keen to direct vitriol at a reporter.
"Don't worry," Owens emailed. "I'm not going to throw you to the wolves."
The mission
Owens' mission at the time she joined Turning Point USA was to expand the group's efforts into black communities, black colleges and inner cities. That's a tall order. African-Americans are considered the Democrats' most reliable racial voting bloc, and an overwhelming majority disapprove of the president and think he is a racist, according to recent polls. Still, it's not impossible.
"Someone like Candace could be effective in shaving into or creating a pathway and making it not toxic to be a black conservative," said Van Jones, a progressive commentator with a twice-monthly show on CNN, on which Owens was supposed to appear in June. She missed out when her plane was delayed on the flight back from Kanye West's listening party in Wyoming.
Jones, once a fiery activist himself, has softened his tone in recent years, and now stresses the importance of "bridging the gap" between the ideologically opposed as a way to bring about change.
"We don't have to agree," Jones said, "but we have to understand."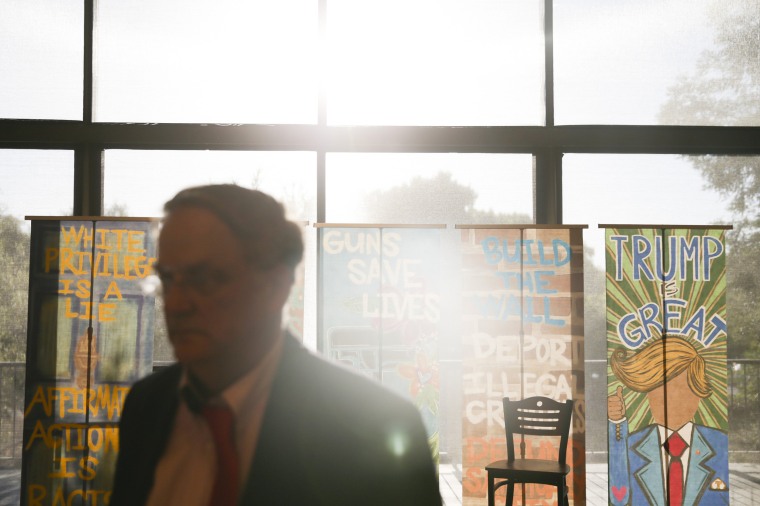 "She's going through a honeymoon phase on all sides," Jones says of Owens. "Right now the Republicans like her because she's new and she's fresh and she's good at her job. The Democrats don't know what to make of her because she's not a big enough deal yet to go after her in any way."
Several conservatives declined to be quoted on the record for this article, while expressing concern over Owens' antagonistic style and limited political knowledge.
"There's a tendency in the conservative movement to embrace anyone who is a minority whether they know anything about conservative principles or not," said one conservative who knows Owens and spoke on condition of anonymity in order to speak freely. "Which is ridiculous because there are legit thinkers who tend toward conservatism and are black but they don't fit the Fox News model."
"She's either going to get better in which case she deserves to survive in this place or she's not and she deserves to blow herself up," said the source, recalling the fall of Yiannopoulos, the former Breitbart editor.
Jones sees staying power in Owens.
"I think she's going to be around for a long time," he said. "She could be the next Megyn Kelly."