Zbigniew Brzezinski, national security adviser to President Jimmy Carter, died Friday at the age of 89, his daughter said.
Mika Brzezinski, co-host of MSNBC's "Morning Joe," announced the death on social media Friday night.
"He was known to his friends as Zbig, to his grandchildren as Chief and to his wife as the enduring love of her life," she said in a post on Instagram.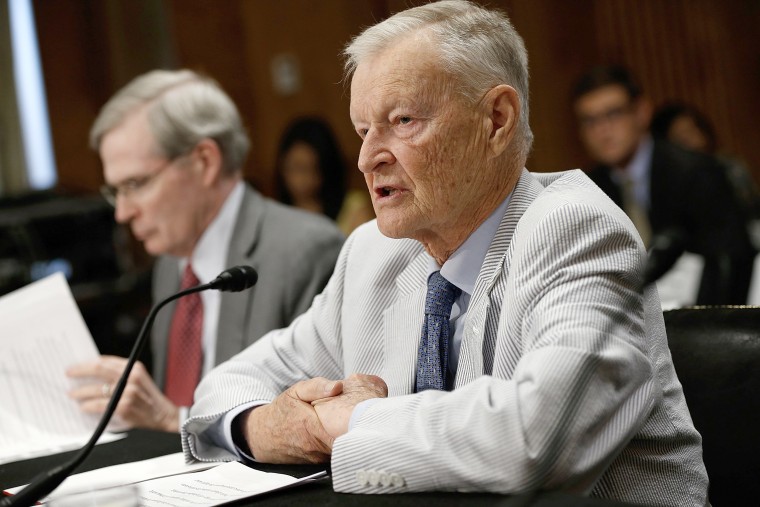 Brzezinski helped topple economic barriers between the Soviet Union, China and the West. And he helped Carter bridge wide gaps between the rigid Egyptian and Israeli leaders, Anwar Sadat and Menachem Begin, leading to the Camp David accords.
President Carter and his wife Rosalynn expressed their condolences Friday. Carter called Brzezinski "an important part of our lives for more than four decades" and "a superb public servant."
"He played an essential role in all the key foreign policy events of my administration, including normalization of relations with China, signing of the SALT II treaty, brokering the Camp David Accords, and the Panama Canal treaties, among others," Carter said. "He was brilliant, dedicated, and loyal, and remained a close advisor to my work at The Carter Center. I will miss him."
In a joint statement, former President George H.W. Bush and former National Security Adviser Brent Scowcroft called Brzezinski a "great American" and "good friend."
"Widely respected as a scholar and a practitioner, his command of foreign affairs made him both an instrumental architect of key policies — and an influential voice in key policy debates," they said.
Born in Warsaw and educated in Canada and the United States, Brzezinski was an acknowledged expert in Communism when he attracted the attention of U.S. policymakers. In the 1960s he was an adviser to John F. Kennedy and served in the Johnson administration.
In December 1976, Carter offered Brzezinski the position of national security adviser. He had not wanted to be secretary of state because he felt he could be more effective working at Carter's side in the White House.
Brzezinski often found himself in clashes with colleagues like Secretary of State Cyrus Vance. For the White House, the differences between Vance and Brzezinski became a major headache, confusing the American public about the administration's policy course and fueling a decline in confidence that Carter could keep his foreign policy team working in tandem.
The Iranian hostage crisis, which began in 1979, came to dramatize America's waning global power and influence and to symbolize the failures and frustrations of the Carter administration. Brzezinski, during the early months of 1980, became convinced that negotiations to free the kidnapped Americans were going nowhere. Supported by the Pentagon, he began to push for military action.
Carter was desperate to end the standoff and, over Vance's objections, agreed to a long-shot plan to rescue the hostages. The mission, dubbed Desert One, was a complete military and political humiliation and precipitated Vance's resignation. Carter lost his re-election bid against Ronald Reagan that November.
Brzezinski helped Carter bridge wide gaps between the rigid Egyptian and Israeli leaders, Anwar Sadat and Menachem Begin, leading to the Camp David accords.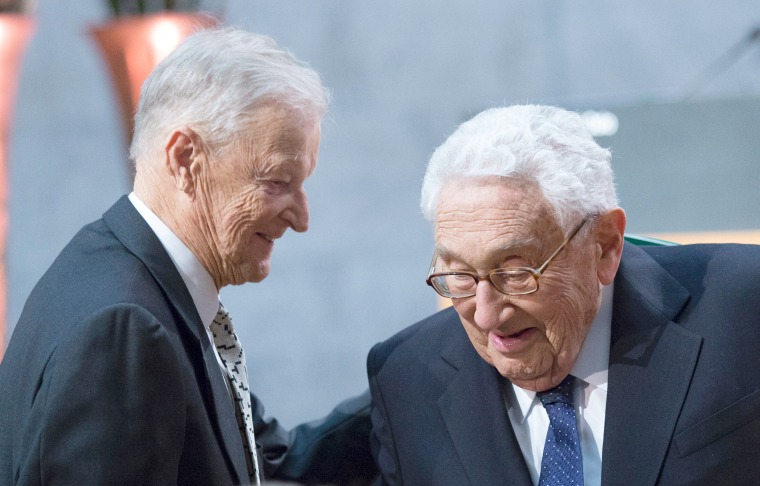 Brzezinski was awarded the Presidential Medal of Freedom in 1981 by Carter for his work on normalizing relations between the United States and China, and for his work advancing human rights.
In presenting the award Carter called Brzezinski's leadership "instrumental in building peace and ending the estrangement of the Chinese and American people."
In recent years, Brzezinski took part in proceedings designed to bring the former Soviet republics into the North Atlantic Treaty Organization.
Mika Brzezinski on Instagram called him "the most inspiring, loving and devoted father any girl could ever have."