An Air Force veteran was in serious condition on Tuesday after he set himself on fire in front of the Georgia Capitol to protest his treatment by the U.S. Department of Veterans Affairs, according to state and local law enforcement officials.
John Watts, 58, arrived at the government building before noon wearing a vest lined with firecrackers and flammable devices, then doused himself with flammable liquid and lit the fireworks, according to the Georgia Department of Public Safety. A Georgia trooper witnessed the event and put out the flames with a fire extinguisher, the department said.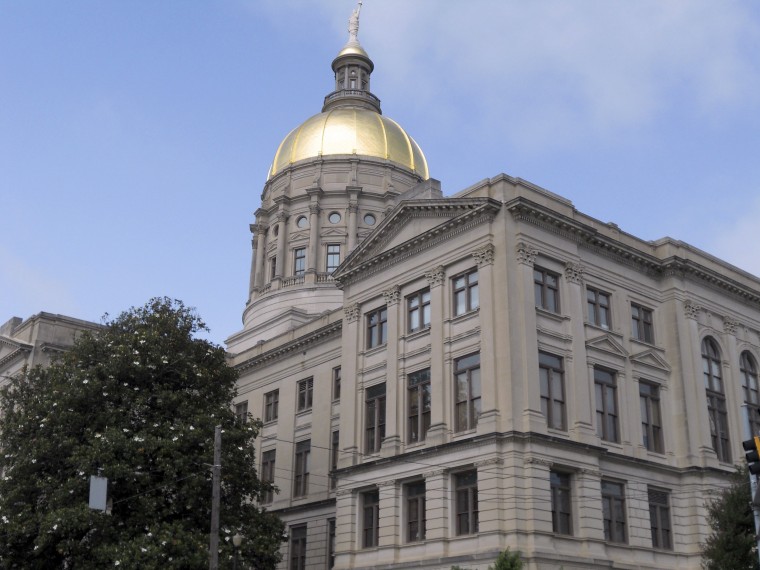 Watts was taken to Grady Memorial Hospital in Atlanta, where he told officials that he was an Air Force veteran and had immolated himself to call attention to the VA system, which had apparently failed him, the department said. In a tweet, the Atlanta Police Department said he was in serious condition.
"I'm not sure what his history is there, but he is disgruntled with the VA system and is trying to draw some attention to that. He stated something to the effect that he was looking for some help," Mark Perry, a spokesman for the Department of Public Safety, told The Associated Press.
In an email to NBC News, a spokeswoman for the Department of Veterans Affairs said, "While we can't comment on the specifics of this veteran's case due to patient privacy laws, the department is ensuring he receives the VA care that he needs."
The Capitol and Judiciary buildings were evacuated while the Atlanta police SWAT team and bomb-detecting robots swept the buildings for any explosives, law enforcement agencies said. Watts' vehicle was also inspected as a precaution.
A recent VA study showed that veterans are twice as likely as civilians to die by suicide. While the reasons are not clear, psychiatrists and suicide experts say they could be a combination of lack of access to mental health care, feeling a sense of disconnection from society, and financial and relationship problems.
On June 6, President Trump signed legislation allowing veterans to receive VA-funded medical care from the private sector to minimize the waiting time that many veterans face seeking health care through the VA.