MAYFIELD, Ky. — Jeremy Page believed his life was about to end.
Awakened by a catastrophic tornado shaking the foundation of his home Friday night, Page screamed out to God to spare him another day. 
"Jesus, Jesus, just help," said Page, 45, who moved to the city only two weeks ago. "I knew I had to pray."
Climbing into bed Friday night, Page said he was aware there was a chance for a tornado strike in his area. But he didn't give it much thought until it actually struck sometime past 10 p.m.
It was then that Page realized his life was in mortal danger.
For about 50 seconds his newly rented home began to forcefully rattle. In those moments, Page said it was the most scared he's ever been. He could feel the deadly gust of wind hurling above his home.
"If felt like the tornado picked it up," Page said.
The act of nature uprooted a large tree on the side of his house, which landed on his neighbor's roof. Page is one of the lucky ones. Kentucky Gov. Andy Beshear said Saturday he believes the death toll in his state will exceed 100.
"These things happen in other places but never at home," said Al Chandler, pastor of Northside Baptist Church, who used his church van to transport residents in housing authority units to nearby warming stations. "We've been hit harder than we ever have before. Anytime something like this happens, communities come together."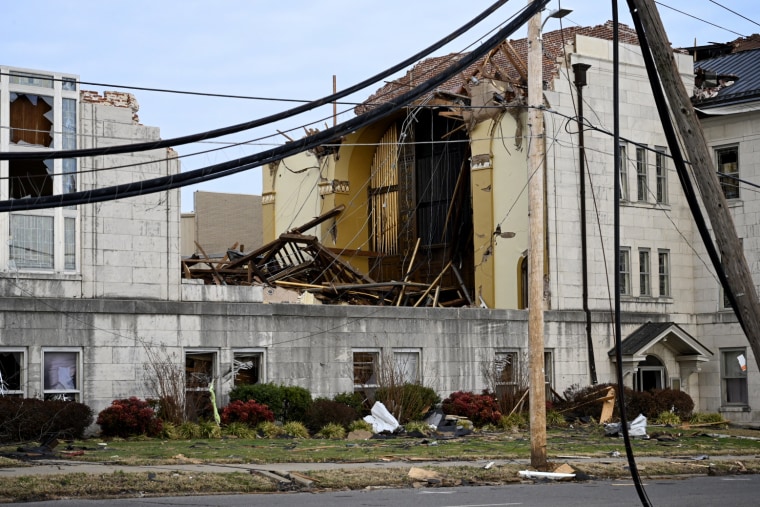 The storm that has so far been blamed for 27 confirmed deaths, including 13 in Kentucky, did significant damage to this city in the most western portion of the state. The police station, city hall and courthouse were all badly damaged as crews tried to repair the buildings Saturday afternoon.
About 110 people were inside a candle factory that leveled in the storm, and about 40 had been rescued by Saturday evening, Mayfield Assistant Fire Chief Jeremy Creason said.
Rescue workers continued to search for people who may still be trapped in a candle factory that was leveled. About 110 people were inside at the time.
A decade ago, Joseph Hays lived through a tornado disaster near Huntsville, Alabama.
The feeling of that day compelled him to volunteer to help load supply trucks at Seven Oaks Church of Christ on Saturday night.
"It's unreal, it's unimaginable," the 38-year-old farmer said of the tornado in Mayfield, adding he woke up this morning wanting to lend a hand in those in need any way he could.
The deaths hit hard for Teresa Willis, 29, a Mayfield resident and nurse, whose great aunt was found dead in the storm's aftermath.
"For me not to be able to help my family member is horrible," she said Saturday afternoon after viewing the remains of her aunt's house.
"There's no furniture. There's no clothes. There's nothing remaining of her house but a slab and two steps," Willis said.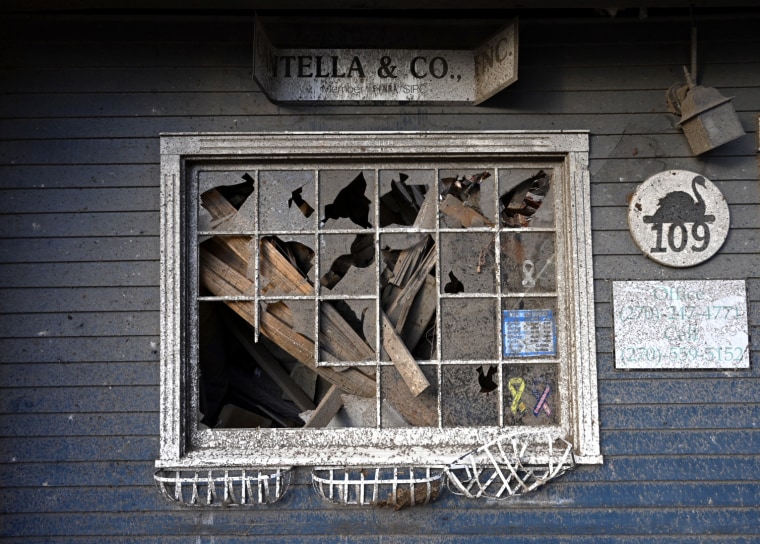 Willis said the tornado has left a lasting impression on the city.
"It's absolutely horrific. Mayfield had never gone through anything like this. We've gotten tornado warnings in the past but never had to take them serious," she said. "We never dreamed it would be this bad. It was a wake up call."