If you live in Arizona, California or Nevada, watch out for temperatures as high as 120 degrees in the next few days.
That is not a typo.
Excessive heat warnings are in effect beginning this weekend until as late as next Wednesday for the southern half of Arizona, much of Southern California and a tiny slice at the southernmost tip of Nevada.
Those happen to be areas where out-of-control wildfires will only be fueled by the approaching heat.
Cities in the mercury-popping warning area include Phoenix and Tucson in Arizona; Los Angeles, San Diego, Anaheim and Palm Springs in California; and Las Vegas — just in time for the arrival of as many as 200,000 music lovers for the annual Electric Daisy dance music festival this weekend.
The total number of people under some form of hot weather advisory into next week — 66 million — represents about a fifth of the entire U.S. population.
As firefighters wrestle with several wildfires in the West, "the weather is not really cooperating," said Ari Sarsalari, a meteorologist for The Weather Channel.
"The problem is the forecast is calling for more dry weather and winds up to 30 miles an hour" on top of the extraordinary heat, he said.
Evacuations were ordered near multi-thousand-acre fires in the Manzano Mountains southeast of Albuquerque, New Mexico, near another in the San Mateo Mountains of southwestern New Mexico and near a third around Show Low, Arizona.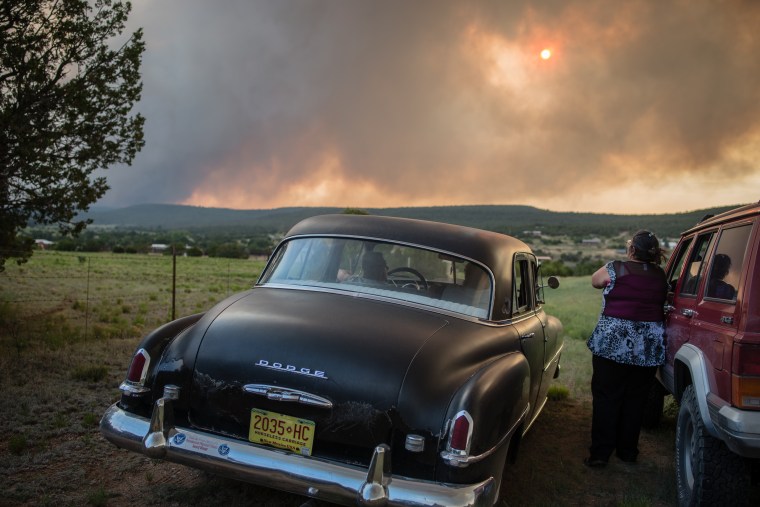 The biggest concern is the so-called Sherpa Fire in Santa Barbara County, California. It covered only about 1,200 acres Thursday, but "it's burning in an area notorious for life and property loss and fuels that have not burned for over 70 years," Santa Barbara County Fire Chief Eric L. Peterson said.
Fire crews there were dropping industrial-scale quantities of fire retardant over dry tinder in steep and rugged terrain that's hard to reach on foot. Highway 101 from Buellton to Goleta was closed overnight Wednesday and was likely to be closed again Thursday night, Sarsalari said.
The heat is being turned up by a mighty ridge of high pressure that has already been baking the Plains, the Midwest and the South.
Forecasters said it will reach the desert Southwest and the West Coast this weekend, but its effects will continue to be felt back east, where the heat index — in other words, what it feels like when you factor in the humidity — will remain stuck in triple digits in places like Wichita, Kansas; Tulsa, Oklahoma; Little Rock, Arkansas; and much of Texas.
In north Houston, a young boy whose identity and age weren't released died after going into cardiac arrest Thursday after he was left in a hot car, fire officials said.
The death may have been a simple accident, said David Persse, emergency medical director for the Houston Fire Department.
While many hot car deaths are caused by guardians who forget they've left their child behind, Persse said in a statement, "the other situation that we sometimes see is that kids will get into a car and they'll be playing around the car and they'll accidentally lock it."
When that happens, "the child will panic, and they don't know how to unlock the car," he said.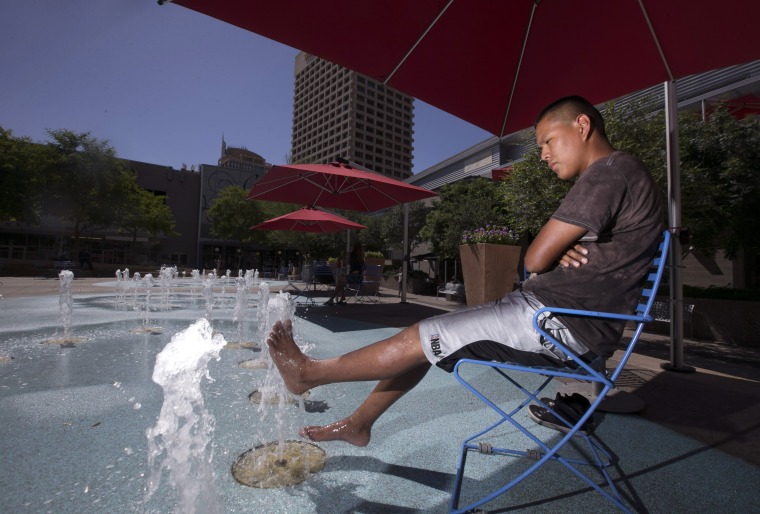 By Monday, temperatures are expected be as much as 20 degrees above normal across much of the desert Southwest and Southern California. In some of the hottest areas, low temperatures are forecast top normal highs.
And as for those highs, forecasts from the National Weather Service feature projections that look like oven roasting recipes beginning Sunday and Monday:
120 degrees in and around the Coachella Valley of California.
115 to 120 in and around Phoenix.
118 in and around Las Vegas.
116 in and around Flagstaff, Arizona.
113 in the desert Inland Empire of California.
105 in and around San Diego.
(Death Valley, California, of course, will beat them all. Forecasters said the notorious hot spot could reach 125 degrees early next week.)
It adds up to "some brutal days ahead," said Domenica Davis, a forecaster for The Weather Channel. "This is really going to be a dangerous situation."
NBC News aviation analyst Greg Feith, a former senior safety investigator with the National Transportation Safety Board, said the weather could also lead to hundreds of flight delays and cancellations.
That's because the combination of heat, low humidity and high altitude in many of the affected areas could make the air so light that planes would actually have trouble taking off, Feith told NBC station KUSA of Denver.
"As the temperature goes up, the density altitude or the molecules in the air go down, and the aircraft is not as efficient," Feith said.
"Even if you have a 12,000-foot runway, that may not be sufficient amount of runway for the airplane to take off, because the wings can't generate enough lift and the engines can't generate enough thrust," he said.