More than 70 people are feared dead after a catastrophic series of tornadoes ripped through Kentucky and other states late Friday and early Saturday, Kentucky Gov. Andy Beshear said.
The governor estimates that the "death toll from this event is north of 70 Kentuckians and may end of exceeding 100 before the day is done," he said.
"This is the most devastating, most deadly tornado event in Kentucky's history," Beshear said in a news conference Saturday afternoon. More than 181 guardsmen from the National Guard were activated early in the morning, a number that has gone up as requests for help continue to come in.
"We will make it through this," Beshar added. "We will rebuild, we are strong, resilient people."
Twenty-seven fatalities connected to the severe weather have been confirmed so far, according to an NBC News tally. Along with the death of a 3-year-old in Graves County, Kentucky, there were 12 dead in Warren County, Kentucky, six dead in Illinois, four in Tennessee, two in Missouri, and two fatalities in Arkansas.
On Saturday afternoon, the White House approved Kentucky's state of emergency and ordered federal assistance to supplement state and local response efforts due to the emergency conditions resulting from severe storms, straight-line winds, flooding, and tornadoes.
President Joe Biden said in a press conference shortly afterwards that he was willing to approve additional federal emergency declarations from other states as soon as they submit them.
"The federal government is not going to walk away," Biden said. "We're going to get through this."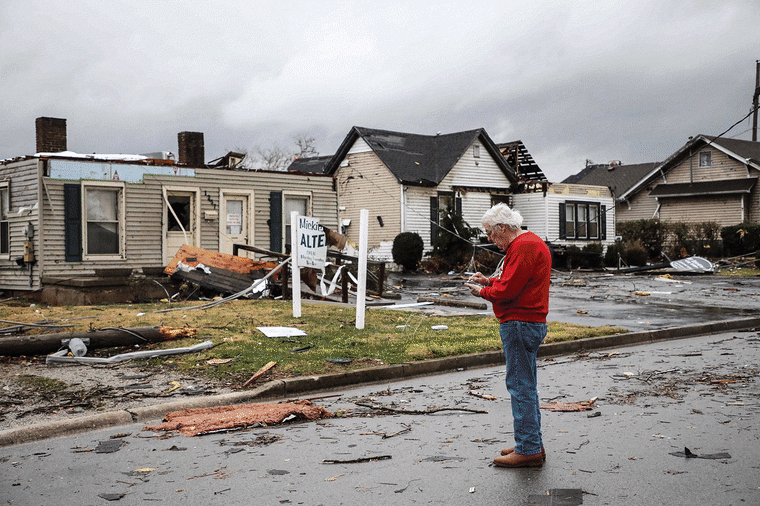 Beshear said four tornadoes, one of which stayed on the ground for more than 200 miles after touching down, had swept through the state. Almost 60,000 Kentuckians had been left without power, he said.
The city of Mayfield was one of the hardest hit in Kentucky, he said, adding that a roof collapse at a candle factory had "resulted in mass casualties."
"The devastation is unlike anything I have ever seen in my life," Beshar said. "It will be a miracle if anyone else is found alive."
Mayfield Assistant Fire Chief Jeremy Creason said that the bulk of their resources are going towards dealing with the candle factory's devastation. So far, 40 people have been rescued from inside the facility as of late Saturday morning. Authorities believe there were about 110 people inside the candle-making plant when it was leveled by the twister.
Creason also added that he is looking for a temporary home for Mayfield's main fire station since it was destroyed by the tornado, leaving it "fully inoperable," he said.
In Arkansas, preliminary surveys from the National Weather Service showed three tornadoes across the northeastern part of the state.
One person was dead and five were seriously injured when an apparent tornado struck the Monette Manor Nursing Home in Monette, Arkansas, Craighead County Judge Marvin Day said. He initially said two people had died.
One person died and one person was injured at a Dollar General in Mississippi County, and four people were injured in Poinsett County, according to the Arkansas Division of Emergency Management.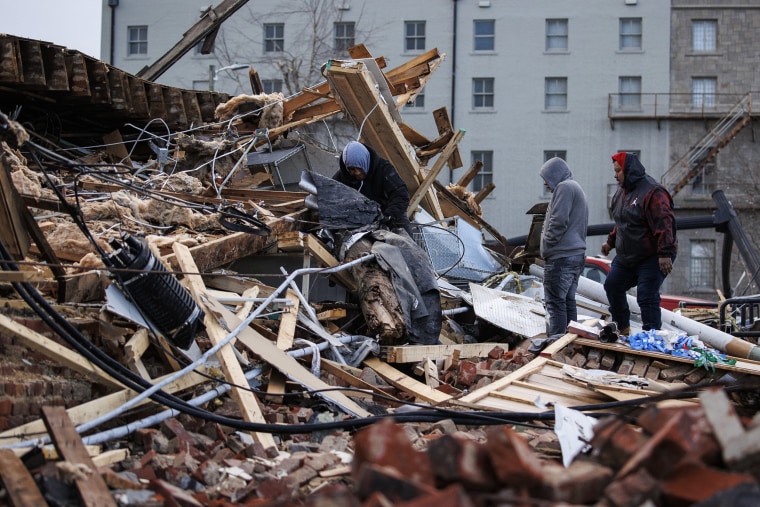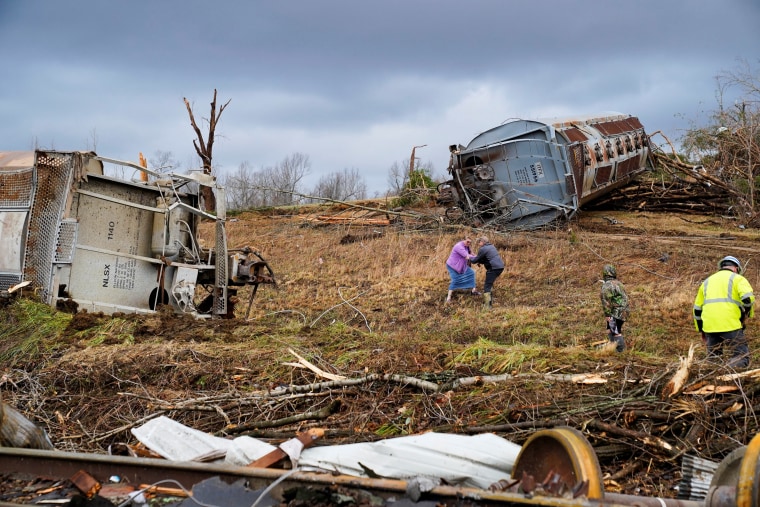 In a news conference, Kentucky Emergency Management Director Michael Dossett said the storm represented a significant massive disaster event.
"All state resources are being brought to bear," he said, adding that "it'll be daybreak before we even realize the full magnitude of this event."
Trucks from the Federal Emergency Management Agency are on their way to Kentucky with search and rescue teams who will be assisting local authorities as well as temporary power systems, Dossett said late Saturday morning.
Republican Sens. Mitch McConnell and Rand Paul of Kentucky issued statements following the devastating event.
"As I continue to get reports from my staff, local and state officials, we will work with the entire Kentucky federal delegation to support Governor Andy Beshear's requests for federal assistance in order to aid these hard-hit communities with the funding and resources they need to rebuild," McConnell said.
"Our hearts are broken for all those suffering from last night's terrible storms," Paul said.
"We're working with Governors to ensure they have what they need as the search for survivors and damage assessments continue," Biden tweeted on Saturday morning. "To lose a loved one in a storm like this is an unimaginable tragedy."
Mayfield Police Chief Nathan King also said that their police station was destroyed by the tornado, comprising their vehicle fleets and communications technology. But that's not stopping them from responding to the emergency, he said.
Mayfield police will begin 12-hour shifts to help with the response, particularly enforcing a new curfew urging residents in the Kentucky town to remain indoors after 7 p.m.
First responders will be the only ones allowed in the streets overnight, King said.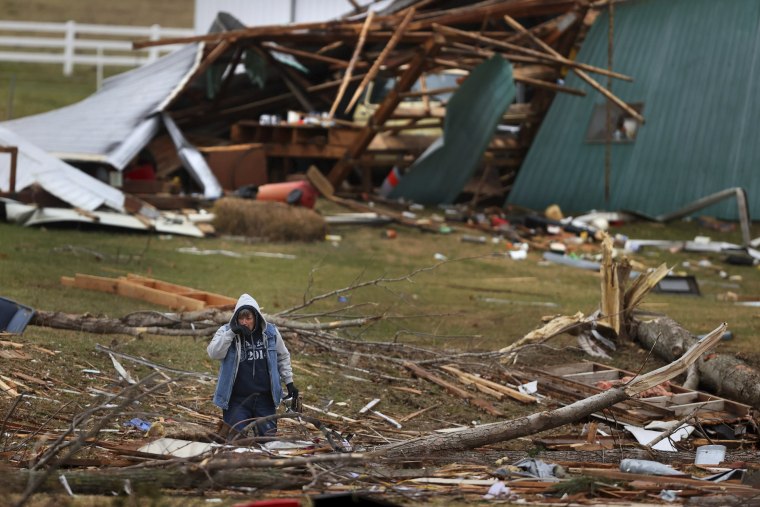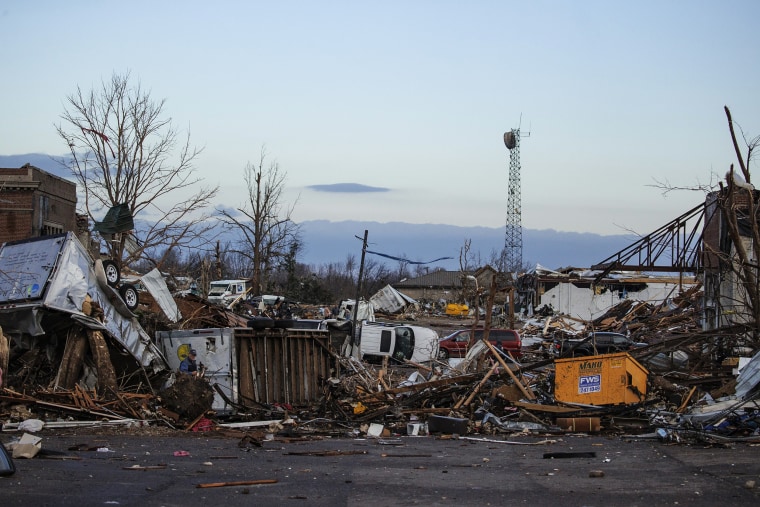 Amazon Warehouse collapsed
In Edwardsville, Illinois, outside St. Louis, there were at least six deaths and one injury after a 100-foot portion of a wall partially collapsed at an Amazon facility, officials with the Edwardsville Fire Department said.
Authorities said 45 people were rescued from the facility after the collapse, Edwardsville Fire Chief James Whiteford said.
Calling it a "devastating tragedy," Amazon spokesperson Richard Rocha said the company offered its "thoughts, prayers, and deepest sympathies are with the victims, their loved ones, and everyone impacted."
"Our focus is on supporting our employees and partners," he added.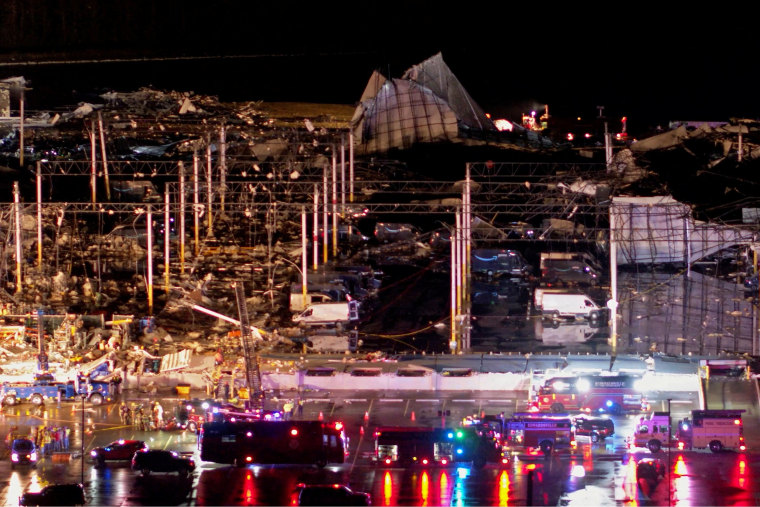 As a result of the severe weather, Illinois Gov. J.B. Pritzker activated the state's Emergency Operations overnight.
The National Weather Service office in Paducah, Kentucky, tweeted Saturday that an aerial assessment of damage appears to show a "historic long track tornado" that was at least three-quarters of mile wide may have ripped through Western Kentucky. Damage, it said, appeared to be consistent with a tornado capable of producing winds as strong as 206 mph.
The weather service also said Saturday that damage consistent with tornadoes that produce winds of 111 to 135 miles per hour is present in Illinois' Cass and Shelby counties.
Earlier in the day the weather service's office in Louisville, Kentucky, tweeted that damage in Bowling Green from Friday's front was consistent with a tornado that likely produced winds of roughly 150 mph.
More than 30 tornadoes have been reported across six states stretching across the Mississippi Valley, Southeast and Midwest.
One of these tornadoes is being called the "Quad-State Tornado" after it ripped across Arkansas, Missouri, Tennessee and Kentucky in our hours.
The National Weather Service is expected to perform an official tornado survey to confirm if it was a continuous tornado or several tornadoes produced by the same storm. If confirmed as one single and continuous tornado, the so-called "Quad-State Tornado" will set the record for the longest "long-track" tornado in U.S. History.
The National Weather Service office in Little Rock said Saturday night that, so far, there is no evidence of damage in Arkansas that is associated with the storm that went on to produce the long-track tornado.
Federal forecasters said the severe weather was the result of a strong low pressure system that extended from Kansas towards the Great Lakes region and produced thunderstorms, damaging winds, and tornadic activity across the Midwest and into the mid-Mississippi Valley.
By nightfall Friday, the National Weather Service had issued dozens of tornado warnings for swaths of the United States impacted by the front.
Deaths and damages in Tennessee, Missouri
A possible tornado also struck in Samburg, Tennessee, where the local fire department was severely damaged, the Obion County Sheriff's Office said.
At a press conference Saturday, Tennessee Emergency Management Agency Chief of Staff Alex Pellom said four people in the state are confirmed dead and another, a person from Lake County, was missing.
Two people died in Lake County, one in Obion County, and one in Shelby County, Pellom said. Additionally, he said, 10 people were taken to hospitals; 64 sustained relatively minor injuries.
"Lives are changed forever," Tennessee Gov. Bill Lee said at the press conference.
Two deaths have been confirmed in Missouri, a woman in St. Charles County and a young child in Pemiscot County, Gov. Mike Parson said.
At least three people were rescued from collapsed structures flattened by the tornadoes, according to Kyle Gaines, spokesperson for the St. Charles County Ambulance District.
Earlier, the National Weather Service also issued a tornado emergency for the Kentucky cities of Madisonville, Earlington and Nortonville. Such a designation signifies that "severe threat to human life is imminent," catastrophic damage is likely, or that there's reliable information that a tornado touched down.