A ferocious line of thunderstorms responsible for three deaths and that left 25 million Americans facing the threat of floods was set to wreak more misery across the Gulf Coast and South on Thursday.
Louisiana, Texas and Arkansas have been hammered all week with downpours, large hail, and at least two tornadoes — and forecasters warned there was more to come.
Some areas have seen a foot of rain since Tuesday, with more than 16 inches falling near the northern Louisiana city of Monroe.
While severe thunderstorms were less likely Thursday, the rain was forecast to continue and shift eastward. Parts of Tennessee and Mississippi were also set to get soaked — with up to a foot of rain possible in New Orleans through Saturday.
"Unfortunately, the heavy rain will continue over this hard-hit part of the South for another 24-48 hours before slowly shifting east," The Weather Channel reported late Wednesday.
The National Weather Service warned that the extra rain "will add to an already historic flash flooding event."
Louisiana Gov. John Bel Edwards declared a state of emergency on Wednesday.
Meteorologist Michael Berry in Shreveport told The Associated Press that 7 to 10 more inches of rain will fall in the next 24 to 36 hours.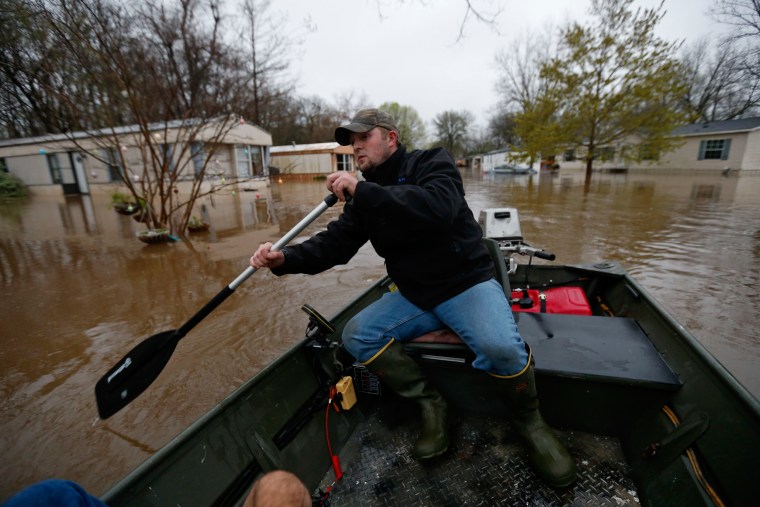 The storm has been responsible for countless flooded roadways and water rescues across the region. By 4:30 a.m. ET, more than 20 flights had been canceled at Houston Bush Intercontinental Airport.
Residents were being actively warned to avoided submerged areas, with an 800-mile wedge of flood and flash-flood warnings and watches was in effect from southern Texas to Illinois.
The storm has already been responsible for at least three deaths.
A 64-year-old man died outside Lucky, Louisiana, after driving through floodwaters on a road, the Bienville Parish Sheriff's Office said. His 70-year-old passenger was found clinging to a tree and was rescued. The road was not barricaded, the sheriff's office said.
Two others died in separate accidents across the region since the storms began sweeping through Monday, officials said.
In Oklahoma, a 30-year-old man drowned when his SUV was swept away near his home in Broken Bow, close to the borders of Texas and Arkansas, according to the Oklahoma Highway Patrol. The man, later identified as Michael Liles, was trying to maneuver over a low-crossing bridge Tuesday night, reported NBC station KFOR of Oklahoma City.
A passenger in Liles' SUV was able to swim to the shore, but Liles went underwater and never resurfaced. The Highway Patrol said his body was recovered 100 feet downstream in about 8 feet of water.
In Texas, a 22-year-old man, identified as Francisco Ruben Garzaman, drowned Monday night after his canoe capsized in Dickinson Bayou, southeast of Houston near Galveston Bay.
Heavy rains have fallen over much of northwestern Louisiana, flooding up to 80 homes and causing a nursing home near Minden, east of Shreveport, to be evacuated.
Bossier Parish Sheriff Julian Whittington said in a Facebook post that at least 100 homes were underwater, and he warned that the dangerous conditions will continue for several more days.
"The water's continuing to rise, possibly 10 more inches or so. ... We're spread thin, but we'll come and help you when we possibly can," Whittington told residents.
Bossier sheriff's Lt. Bill Davis added that officers went door to door in the Fox Chase subdivision to evacuate about 30 homes.
The flooding comes after recent severe thunderstorms raged across parts of Central and North Texas.