Mandatory evacuations were underway Monday in a Texas town that has been practically cut off from the rest of the world by floodwaters rising to record levels.
The inundation of Deweyville, Texas (population 1,700), came as more than 2 million people across the soggy South braced for more devastating flooding and hail — after nearly a week of rain and violent thunderstorms that killed six people and forced thousands more to flee their homes.
Deweyville has been doused by more than 18 inches of rain over five days, which has swollen the Sabine River basin, causing the river to rise to 32 feet.
By Tuesday, the river is expected to be above 35 feet and break the old record by three feet. The Coast Guard urged boaters to stay off a 25-mile stretch of the rain-swollen river.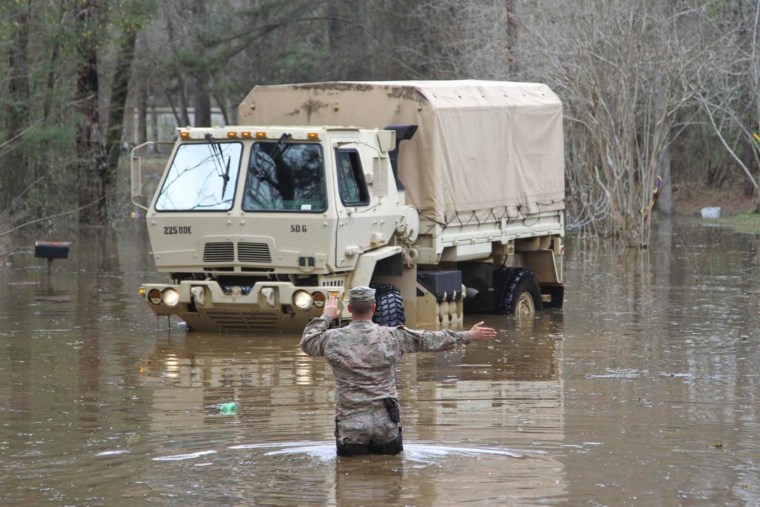 "It's going to remain quiet" for the rest of Monday, said Danielle Banks, a meteorologist for The Weather Channel, "but in the days to come, flooding still is a huge problem."
The relentless rain in the South got in one last punch overnight into Monday morning in Louisiana, Missouri and Tennessee, according to the National Weather Service. Twelve 12 tornadoes or possible tornadoes were reported in Arkansas on Sunday and overnight, Weather Channel meteorologist Kevin Roth said. No injuries or deaths were reported.
The storm was aggravating flooding in major rivers, especially along the Louisiana-Texas border, with 3,300 residents having been evacuated in Louisiana alone, the state Office of Homeland Security and Emergency Management said Monday.
The agency said parishes had reported that at least 6,143 structures have been damaged across the state. Meanwhile, the Louisiana National Guard reported Monday that it has carried out 4,255 rescues across the state since last Wednesday, and the state Department of Wildlife and Fisheries said it had performed 700 more.
President Barack Obama signed an order declaring the flooding in Louisiana a major disaster Sunday.
On Sunday, emergency responders in Hattiesburg, Mississippi, warned that the rising flood waters could bring toxins with them.
"If you can look at all the trash and all that's floating through the houses, gasoline ... there's all sorts of different toxins. I mean, that's floating through all these people's houses," Glen Moore, of Hattiesburg's emergency management office told NBC News.
A 78-year-old man in Clarence, Louisiana, became the latest victim of the deadly downpours Saturday night when he drowned while trying to get to his home in an aluminum boat to retrieve personal items, the Natchitoches Parish Sheriff's Office said.
Two other people in the boat were safely rescued, but the incident brought the death toll from the storms to at least six. Three other people were previously known to have died in Louisiana, along with one each in Texas and Oklahoma.