As many as 70 vehicles piled up in one spot of a Wyoming interstate Thursday after a heavy April storm dropped almost 10 inches of snow on the area, authorities said.
An almost 150-mile-long stretch of Interstate 80 remained closed in both directions Thursday afternoon between Cheyenne in southeast Wyoming and Rawlins in the central part of the state because of treacherous, slick conditions that caused accidents across the area, officials said. The worst spot was near mile post 342, between Cheyenne and Laramie, two of the state's major population centers.
The state Highway Patrol said three major accidents happened at that location within just a few hours, the first at 11:22 a.m. ET (1:22 p.m. ET) in blizzard conditions. All told, as many as 50 commercial vehicles and 20 passenger vehicles were piled up at the scene, it said.
No deaths were reported, but the Highway Patrol said, "but multiple injuries have been confirmed." Details on the injuries weren't immediately available.
State Transportation Dept. traffic cameras showed that a long line of trucks and cars remained stalled at that location late in the afternoon: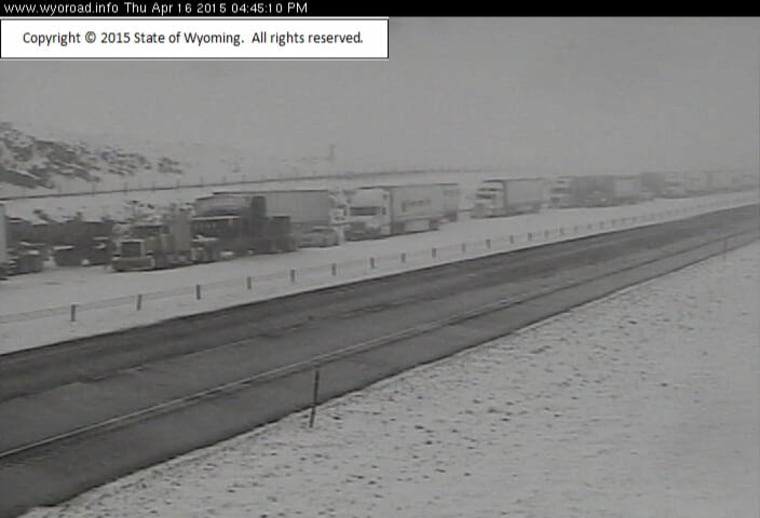 The National Weather Service said parts of Laramie County along I-80 got up to 9.8 inches of snow — and things could get worse.
Snow was expected to increase overnight into Friday morning, with as much as a foot of snow expected along the southern Laramie range. "there will likely be significant impacts to travel, especially along Interstate 80 from Buford to Arlington," it said.
Winter storm warnings and winter weather advisories were ineffect for much of the region Thursday evening.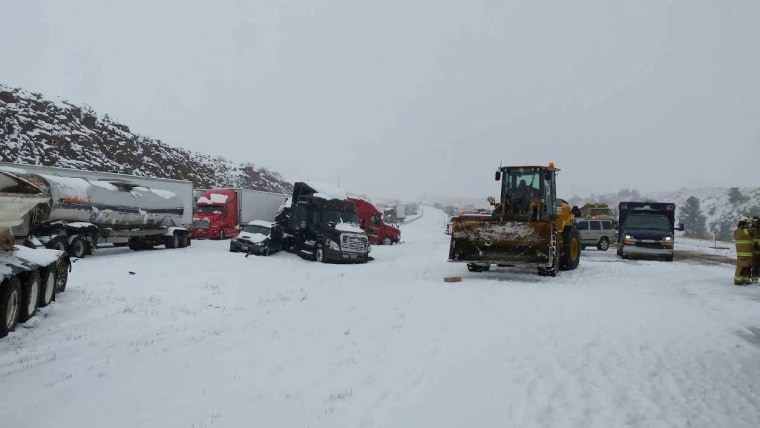 SOCIAL
— M. Alex Johnson