A severe storm that brought destructive tornadoes with it killed at least 19 people over the weekend as it moved south from Georgia and Mississippi into the Florida Panhandle.
Fifty tornadoes had been reported across the South since Thursday as four separate waves of severe weather wrought havoc, said Frank Giannasca, a senior meteorologist at The Weather Channel. Giannasca said the number couldn't be confirmed until the National Weather Service can assess damage on the scene.
At least 15 people were killed in Georgia during the severe weather Saturday and Sunday. Four more died in southern Mississippi on Saturday when a tornado smashed buildings in the Hattiesburg area.
On Monday, the Forrest County Medical Examiner's Office identified the dead in Mississippi as: Earnest Perkins, 58; Cleveland Madison, 20; David Wayne McCoy, 47; and Simona Cox, 72. All died as a result of the tornado and had no relation to one another.
In Georgia, Dougherty County Coroner Michael Fowler told NBC News on Monday morning that at least four people died there from the severe weather — and he said there was a "great possibility" that the death toll would continue to rise.
"Search and rescue teams are going from trailer to trailer," he said. "They're so mangled up and destroyed that we've got to go through each one."
Georgia Gov. Nathan Deal expanded the state's state of emergency from seven counties to 16 on Monday afternoon and extended the order through Jan. 30.
Meanwhile, Central and south Florida experienced severe thunderstorms overnight, but the worst had moved out to sea by Monday morning, Giannasca said.
"This is absolutely devastating," Dougherty County Commission Chairman Chris Cohilas said. In a Facebook video while surveying the wreckage, Cohilas compared the destruction in Dougherty County — which wasn't added to the emergency order until Monday — to the aftermath of a nuclear bomb.
NBC station WLTV of Jacksonville, Florida, reported Sunday that a midafternoon storm plowed through Albany, near Dougherty County's northeastern corner, at 70 mph.
Lasheree Richardson, 35, a resident, told NBC News she felt her house shake and windows shatter as the storm passed. "I heard my neighbor scream, and it made me rush into the closet," she said.
Richardson said she was grateful to a friend who walked a mile and a half to check on her.
"She was happy I was OK. Once she saw what was around, it was a blessing," Richardson said.
Sixty miles southeast, seven deaths were reported in Cook County, where a twister demolished a mobile home park in the city of Adel, according to WLTV.
A resident there, Karen Moore, told the station that the tornado flipped five double-wide trailers at the Sunshine Acres Mobile Home Park overnight.
"It sounded like a freight train coming through," she said.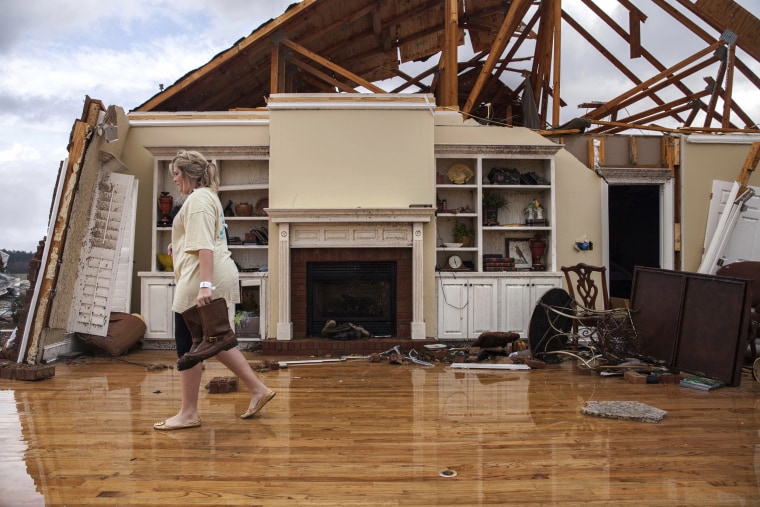 Two more deaths were confirmed in nearby Berrien County after a tree fell on a home, the coroner's office said.
President Donald Trump spoke Sunday with Deal, the governor, and "expressed our sincere condolences for the lives taken," NBC station WXIA of Atlanta reported.