NEW BERN, N.C. — In the wake of Hurricane Florence's fury, Eileen Bress returned to this riverfront Colonial-era city to find items from her home scattered across the block as if her property had been ransacked. Five years of living on the water's edge, and she had never experienced anything like it.
"My sliding barn doors were up here," she said, standing outside of her home with piles of debris now cluttering the curb. "Chairs had been down the street. I mean, there was just stuff everywhere, around the corner at the neighbor's house."
While more than 16 rivers in North Carolina remain above flood stage — still putting dozens of communities at risk of catastrophic flooding — some residents where the waters have receded have finally been allowed to return home to tally the damage and the devastation.
New Bern, a city of 30,000 that sits at the confluence of the Neuse and Trent rivers, wasn't hit head-on by Florence, but it became the scene of hundreds of gripping rescues as the storm lashed the coast as a Category 1. Some residents who didn't heed the warnings to evacuate or take refuge in shelters were trapped in attics as the water rose; whole neighborhoods were transformed into lakes.
"There is the water line here on the wall," Bress said, examining how high the flooding from the nearby Neuse reached into her muck-filled living room. "Ten inches."
She returned Wednesday — on the same day President Donald Trump toured the Carolinas. Coincidentally, his caravan rode right past Bress' home.
Trump pledged the federal government would expeditiously provide all the federal funding needed for residents' recovery.
"There will be nothing left undone," he said after arriving at Marine Corps Air Station Cherry Point in Havelock. "You'll have everything you need."
As North Carolina officials compile the cost of the widespread damage from a storm that killed more than two dozen in the state alone, New Bern's mayor said this week that residential home losses have reached at least $32 million.
Among the most bizarre sights in New Bern was a 36-foot boat that crashed into a townhouse, slammed into another home and rested sideways on a backyard. It was believed to have been tossed from a marina about a mile away.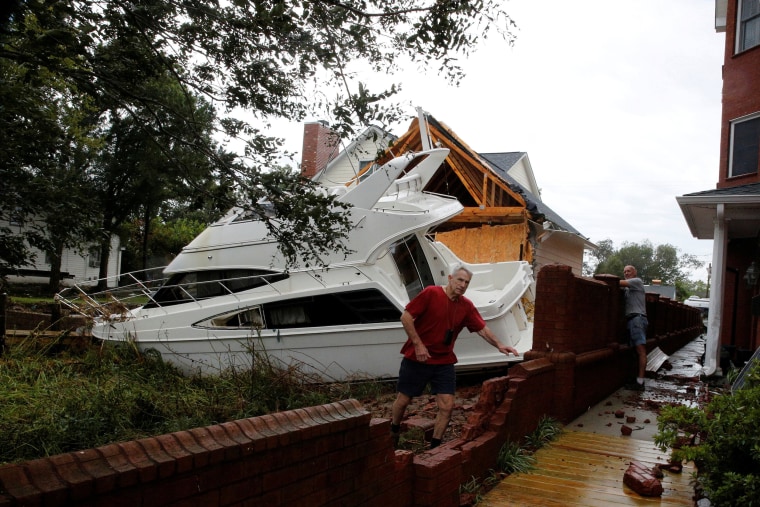 The headache of repairing and refurnishing homes has only begun for residents such as Bress. She hopes financial aid can be freed up for those who need it.
"One of the comments that I heard made is that [Trump] is coming and he's going to throw paper towels ... and I hope he does a lot more than that," she added.
New Bern resident Josh Willey said he counted himself and his wife fortunate after returning to find only nonessential belongings damaged in their home.
"We've lived in this house since '93, and this is the first time we've taken on any water," he said. "So I mean we're pretty, pretty lucky."
One thing he doesn't regret as Florence mowed across the region was evacuating even as his wife worried about their possessions.
"We got a house still standing," Willey said. "It's kind of messed up — a lot of people don't have anything right now."
Tammy Leitner and Natalie Valdés reported from New Bern, and Erik Ortiz from New York.