Destructive thunderstorms moved through the South on Thursday, killing at least three people in three states. A search was also underway for a young boy swept away by flood waters in Tennessee.
In Arkansas, two people were killed when strong winds blew over trees. One man died in Jonesboro when a tree fell on his home, Craighead County Coroner Toby Emerson told the Associated Press, and another person was killed when a tree fell on a van in Black Rock, Arkansas Department of Emergency Management spokesman Brandon Morris said.
And a man died in southern Tennessee trying to cross a flooded road in his car, according to the Highway Patrol.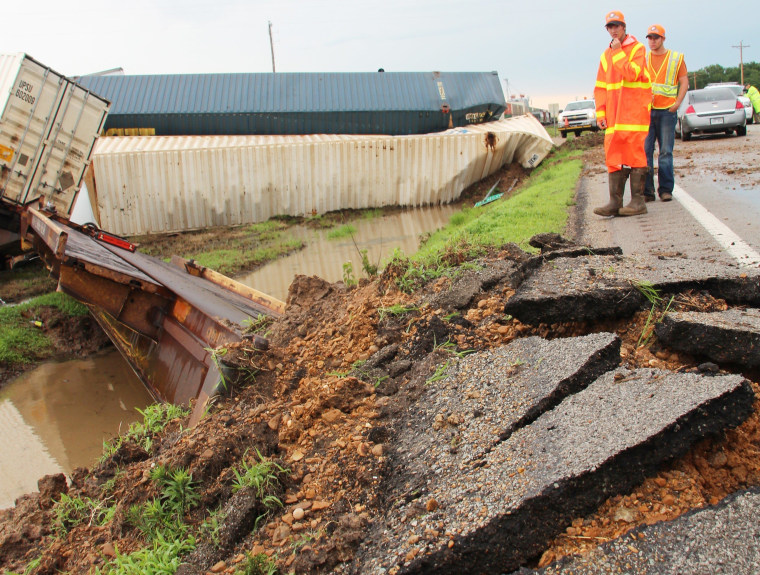 Meanwhile, in Centerville, Tennessee, a search was on for Tristen Demumbran, 6, who was in a van with his mother, grandmother and siblings Thursday afternoon when high waters slammed the van into trees.
Tristen and two of his brothers were stuck inside the van, reported NBC affiliate WSMV.com.
"Mom got a hold of the two youngest boys. The water took her under and the two boys. She got hit by a tree or some debris and knocked her out," Tristen's aunt, Renee Swanson, told WSMV.
Tristen's grandmother managed to bring the other two boys to safety, but Tristen got swept away. A search for him resumed Friday morning.
About 30,000 people lost power in Shelby County, Tennessee, Thursday afternoon amid reports of downed trees and power lines. The storm also cut through Alabama and Georgia and damaged multiple homes and businesses in Arkansas with its strong winds.
The Associated Press contributed to this report.
— Elizabeth Chuck