HOUSTON — The remnants of former Hurricane Imelda continued moving slowly inland Friday morning after already dropping a staggering 40 inches of rain in southeast Texas communities ravaged by Hurricane Harvey just two years ago.
Three people have died from Imelda, and as of early Friday, 500 were rescued from its floodwaters in a single 36-hour period in Harris County alone, officials said.
The storm, which made landfall as a tropical storm near Freeport, Texas, on Tuesday, could bring three more inches of rain to parts of Arkansas, Louisiana and Texas on Friday, according to the National Weather Service.
The weather service said the rainfall total would make Imelda the fourth-wettest tropical cyclone ever to hit Texas — and the seventh wettest in U.S. history.
On Friday morning, a heavily-traveled Interstate 10 bridge over the San Jacinto River was shut down after nine barges hit by strong currents broke loose, and at least two struck the bridge, according to the U.S. Coast Guard.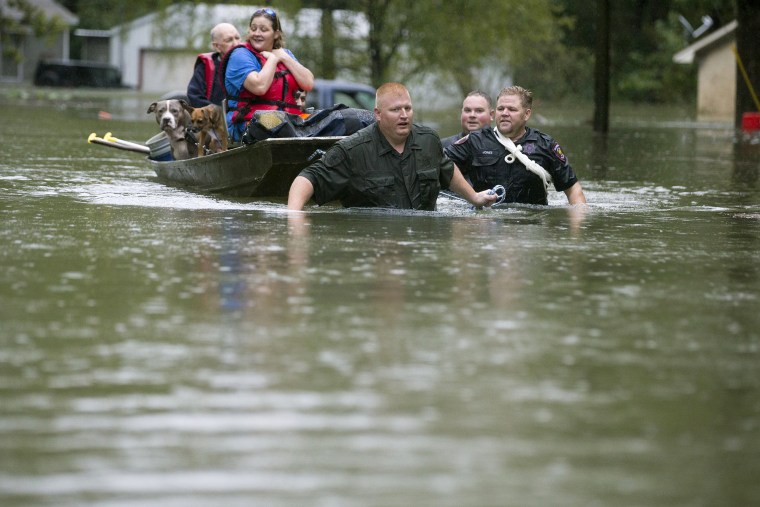 Of the three deaths attributed to the storm, one was Hunter Morrison, 19, who was moving his horse from flooded waters to higher ground when an electrical storm hit, the Jefferson County Sheriff's Office said.
An official cause of death wasn't reported pending an autopsy, but Morrison's family said in a statement released through the sheriff's office that he was electrocuted and drowned.
Harris County Sheriff Ed Gonzalez said Thursday night that rescue crews pulled a man from a van that was submerged in 8 feet of water in Houston. He was pronounced dead at a hospital, Gonzalez said.
No other details were immediately available. Harris said no one else was found at the scene.
Gonzalez said Friday that another man who was last seen walking during the storm was found dead in a ditch. Investigators believe the man likely drowned.
Houston Public Works said in a statement Friday that the relentless rain caused a wastewater spill that could taint some private wells. The spill, which had been stopped by later in day Friday, unleashed an estimated 275,100 gallons of wastewater.
"Persons using private drinking water supply wells located within ½-mile of the spill site or within the potentially affected area should use only water that has been distilled or boiled at a rolling boil for at least one minute for all personal uses including drinking, cooking, bathing, and tooth brushing," the department said.
The city of Houston's drinking water was safe, the department said.
Some of the rainfall totals were surreal: A National Weather Service gauge at Peach Creek in Montgomery County recorded 21 inches in the 24 hours through midafternoon Thursday. Luce Bayou, on Lake Houston in northeast Harris County, topped 15 inches during the same period, while numerous other communities got 13 or more inches.
George Bush Intercontinental Airport in Houston recorded more than 9 inches of rain in 24 hours.
Early Friday morning, a Harris County sheriff's deputy went missing while attempting a rescue from racing waters. He was able to hold on to a branch after retrieving the victim, and both were found in good condition, Gonzalez said.
Floodwaters forced the hasty evacuation Thursday of Riceland Medical Center in Winnie, about 60 miles east of downtown Houston.
"It's as bad as I've ever seen it. Right now, I'm in an absolute deluge of rain," Chambers County Sheriff Brian Hawthorne said Thursday morning as he took cover under a carport at an auto dealership.
"Right now, as a Texas sheriff, the only thing that I really want is for people to pray that it will quit raining," he said, adding the town "looks like a lake."
All bus and rail service was shut down Thursday in Houston, the fourth-biggest city in the United States, and didn't resume until late evening.
James Revia, 40, of Hankamer in Chambers County, and his four children were rescued from their flooded trailer park home by a passing fire truck.
Revia, a mobile DJ who owns a lawn service, said he feared that all of his music equipment, which he keeps in his truck, had been lost to floods.
"This storm grew into a tropical depression within four hours. It caught everyone by surprise," he told NBC News.
Erika Zamora, who was stranded with her five children and her husband inside their home, said the rain was unrelenting in Winnie.
"I opened the door, and the water was to our door," Zamora said.
A neighbor with a rescue boat fetched them to safety, but the Zamoras said they believed they had lost almost all of their belongings.
"This is my family. These are my kids, and I'm pregnant. It was scary," Zamora said through tears on Thursday at a school cafeteria-turned-evacuation center.
NBC affiliate KBMT of Beaumont aired video of more than 50 horses being rescued at Cypress Trails Equestrian Center in Humble, about 80 miles west of Beaumont.
KBMT reported that all of the horses were moved to a safe location and that no injuries were immediately reported.
Annie Rose Ramos reported from Houston, Alex Johnson reported from Los Angeles, and Elisha Fieldstadt reported from New York.