Barry made landfall along the Louisiana coast Saturday, bringing with it the danger of heavy rains and potentially life-threatening flooding from the Gulf Coast to areas to the north over the next several days.
The storm "poses a significant flooding threat" due to how slowly it is moving, the National Weather Service said.
Barry had strengthened briefly Saturday from a tropical storm to a category 1 hurricane with maximum sustained winds of 75 mph before weakening again slightly. It made landfall near Intracoastal City, an unincorporated community in Vermilion Parish roughly 170 miles west of New Orleans, at about 1 p.m.
The storm led to power outages to at least 75,000 households and businesses in Louisiana, Alabama, Texas and Mississippi, most of them in Louisiana, the U.S. Department of Energy said.
Power company Entergy Louisiana said in a tweet that as as soon as its safe its crew will assess the damage to begin restoring power.
Louisiana Governor John Bel Edwards said Saturday that Barry's slow speed makes it potentially more damaging.
"We would like it to pick up pace a little bit so it would move through the area a little quicker," the governor said at a news conference.
Rainfall remains the "primary hazard" for the state, he said.
The storm is expected to turn north-northwest Saturday night before heading north on Sunday.
Barry will weaken as it moves further inland and is expected to be downgraded to a tropical depression on Sunday, according to the National Hurricane Center.
Barry had made itself felt in some parts of southern Louisiana hours before it made landfall.
On Saturday morning, the U.S. Coast Guard had to rescue at least a dozen people stranded on Isle de Jean Charles, a remote island in Terrebonne Parish due to rising floodwaters, according to NBC affiliate WDSU.
Terrebonne Parish President Gordon Dove issued a mandatory evacuation order Saturday afternoon.
Residents in Mandeville, which is on Lake Pontchartrain, also reported extreme flooding in their area. One video posted on Twitter showed water had already risen to the top of a fence surrounding a home.
The National Weather Service said Mandeville and surrounding areas can expect to see torrential rainfall and strong wind gusts.
Mandeville Mayor Donald Villere said a call came in to police about flooding on a street near Lake Pontchartrain around 5 a.m. At first, there was only an inch of water but it quickly rose to roughly two feet, he said.
Baton Rouge northwest of New Orleans could experience extreme flooding with the possibility that the Comite River will crest above a record set in floods in 2016 that caused between $10 billion to $15 billion in damage and left 13 people dead.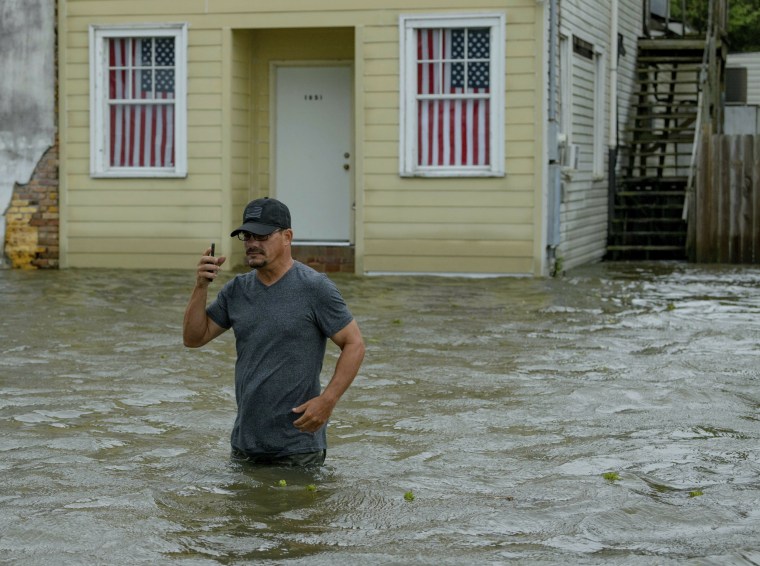 In anticipation of possible flooding in New Orleans, residents there piled sandbags outside of homes and businesses and unlatched storm drains to remove debris. The city's public works department deployed a dozen vacuum trucks on Friday to clean out catch basins.
During a news conference Saturday afternoon, New Orleans Mayor LaToya Cantrell said the "primary risk" for the city is heavy rains. The National Weather Service said the area could see between 10 to 20 inches of rainfall.
"We are not in any way out of the woods, and we will continue to reiterate this today, tonight and into tomorrow," Cantrell said.
A shelter-in-place order was issued in New Orleans Friday night as the city prepared for Barry. A police official at Saturday's news conference told residents: "Continue to be safe, continue to be smart, stay in your homes and stay off the roads."
Flights in and out of the state were canceled Saturday morning due to the pending storm.
Louis Armstrong New Orleans International Airport, the main hub in the city, posted a travel advisory on its website telling customers that most airline carriers had canceled all flights.
Baton Rouge Metropolitan Airport said in a tweet that flights were canceled and that travelers should check with their carrier about flights on Sunday.
As Barry moves through Louisiana it is expected to weaken before reaching Arkansas, areas of Memphis, Tennessee, and Greenville, Mississippi on Monday.