BATON ROUGE, La. — Tropical Depression Barry soaked the Gulf Coast and slowly inched northward Sunday, sparing New Orleans but still packing enough force to swamp the region with potentially life-threatening flash floods and possible tornadoes.
As Barry crawls north at a painstaking 9 mph, it will continue to dump rain on the waterlogged central United States. The National Hurricane Center predicted life-threatening flash and river flooding in Louisiana, Arkansas, Mississippi, southeast Missouri and western Tennessee.
Barry's overall path reflects a boomerang, having begun as a disturbance in the Midwest in early July before creeping southeast, entering the Gulf of Mexico over the Florida Panhandle and moving west to the shores of Louisiana, where it returned to land as a Category 1 hurricane.
The National Weather Service warned that tornadoes could sweep across a wide swath of the South on Sunday afternoon. The service said twisters were possible in southeastern Louisiana, Mississippi, western Alabama, eastern Arkansas and western Tennessee.
Much of southeast Louisiana was drenched Sunday, and the storm's toll was clear: Dangling traffic signs and uprooted trees littered the sides of Interstate 10, the major highway linking Lafayette to New Orleans.
Caravans of law enforcement and camouflage-colored vehicles traveled in both directions of the interstate throughout Sunday, primed to give aid to storm victims throughout the region. The Louisiana National Guard had nearly 3,000 personnel deployed throughout the state, authorities said.
Jefferson Parish, which neighbors New Orleans and fared relatively well, deployed 10 vehicles and 28 deputies to assist the more beleaguered Lafayette Parish Sheriff's Office.
Barry is the first hurricane in the 2019 season and only the fourth in 168 years to make landfall on the Louisiana coast in July. Hurricane season begins June 1 and ends Nov. 30, with the most storms occurring from mid-August to late October.
Barry cut power to at least 75,000 households and businesses in Louisiana, Alabama, Texas and Mississippi, most of them in Louisiana, the U.S. Energy Department said.
While it was churning in the Gulf, forecasters were concerned that it could overtop the weakened levees in in New Orleans.
While government officials remained adamant that the $14.6 billion of renovations made to the city's floodwalls and levees since Hurricane Katrina would keep rising waters at bay, many New Orleanians waited anxiously.
Ultimately, the city avoided the worst-case scenario and got lackluster rainfall and storm surge.
Like New Orleans, Baton Rouge and its surrounding parishes have a traumatic history with their nearby waterways.
In August 2016, more than 10 rivers reached flood stage, leading to catastrophic flooding that swept across southern Louisiana, damaging 146,000 homes and killing 13 people. The Red Cross called the devastation the worst U.S. natural disaster since Superstorm Sandy in 2012.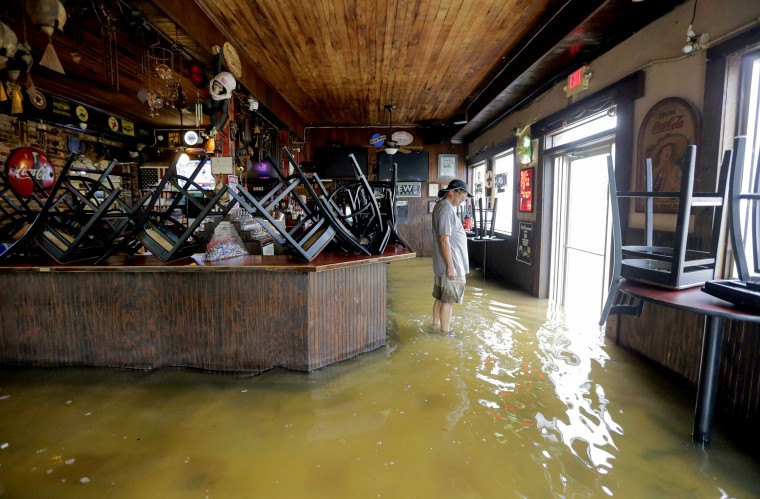 President Donald Trump told people across the region to stay vigilant, tweeting on Sunday: "A big risk of major flooding in large parts of Louisiana and all across the Gulf Coast. Please be very careful!"
Krueger reported from Baton Rouge, Arkin reported from New York.