Millions of people were bracing Monday for a week of hazardous conditions from bitterly cold temperatures and a snowstorm that already caused travel chaos.
A wave of snow was spreading out from the Midwest and across the Northeast overnight through until Wednesday, according to The Weather Channel. High pressure will then move in behind it, bringing shivering temperatures through the week and into next weekend, forecasters warned.
The National Weather Service issued winter storm warnings and winter weather advisories for parts of the Great Lakes and the Northeast Monday.
"If you don't have to drive or go somewhere, stay home," National Weather Service meteorologist Mark Steinwedel said.
Large swaths of the Northeast can expect between 3 inches to a foot of snow. The worst of it will remain north of Interstate 80, with sections of New York State, New Hampshire and Vermont and much of Maine forecast to be hit hardest. Slivers of northwest Pennsylvania and northeast Ohio could also get as much as 8 inches.
The Plains and even parts of the South could also be affected by a wintry mix of rain and snow.
"This could wind up being a really big ice maker," said Daniella Banks, a meteorologist for The Weather Channel.
Temperatures 15 to 30 degrees below average will follow the cold rain and snow in the coming days through much of the Midwest and East.
Snow that swept across the Plains and the Great Lakes caused hundreds of car crashes in Minnesota, canceled more than 1,400 flights in Chicago and sent a plane skidding off an icy runway in Detroit over the weekend.
Nobody was killed in the 882 crashes and 409 spin-outs that occurred from 9 a.m. Saturday to 4 p.m. Sunday — most of which occurred in the Minneapolis area — although 92 people were injured, NBC station KARE of Minneapolis reported.
At Chicago's O'Hare and Midway airports, nearly 7 inches and just more than 5 inches of snow had fallen, respectively, by Sunday afternoon, NBC Chicago reported. At 9 p.m. ET, just more than 1,400 arrivals and departures had been canceled at the two airports, more than 1,200 of them at O'Hare. An additional 310 flights were delayed.
At Detroit Metropolitan Airport, where as much as 8 inches of snow was expected to have fallen by late Sunday, 602 arrivals and departures had been canceled or delayed at 8 p.m. ET — but conditions were already treacherous by 12:30 p.m., when a Delta flight from Buffalo skidded off the runway.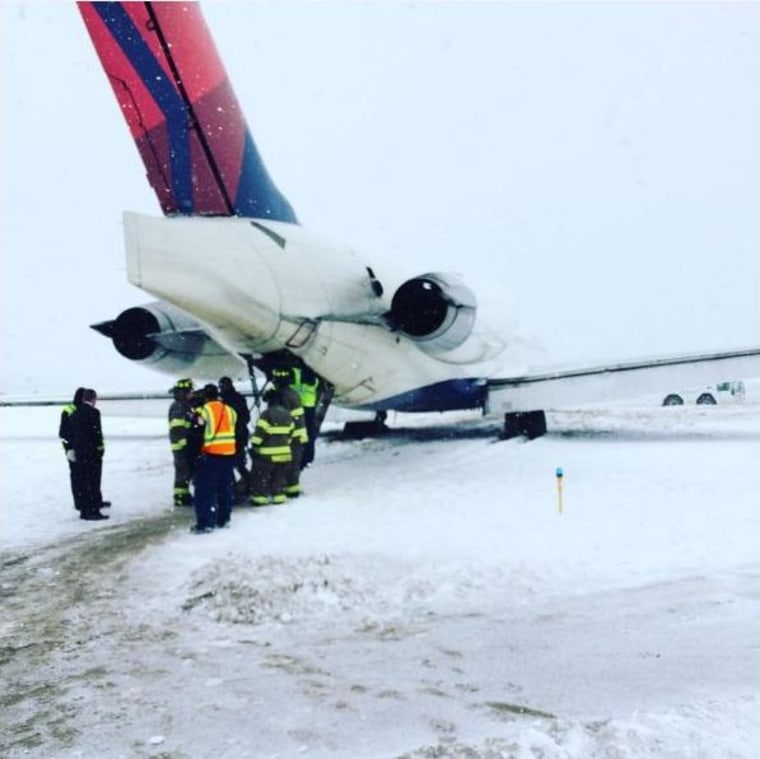 In a statement, Delta said the jet had just landed and was turning from the runway onto the taxiway when It "left the pavement" and swerved onto the snowy grass.
"Some excitement in Detroit trying to get home from MLS Cup," a passenger posted on Twitter alongside an image that showed four fire engines approaching the plane. "Everyone's ok, but definitely not making the connecting flight."
Delta confirmed the account, saying none of the 65 passengers or five crew members aboard were injured.
In Chicago, temperatures were forecast to remain in the upper-20s Monday with light snow possible throughout the day, NBC Chicago reported. Those temperatures could fall further to as low as single digits by Tuesday.
The storm began in the Pacific Northwest last week, where freezing rain downed power lines across Portland, Oregon, triggering nearly 400 emergency responses across the city, including a darkened, stalled train with 100 passengers aboard.