Old Man Winter is wide awake now.
Forecasters were cautiously expressing higher confidence Tuesday that tens of millions of Americans in the Northeast and the mid-Atlantic could be buried under more than a foot of snow late this week, while the South was already being locked in a deep freezer.
Sub-freezing temperatures were widespread Tuesday from the Midwest to the East Coast and as far south as northern Florida. Parts of western Kentucky and southern Missouri were expected to get as much as 8 inches of snow overnight before the storm moves south, forecasters said.
In much of North Georgia, a winter weather advisory was upgraded to a winter storm warning beginning about dawn Wednesday through midnight.
The National Weather Service said as much as a quarter-inch of ice could accumulate in northern parts of the state, in addition to up to 2 inches of snow, while snow accumulations of 3 inches are likely in Tennessee, with 4 inches near the Kentucky border.
Because temperatures will top out in the low to mid-20s, the snow will quickly stick to roads, probably creating major snarls for the morning rush hour across the big cities of the Deep South and the middle Mississippi and Tennessee valleys, said Scott Kurtz, an editor for The Weather Channel.
Expecting the right conditions, the Parks Services Department in Paducah, Kentucky, organized a snow sculpture contest, urging appropriately creative — and competitive — families to send in pictures of the most elaborate creations they could come up with.
"The only requirement is that the sculpture must be made from real snow," it said.
Farther north, anticipation was building for what the National Weather Service said could be a separate major winter storm with heavy snow, gusting winds and coastal flooding later in the week.
Forecasting models don't yet agree, but "somebody's going to get a lot of snow," said Ari Sarsalari, a meteorologist for The Weather Channel. "It's just a question of who that is."
A foot of snow could hit the so-called Northeast Megalopolis — Boston, New York, Philadelphia, Baltimore and Washington, D.C. — on Friday or Saturday, with the potential for some areas northwest of Interstate 95 to get as much as 2 feet, the Weather Service said late Tuesday afternoon.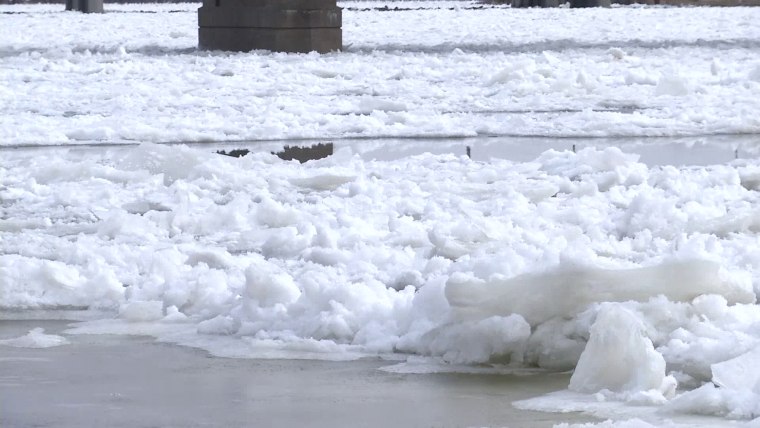 If that happens, it would be the first time in almost 13 years that all five of the largest Northeastern coastal cities will have gotten a full foot of snow on the same day, according to Weather Service records that indicate that the last time was Feb. 17, 2003.
"This is the big nor'easter we've been talking about," Sarsalari said.
The Weather Service upgraded its self-assessment Tuesday afternoon to say it now has "above average confidence" that "high impact winter weather" will develop by Friday afternoon, especially in the mid-Atlantic region from New Jersey and Delaware west through Pennsylvania, Virginia, West Virginia and Maryland.
The storm could be "particularly vicious along the New Jersey and Delaware coasts," where the chance of heavy snow could coincide with heavy wind gusts to create the potential for major coastal flooding, the Weather Service said.
It urged travelers in the region to finish any travel by noon ET Friday, warning: "It's not worth the risk for waiting since the initial ... thump of this storm may be substantial Friday evening," with the potential for snow falling at the rate of an inch per hour.
Kevin Roth, lead meteorologist for The Weather Channel, said: "Winter is ramping up. For many areas, this will be the biggest snowfall of the season so far, and for some it could be the biggest they will have all year. It will be significant."
In Boston, where the head of the Massachusetts Bay Transportation Authority, or MBTA, was forced to resign last February because the agency couldn't clear snow from rail lines for a day and a half, transit authorities were taking no chances.
Even though the forecast for Boston remains up in the air, the MBTA deployed extra equipment to remove snow and keep tracks from freezing.
"They seem to be doing a lot better this year, so I'm keeping my fingers crossed," Jennifer Rambridge, who rides the Green Line from Riverside to Boston every day, told New England Cable News.
Wherever the heaviest snow falls, officials will have a hard time beating the spectacular weather advisory that Keith A. Butcher, superintendent of schools in Nicholas County, West Virginia, sent pupils and parents Tuesday morning.
In a recorded message sent by the district's phone message service, Butcher announced that schools were closed Tuesday by singing a version of Adele's smash hit song "Hello."
Among the lyrics:
Hello, it's me.
I was wondering if since it's so cold you'd stay at home and have a snow day.
What do you say?
They say the day will be much warmer, but it's not warmer yet.
Hello, can you hear me?
Butcher later posted his "sincere apologies" to Adele on his Facebook page.