The biggest snowstorm for the mid-Atlantic since 2019 kicked off the first full week of the new year: More than a foot of snow fell across portions of Maryland, Delaware and southern New Jersey.
Huntingtown, on Maryland's Eastern Shore, recorded what was possibly the largest total in the region, with an accumulation of 15.5 inches by mid-day Monday, according to the National Weather Service.
In New Jersey, where Gov. Phil Murphy declared a state of emergency in five southern counties, he called the storm the "most significant" snow event in four years. Egg Harbor Township, north of Cape May, saw 13.5 inches by Monday night, the weather service reported.
Earlier, accumulating snow fell across portions of northern Alabama, north Georgia, much of Tennessee and as far south as the Florida Panhandle.
Thundersnow was reported in Alabama, Tennessee, North Carolina, Virginia and Maryland.
The severe weather appeared to be responsible for the deaths of two children.
In rain-soaked Decatur, Georgia, a tree fell on a home and killed a 5-year-old boy Monday morning, fire officials told NBC affiliate WXIA. In snow-battered Townsend, Tennessee, a tree fell on a home and killed a child who had been in their bedroom, according to NBC affiliate WBIR.
Three people in the Washington D.C., area were also killed when their SUV collided with a snowplow on Monday night, authorities in Montgomery County, Maryland, said.
An investigation into the cause of the crash was still underway and it wasn't clear whether the snowplow was operating at the time, Montgomery County police spokeswoman Shiera Goff said.
Hundreds of thousands of people lost power in the storm. By Tuesday morning, more than 375,000 had no service in the mid-Atlantic region. Virginia had the most outages, with over 281,000 customers still without power, according to PowerOutage.us, which aggregates data from utilities across the U.S. Tens of thousands more were without electricity in Maryland, North Carolina, Tennessee and Georgia.
New York City, which was forecast to see as much as a few inches of snow, saw almost nothing after the early morning, NBC New York reported.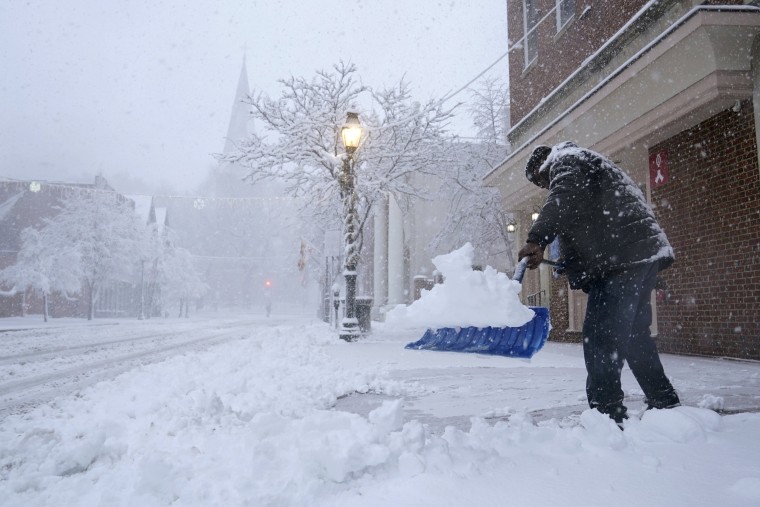 The dynamic storm system had a severe thunderstorm side, too.
The southern side of the mid-Atlantic snowstorm produced severe thunderstorms Monday morning across the eastern Carolinas.
Monday morning featured a tornado watch for cities including Myrtle Beach, South Carolina, and Cape Hatteras, North Carolina, and severe thunderstorms capable of damaging winds and isolated tornadoes charged through the eastern Carolinas. Flash flooding was also a concern.
To add more shock to the biggest snowstorm in years, the snow came on the heels of spring-like warmth over the weekend.
After highs Sunday soared into the 70s across the Southeast and 60s across the mid-Atlantic and Northeast, highs on Monday will be 20 to 30 degrees lower.
These sharply colder temperatures could cause wet roadways to freeze Monday night into Tuesday morning, leading to icing concerns on roadways.