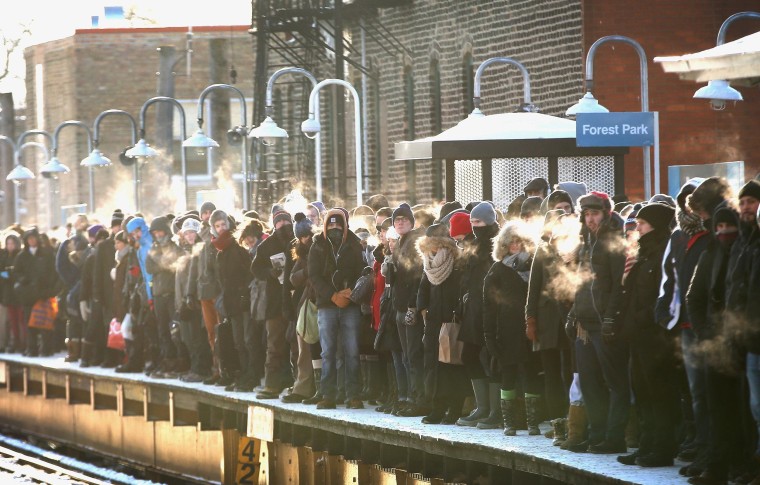 Temperatures are set to drop again in parts of the U.S. starting Sunday, a forecast that already is prompting the return of the phrase "polar vortex," but meteorologists said that term is not entirely accurate for the below-average temperatures.
The "polar vortex" is a real weather phenomenon, just not one that actually visits the United States, they say. It's actually a circular weather pattern that has always been stationed above the Arctic, explains weather.com.
According to the National Oceanic and Atmospheric Administration (NOAA), the swirling high-altitude system never moves into the U.S., though parts of it can "break off" and push cold air south.
The first stops for the next wave of cold air are the Upper Midwest and Great Lakes region on Sunday, according to Weather.com. The Northern Plains to the Upper Mississippi Valley, Great Lakes, Ohio Valley and Northeast will get hit by the blast on Tuesday into Thursday.
Temperatures will hover in the single digits and teens in these areas, which are 10 to 25 degrees below average for this already-chilly time of year.
Parts of the Upper Midwest can expect temperatures in the negative teens, according to Weather.com.
Temperatures in the South will also be below average, but only by 5 to 15 degrees, Weather.com forecast. The Carolinas and Georgia can still expect highs in the 40s.
Meteorologists assured that late January's cold outbreak will not be as unbearable as the one earlier in the month and wind chills will not be as cold as they were in the first days of the new year.
The bottom line: For those who made it through the first polar vortex temperature tantrum, this one will be a walk in the park. (But if you're going for a walk in the park, be sure to bundle up!)