Colorado was recovering Thursday from a powerful storm that brought blizzard conditions that stranded drivers, knocked out power and closed all of the Denver airport's runways, while a late winter storm swept across the nation and dropped snow and rain in the Plains.
Iowa Gov. Kim Reynolds issued a disaster proclamation Thursday in response to severe weather and flooding, and flooding was reported in Nebraska.
In far western Kentucky, a tornado touched down in West Paducah Thursday morning, state police said. One person was injured, but the injury was not life-threatening, state police said. Several roads were closed due to downed power lines.
"I saw the trees coming up out of the ground and flying through the air and power lines coming up and laying down over the road," said McCracken County sheriff's Sgt. Ryan Willcutt, who was responding to the severe weather and in his car when the tornado struck.
The storm "spun my car to the side just kind of put my head down and covered my head and just kind of prayed for the best," Willcutt said. McCracken County Sheriff Matt Carter said approximately three homes were "totally devastated" and others were damaged.
The Colorado National Guard said they had checked 250 stranded vehicles and rescued 93 people by early Thursday afternoon — "Plus two dogs!" The Associated Press reported that the Guard was using specialized vehicles with tank-like tire treads in the heavy snow.
"What a day. What a night," Denver Mayor Michael Hancock said at a briefing Thursday morning, thanking city staff, law enforcement and others who helped assist people during an "epic storm."
Denver International Airport saw just over 7 inches of snow during the storm, while places in Weld County north of Denver saw 9 inches, the National Weather Service said in a statement Thursday morning.
In El Paso County, south of Denver, more than 1,100 motorists were stranded Wednesday night, according to the sheriff's office.
Utility company Xcel Energy said that as of 6 p.m. Thursday an estimated 30,000 customers would be without power into Friday, with most of those in the Denver metropolitan area. In New Mexico, around 16,800 of its customers were still without power.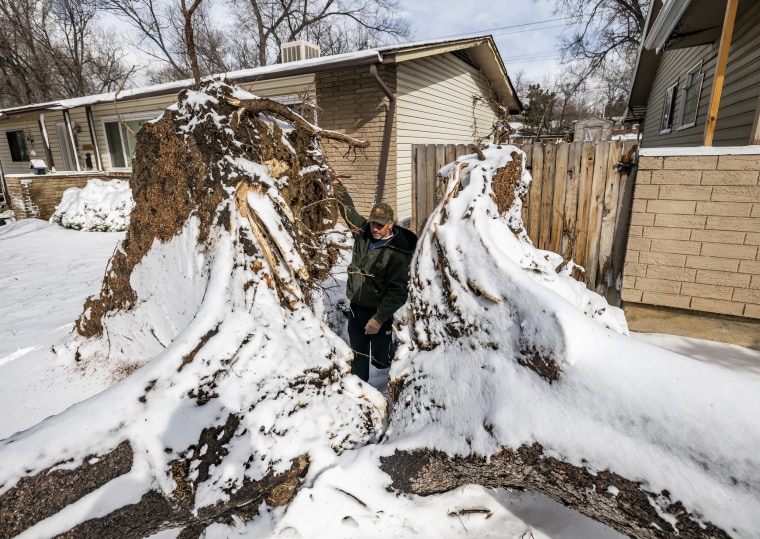 Winds in Colorado Springs gusted at 97 mph Wednesday, and 80 mph at Denver International Airport, which closed all runways simultaneously for only the fourth time in its history. Almost 1,400 flights were canceled Wednesday because of white-out conditions. By Thursday afternoon all six runways were open, the airport said.
Hancock, Denver's mayor, said in the morning that around 80 traffic signals were out, and warned drivers that roads were slick and icy. He said that authorities, prevented from using high-profile buses due to the weather, used vans and other vehicles to transport around 1,000 people to shelter during the storm.
There was flooding in parts of Nebraska, and the state patrol tweeted photos of a sport-utility vehicle stuck in water up to the top of its wheels in Adams County. A state trooper rescued a calf that was "frozen to the ground" after a blizzard near Sidney, the patrol said.
"We are still going to be impacted by these weather conditions for the next several days, especially when it comes to the flooding," Nebraska Gov. Pete Ricketts said Thursday afternoon. "This will be an event that will be ongoing through the weekend."
Emergency crews responded after a vehicle was swept off a road in Norfolk, Nebraska, and rising water along the Elkhorn River prompted evacuations in the city of 24,000, the Associated Press reported. The missing individual had not been found by midday Thursday.
In Iowa, a woman was rescued from floodwaters in Dallas County on Thursday morning, and she was told to sit on the roof of her Jeep until help arrived, NBC affiliate WHO of Des Moines reported. The woman was not hurt.
Flood warnings and advisories stretched from central Nebraska and southeastern South Dakota to parts of eastern Iowa on Thursday evening, and parts of Wisconsin and Michigan were under flood watches, according to the National Weather Service. Wind advisories and warnings covered a swath from parts of Missouri to western Ohio and eastern Kentucky.
The storm may have contributed to at least one death. A Colorado State Patrol officer, Cpl. Daniel Groves, 52, was killed Wednesday after he was struck by a vehicle on Interstate 76 while responding to another vehicle that slid off the road.
The state patrol said Thursday that a woman helped Groves, and they were asking for the public's help in locating what it called a good Samaritan so investigators can find out what she witnessed.
In New Mexico, the storm's high winds derailed a train Wednesday, according to state police. No injuries were reported. And in Texas, the intense winds flipped a semi truck in Amarillo.
Meteorologists say a sudden and severe drop in ground-level air pressure, allowing air to rush in and rise into the atmosphere, causes storms of this severity. They call the rapid change in pressure a "bomb cyclone" or "bombogenesis."