Boston is buried again.
The city was hammered Monday by its third winter storm in two weeks, and records fell with the snow.
Counting the 20 inches of snow that had fallen at Logan International Airport since late Saturday, there was 37 inches on the ground, beating a 1996 record for the greatest snow depth in Boston.
Over the past 30 days, Boston has recorded more than 69 inches of snow, easily topping the previous record of 58.8 inches from Jan. 9 to Feb. 7, 1978. And with a month and a half of winter still to go, this season is already one of the city's 10 snowiest winters on record, at 73.9 inches and counting, the National Weather Service said. City officials said crews have used up almost 58,000 tons of salt already this season.
The National Weather Service forecast as much as 3 feet of snow across the state by Tuesday night, when the storm is expected to clear.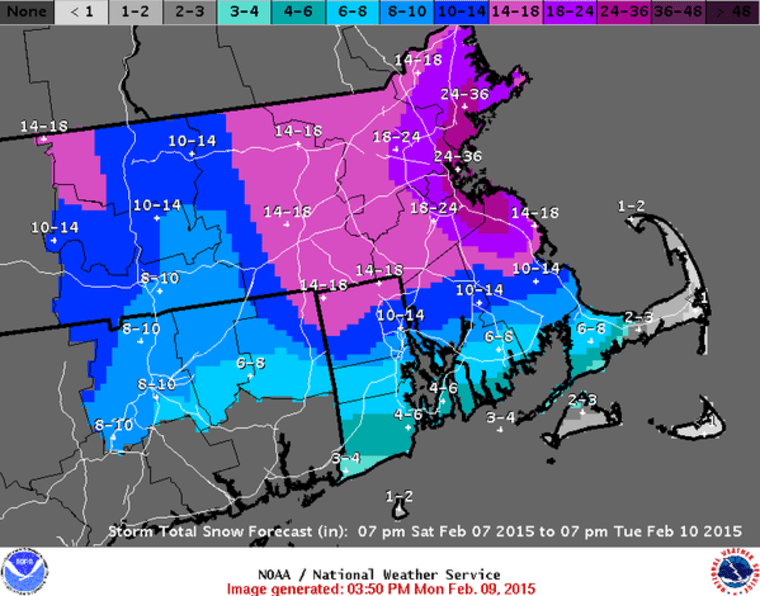 "We've never seen the likes of this here in Boston," Mayor Marty Walsh said. "We've gotten whacked pretty good over the last, literally, 13 days."
The snow was causing another problem: the danger of structural collapse.
The Pentucket Regional School District, in Essex County north of Boston, canceled classes for the rest of the week "due to the accumulation of snow on roofs," the district said Monday nightBecause the district begins a week of February vacation next week, students won't be back in class until Feb. 23 at the earliest.
In Rockland, in Plymouth County, a half-dozen people ran for safety Monday when the sheet metal shop they were in crumpled under the weight of the snow, NBC station WHDH of Boston reported. "Everything started bending and twisting, and the building came down really slow," said Frank Scolaro, the building's owner. "And everybody just ran for the doors, and everybody got out OK."
Massachusetts Gov. Charlie Baker declared a statewide emergency to speed the state's response.
The Massachusetts Bay Transportation Authority, also called the T, said all subway, trolley and light rail service would cease at 7 p.m. Monday through Tuesday because of accumulating snow on the tracks — a repeat of suspensions and delays that frustrated officials during last week's storm.
Baker called transit problems "simply not acceptable" and said that because of the MBTA's announcement, non-essential state workers in Boston and its four adjoining counties should stay home Tuesday. "Once it stops snowing, we plan to have a long conversation with the folks at the T about improving performance," he told reporters Monday afternoon.
In the Boston suburb of Medford, a plowing truck struck and killed a 60-year-old man Monday afternoon as he was walking through the parking lot of the store where he worked, the Middlesex district attorney's office said. Walsh encouraged people to stay off the roads to let snowplows clear the streets.
It doesn't help that the state's snow removal budget has already been drained dry, Boston Police Commissioner William Evans said. He said local and state officials would seek emergency federal funds.
"We've had our hands full," Evans said. "Boston's an older city. We have narrow roads. There's just no place to put the snow anymore."
The snow did help cops in nearby Worcester, however. A man suspected of robbing a convenience store and shoving the clerk to the ground was tracked down thanks to his footprints — which led directly from the store that was robbed to the Meade Street doorstep of Jonathan Campbell, 31. Worcester police said in a statement that Campbell was charged with unarmed robbery and assault and battery.
Elsewhere, snow was falling across almost all of New York state and across all six states of New England. Somerset, Vermont, had 14 inches, and Amsterdam, New York, had 13.8 inches. More than 600 arrivals and departures were canceled Monday at New York's LaGuardia Airport.
Forecasters warned that ice accumulation was possible in Pennsylvania, New Jersey, Delaware and Maryland.
The snow was expected to move out by early Tuesday — but two more possible storms were on the way. It was too soon for forecasters to know for sure, but they said a winter storm expected on Thursday could be a big headache for the Northeast, with Boston possibly again in the cross-hairs.
That was to be accompanied by the coldest air of the season — wind chills of 10 to 30 below zero from New York northward.
"It's just becoming absurd at this point," said Ari Sarsalari, a meteorologist for The Weather Channel.