LOS ANGELES — The heat smothering the western United States has become so extreme that the National Weather Service warned Tuesday of a major potential for heat-related illnesses "and even death."
Sidewalks and roadways buckled in Northern California, the water was too hot for horses to drink in Southern California and more than 40 flights were canceled in Phoenix as temperatures approached 120 degrees in parts of Arizona, California and Nevada.
Excessive heat warnings and advisories stretched the length of California, across all of Arizona, north into Utah and Nevada and east into New Mexico on Tuesday.
"We are talking really hot temperatures," said Domenica Davis, a meteorologist for The Weather Channel. "This is actually the peak of the heat that we're seeing in the desert Southwest, where we're talking all-time record highs that can be broken."
Related: Don't Fry: 3 Stages of Heat Stroke You Need to Know
Records were smashed across Arizona. The high of 120 degrees in Yuma broke the previous record by 4 degrees. Highs of 119 in Phoenix and 116 in Tucson also set new marks, according to the National Weather Service.
In Las Vegas, the all-time record high was tied at approximately 4 p.m. on Tuesday after temperatures soared to 117 degrees, according to the Associated Press.
Extreme temperatures in the Sacramento, California, area, where the high hit 105 on Tuesday and was expected to reach 108 on Wednesday, expanded moisture in the soil after an unusually wet winter, causing sidewalks and parts of U.S. Route 50 to break apart and sink.
The state Transportation Department said it had responded three times since Sunday to repair cracked pavement on Route 50, shutting down parts of the heavily traveled road for several hours at least twice.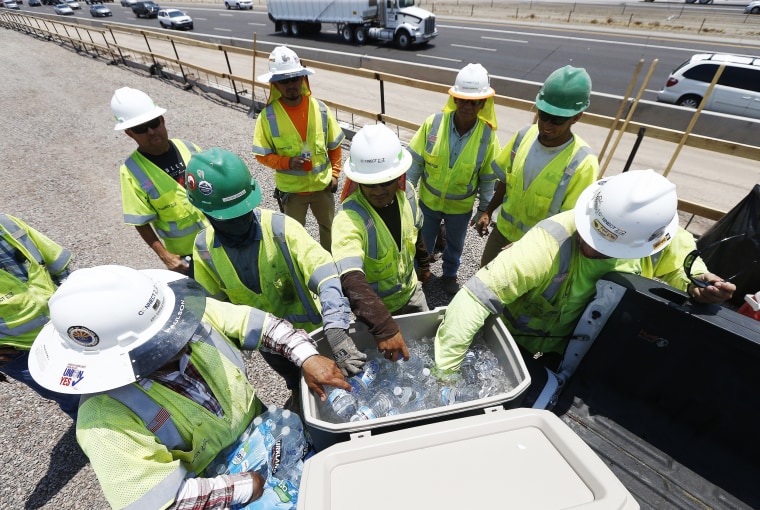 "We're having high temperatures and we're not even in summer yet," Gilbert Montessori-Chan, a spokesman for the Transportation Department, told NBC affiliate KCRA. "We don't know what Mother Nature will bring."
In Indio, in Southern California near Joshua Tree National Park, the water is so hot that some of the horses at Coachella Valley Horse Rescue can't drink it. Indio reached 118 degrees on Tuesday, breaking a record that had stood for 87 years.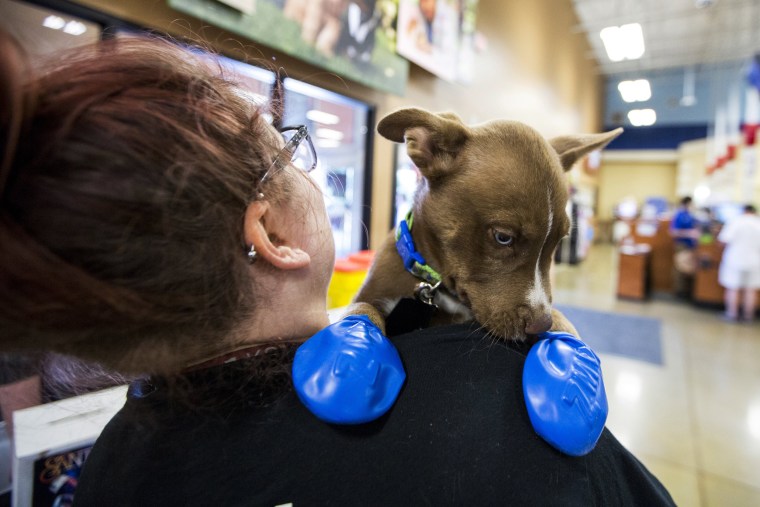 Annette Garcia, the shelter's rescue director, told NBC station KMIR of Palm Springs that staffers have to go stall by stall dropping blocks of ice in the horses' drinking water.
"Unfortunately, not all of our stalls have electricity, so we don't have misters and fans for every horse. We hose down the horses to cool them off — but we have to squeegee them, like you do your mirror at home, to keep them cool," Garcia said.
Related: Heat Waves to Get Worse, Affect More People: Study
"If they stay wet, they stay hotter, believe it or not," she said. "We hose them off and they roll in the dirt, and they can cool off with dirt on."
At Phoenix Sky Harbor International Airport, more than 40 regional departures were canceled Tuesday. Bret Jensen, a spokesman for Boeing Co., told CNBC that the problem isn't with the airplanes themselves, it's with the air, which becomes too thin to provide lift for smaller jets.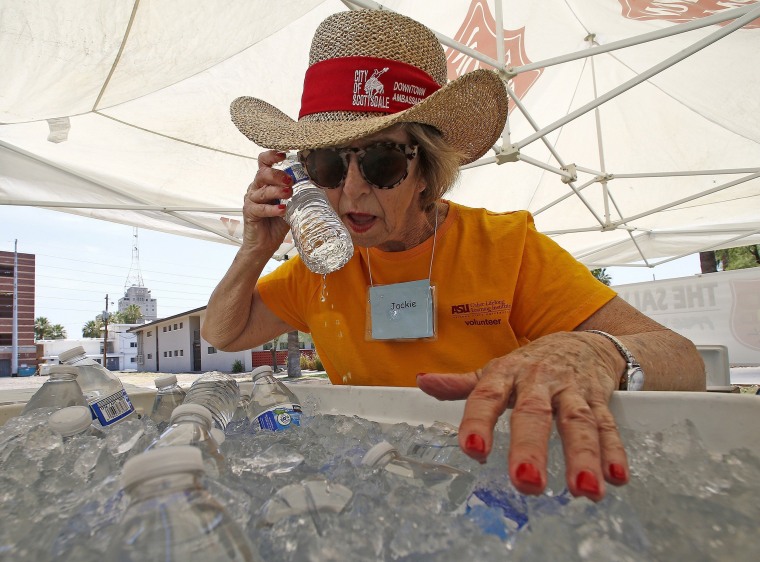 The oven is fueled by a persistent dome of high pressure parked over the western United States, the National Weather Service said. The system is expected to remain there at least through the weekend, with any cooling later this week expected to be "almost unnoticeable," it said, warning of a "major potential for heat-related illness and even death" in the days to come.
In conditions like that, everyday objects can become branding irons — "hot enough so that anybody touching something can get a second-degree burn in less than a second," said Dr. Kevin Foster, director of the Arizona Burn Center at Maricopa Integrated Health System in Phoenix.
"Touching the silver handle to a car door or sitting down into black upholstery in a car or even touching the steering wheel in a car can cause burns," Foster told NBC News.
And if you want to use your garden hose to cool off? Think twice, Foster said.
"The hose itself can be very hot," he said. "And the water coming out of the hose can be close to boiling."
Alex Johnson reported from Los Angeles. Miguel Almaguer and Steven Louis reported from Phoenix.