WILMINGTON, N.C. — Rescue crews in North Carolina waded through heavy flooding Monday in search of stranded residents after the remnants of deadly Hurricane Florence sent water rushing over riverbanks — spurring the governor to warn that there's no immediate relief from the "monumental disaster."
"Some areas have not seen the worst of the flooding yet," Gov. Roy Cooper told reporters, adding that roads, particularly in the eastern part of the state, remain "extremely dangerous."
The port city of Wilmington, which had been cut off by the rising waters, began to see resources move in after one road was reopened by Monday afternoon with the removal of trees and downed power lines and the receding of some floodwaters. Cooper, however, asked evacuees not to return to Wilmington yet, and that the road could be washed out again.
The sun began peeking through the clouds earlier in the day as Florence — formerly a Category 1 hurricane now downgraded to a post-tropical cyclone — threatened to dump more rain across the region as it moved northeast. More than 1,200 emergency responders were performing search and rescue operations, officials said.
Flash flood watches or warnings or other flood warnings stretched from parts of South Carolina and up through New England, parts of which could see downpours from the remnants of Florence by Tuesday morning, forecasters said.
The storm has been blamed for at least 31 deaths, with the majority of the victims in North Carolina. Authorities in Union County said Monday they recovered the body of a 1-year-old boy who went missing after the car his mother was driving was consumed by floodwaters on a North Carolina highway. She survived but told police she had lost his grip.
In addition, a person died at a shelter in New Hanover County, where Wilmington is located. Officials said their death may be attributed to "natural causes," and CPR efforts were unsuccessful.
With food and water supplies running low, local authorities in New Hanover County appealed for state emergency-management officials for help. Water and military-style field rations known as MREs were due to be delivered around North Carolina on Monday.
On Monday morning, officials will first try to go by land, using routes selected by the state highway patrol, said Jessica Loeper, a New Hanover County spokeswoman.
If flooding makes the roads impassable, then authorities will use airlifts, she said. When the supplies finally reach the county, they'll be distributed from three locations that will be announced Monday, Loeper said.
Many residents in Wilmington, a city of about 117,000, were trapped at home, hemmed in by downed trees and power lines. Countless homes were damaged and many homeowners who left were unable to get back to evaluate the damage to their property.
The city's first responders scrambled to keep up with requests for help, with police responding to more than 800 calls on Saturday and Sunday.
County offices were shut until further notice, with the exception of the landfill and county staff who were reassigned to emergency response and recovery efforts.
There were around 700 rescues in New Hanover County. New Hanover County Board of Commissioners Chairman Woody White on Monday said the preliminary estimate of the current cost of damage in the county is around $13 million, and contents lost at around $2.7 million. "We hope that those numbers don't get worse," he said.
Wilmington residents got a break from the rain Monday morning, but storms were expected to redevelop in the afternoon and potentially trigger more flash flooding.
Florence was a post-tropical cyclone by Monday afternoon, but the National Hurricane Center warned that "catastrophic flooding continues" over the Carolinas and flash flooding could be seen in parts Pennsylvania later in the day. Flood warnings were in place in many parts of central and eastern North Carolina, according to the National Weather Service.
"For many parts of North Carolina, the danger is still immediate. Flood waters are rising as rivers crest and will for days," Cooper said in a statement Monday. He said "the Black, Little, Lumber, Cape Fear and Neuse rivers are inundated with major flooding, and 13 more rivers are forecast to reach major or moderate flood stages."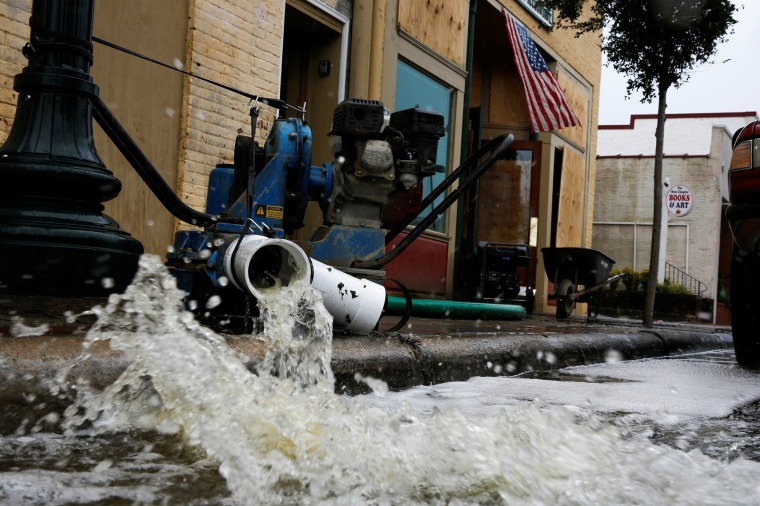 Officials warned people not to drive through floodwaters, even if they appear shallow. With major highways affected by the flooding, the North Carolina Department of Transportation advised drivers not to travel through the state.
Mandatory evacuation orders were in effect in several areas around the region, including Craven County, North Carolina, where the hard-hit town of New Bern is. With further flooding expected, a state of emergency is in effect there until Friday.
"Our city has suffered, obviously, one of the most devastating storms in its 308-year history," New Bern City Manager Mark Stephens said Monday. "As you can expect, this is a significant setback at the hands of Mother Nature, but we will prevail," he said.
The city said on its website that over 4,300 homes in the city of around 30,000 were damaged or destroyed by the storm. Damages in the city have so far been estimated at $6 million, but assessments may take weeks to complete.
More than 400 rescues took place in New Bern. There have been no reported deaths there.
About 80 miles northwest of Wilmington, floodwaters inundated Lumberton's downtown and reached more than 3 feet in areas. Temporary levees failed when water spilled from the north side of the Lumber River and coursed onto a local highway.
Dozens of people who were able to navigate through the flooded roads sought refuge at a gas station truck stop and slept overnight in their cars.
Just north in Fayetteville, the Cape Fear River continued to rise and was forecast to crest on Tuesday and hit a high of nearly 62 feet. More than 1,400 people in the city took refuge in shelters.
Parts of nearby Hoke County, around 20 miles west of Fort Bragg, were also under mandatory evacuation orders due to a potential dam breach.
Officials in North Carolina expect rescue operations to continue for several days. There have been 2,600 rescues in North Carolina as of 12:45 p.m. Monday, the state Department of Public Safety said on its website.
More than half a million people were in the dark in North Carolina late Sunday night, according to the Department of Public Safety. Duke Energy said around 223,000 of its customers remained without power as of 11 p.m. Monday, and that most of those were in North Carolina. The company said it had restored power to 1.2 million of the 1.5 million customers that lost it during the storm.
Overall in North Carolina there were more than 342,000 power outages as of 11 p.m. Monday, the Department of Public Safety said on its website.
The storm first made landfall as a Category 1 hurricane early Friday near Wrightsville Beach, northeast of Wilmington.
In Chesterfield County, Virginia, south of Richmond, one person was killed when a tornado caused a business building to collapse Monday afternoon, Virginia Deputy Emergency Management Coordinator Sherri Laffoon said.
Forecasters said that the tornado is part of severe weather caused by the remnants of Florence. Virginia warned Monday that residents of southwestern Virginia should prepare for flooding and possible landslides early next week.
Jon Schuppe reported from Wilmington, Phil McCausland from Lumberton, and Rachel Elbaum from London.