July on Christmas?
In parts of the U.S. accustomed to cozying up to the fireplace this time of year, it's going to feel more like summer thanks to the record-breaking holiday heat.
Just after midnight Friday, a daily record high reached 66 degrees in New York City's Central Park, besting the previous record of 64 degrees in 1982, according to the National Weather Service.
The unseasonable warmth follows an exceptionally balmy Christmas Eve, when the mercury hit a record 72 in Central Park — rivaling temperatures this past July for the city.
Washington, D.C., could see temperatures soar to more than 70 degrees — possibly eclipsing the record of 72 — after already hitting a record low of 60 degrees early Christmas morning, The Weather Channel reported.
All told, forecasters say, this will be the warmest Christmas Day on record for many cities up and down the East Coast, where temperatures will be between 15 and 25 degrees higher than normal this time of year.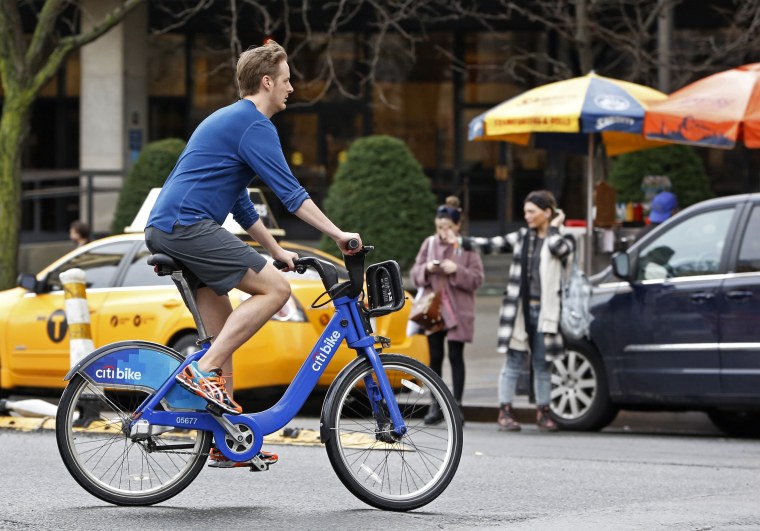 The Midwest and parts of the South will feel slightly warmer, with Chicago reaching about 44 degrees (10 degrees warmer than usual), and St. Louis at about 56 degrees (16 degrees warmer), according to The Weather Channel.
Meteorologists are attributing the mild spell to a jet stream that is locking the colder temperatures in the western United States and Canada through Sunday.
While the Big Apple baked on Christmas Eve, Los Angeles barely broke 60 degrees.
"That cold air is just not making it down … to where it typically can get this time of year," said Weather Channel meteorologist Chris Warren.
It's a pattern "like you would see more typically in summertime," he added, "so you're getting this very warm, mild and humid air into parts of the Southeast."
Despite the warmer-than-average temperatures, it will be a soggy and saturated day in parts of the country, with severe storms stretching from Texas through the Gulf states and into the Mid-Atlantic.
Flash flood watches are in effect through the weekend from the Appalachians and in the Southeast, according to The Weather Channel.
The potential for more wild weather comes after at least 14 people were killed as of Thursday night in devastating storms in Mississippi, Tennessee and Arkansas. The system spawned tornadoes that felled trees and brought heavy rains and dangerous wind gusts.
One of the youngest victims was a 7-year-old boy in Holly Springs, Mississippi, who was killed in a van as storms engulfed the town, officials said.
This see-saw weather pattern, however, is expected to calm down early next week, bringing temperatures closer to what's expected for winter, forecasters say.