An already hectic holiday travel week took a tragic turn Tuesday afternoon as at least four people were killed by tornadoes that swept through the south. Damage-causing twisters were reported in Louisiana and Georgia but the deadliest were in Mississippi.
The coroner in Marion County, Mississippi, reported two fatalities, as well as, several injuries, and the sheriff in Jones County reported two more people died when a tornado destroyed the mobile home they were in, according to NBC affiliate WDAM.
"If today's storm deaths prove to all have been caused by tornadoes, it will become the deadliest December tornado event in Mississippi since 38 died in the Vicksburg tornado of Dec. 5, 1953," according to Weather Channel senior digital meteorologist Nick Wiltgen.
Mississippi Governor Phil Bryant issued a state of emergency for those two counties at around 7 p.m. ET. Emergency management officials in Mississippi said that tornadoes closed U.S. Highway 98, damaged multiple homes and left some 8,000 customers without power. Golf ball-sized hail fell in Enterprise, Mississippi, along with some pea-sized hail in the Bude area.
The National Weather Service said a tornado watch was in effect late Tuesday for parts of Alabama, Louisiana, Mississippi and Texas and warned of the possibility of 2-inch-wide hail. Roy Lucksinger, a meteorologist for The Weather Channel, said 3 to 5 inches of rain was possible across the South. There were also reports of at least two other tornadoes Monday afternoon: One near Amite City, Louisiana, which caused tree and power line damage, according to the Weather Channel; and one near Valdosta, Georgia.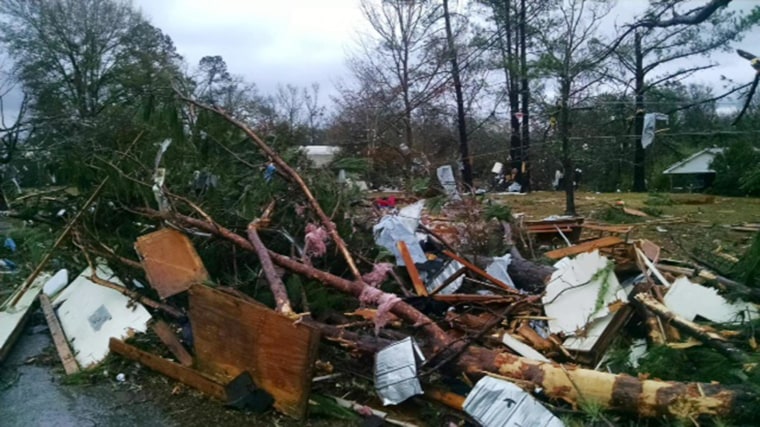 Meanwhile, flight delays began piling up at East Coast airports on Tuesday because of the tornado-storm system packing strong winds, thunderstorms, snow. Another system is threatening rain and heavy snow in the Northwest and Rockies. And dozens of flights were scrapped at Philadelphia International and at LaGuardia in New York, and delays ran as long as two hours.
The East Coast system will pivot to the north on Wednesday, bringing heavy rain and gusty winds into the Great Lakes. Chicago and Milwaukee could see "significant" snowfall toward the end of Christmas Eve, Lucksinger said.
"At the moment the system could just clip Chicago on Christmas Eve with potentially heavy snow that would certainly disrupt flights," Lucksinger added.
And a separate storm arriving in the Pacific Northwest on Wednesday is set to bring rain before moving across the Rockies. Salt Lake City could see up to 8 inches of snow on Christmas Day.
SOCIAL
— Alastair Jamieson and Hasani Gittens