You may be over the bitter cold, but the bitter cold isn't over.
More than 120 million Americans in a large swath of the eastern United States woke up Saturday to frigid temperatures. Cities such as Boston, New York and Philadelphia were in the single digits with wind chills in some regions, including New England, expected to make temperatures feel as low as 25 to 40 degrees below, according to the National Weather Service.
In Portland, Maine, temperatures were set to reach a high of only 5 degrees below and a low of 20 degrees below, the NWS said. Highs were also expected to remain in the single digits across the lower Great Lakes stretching down to the Carolinas.
At New Hampshire's Mount Washington — the highest peak in the Northeast at nearly 6,300 feet above sea level — conditions early Saturday plunged to minus 36 degrees with a wind chill making it feel like minus 92, the NWS said.
"Suffice to say, it will be a brutally cold weekend," the weather service said for the millions of Americans enduring the bone-chilling cold, "but some relief is in sight heading into early next week."
The East Coast was already recovering from a winter storm that brought more than a foot of snow, hurricane-force winds and flooding in the last few days.
Related: Why climate change may be to blame for dangerous cold blanketing eastern U.S.
New York's John F. Kennedy International Airport was still working to restore regular service Saturday, days after a blizzard snarled air traffic and canceled flights.
Hundreds of airline passengers were forced to sleep inside the airport's terminals Friday night, as FAA and Port Authority officials continued to deal with ongoing delays because of the storm.
Making matters worse, two passenger jets collided on the tarmac early Saturday, according to NBC News New York. A China Southern plane clipped the tail of a Kuwait airliner and damaged both aircraft.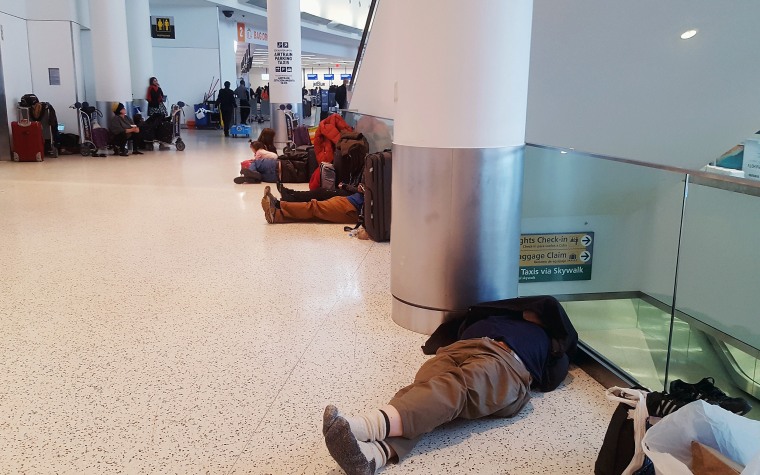 No one was aboard the planes at the time of the incident, NBC New York reported.
Lily Crawford, 23, said told NBC News that she was supposed to board the China Southern flight to Shanghai on Friday, but her flight was delayed for 16 hours before being outright canceled. She later learned it was involved in the collision.
"We were all lined up waiting at the gate and all of a sudden the board says cancelled," Crawford said.
"There's no chairs because there were too many planes in the terminal, so we were literally sitting and lying down in the floor in the middle of JFK Terminal 4 while other planes are going off."
She added that hundreds of other passengers — many of them angry — crowded the airport's customer service desk in an attempt to reschedule their flights.
JFK officials later tweeted that the Port Authority and the FAA was working to limit the number of arrivals to the airport in order to continuing to deal with ongoing backlog of flights.
Homeowners south of Boston spent Friday trying to dry out their storm-soaked basements before even more bone-chilling temperatures came knocking on their doors.
"I've never been afraid," Dianne Davis, a longtime resident of the seacoast town Scituate, told The Associated Press. "But when the water was coming up over my front steps, that's when I said ... 'OK, this is getting serious.'"
Even more temperate locations couldn't escape the cold this weekend, with the mercury dipping into the single digits in Baltimore and Washington, D.C., — about 20 degrees below normal for this time of year, forecasters said.
Charleston, South Carolina, will feel like 26 degrees, Atlanta like 18 degrees and parts of northern and central Florida won't reach 30 degrees.
"It's going to be extremely uncomfortable for a lot of us as we go through the days ahead," said Heather Tesch, a meteorologist for The Weather Channel, adding that over a dozen records for low temperatures across several states could be shattered into Saturday.
Photos: 'Bomb cyclone' slams East Coast with wind and snow
"Remember, there are people without power due to the recent storm," she said.
More than 11,000 customers from Florida to Maine remained without power Saturday. Most of the outages were in Virginia, the Carolinas, New York and Pennsylvania.
Jess Flarity, a 32-year-old visiting a friend in Concord, New Hampshire, told the AP the raw air brought back memories of his time in Alaska.
"I've been in minus 60 before, so minus 20 doesn't frighten me," he said. "But I did have to prepare, bring some extra cold weather gear — gloves, boots and those kinds of things."
The winter storm this week has led to the deaths of at least eight people, according to officials and local reports.