As West Virginia continued to clean up after devastating floods washed over the state, a bit of bright news accompanied Monday's sun: two people who officials thought had been swept away were found alive.
The West Virginia Medical Examiner's Office revised the death toll caused by rains that deluged the state for days from 25 to 23 Monday. Twenty victims were confirmed dead, and three were missing and presumed dead, the medical examiner said.
A break in rain and receding floodwaters Sunday and Monday allowed for search and rescue teams to go door-to-door, finally, to search for people who hadn't been heard from since the downpours began Thursday.
Gov. Earl Ray Tomblin's administration said people could still be missing in Greenbrier County, where 15 people were killed. Six more were killed in Kanawha County and Ohio County and Jackson County each saw one death.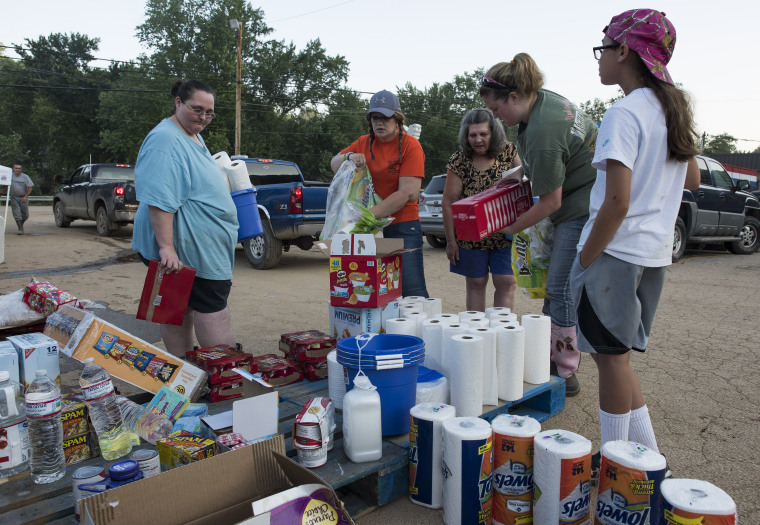 Tomblin planned to tour the devastation late Monday morning.
Hundreds of homes across the state were damaged or completely destroyed, and the Red Cross reported they had more than 400 people in shelters on Monday.
Residents in the Greenbrier town of White Sulphur Springs, even those who lost everything, were trying to stay positive.
"It's actually good to see the community pull together in something like this because this town has never faced anything like this. This is the worst disaster ever, that I know of," resident Nick Glover told NBC station WVVA.
President Barack Obama on Saturday signed a federal disaster declaration for the state and called Tomblin to promise recovery resources.
Sunday marked the first day that people could apply for Federal Emergency Management Agency aid in Greenbrier, Kanawha and Nicholas counties, Tomblin announced in a tweet.
On Monday, more than 9,294 residents were still without power, down from 10,000 the night before according to the West Virginia Division of Homeland Security and Emergency Management. The number was more than double that on Saturday.
Tomblin declared a state of emergency Friday in 44 counties throughout the state, saying the flooding was "the worst in a century" for many areas. He said he would seek further assistance for those counties. About 500 homes were damaged just in the county of Roane, with about 15,000 residents, according to the Division of Homeland Security.
"We realize many other counties experienced significant damage and we will be following up in those areas," Tomblin said.