The first international aid arrived in Vanuatu on Sunday after Cyclone Pam tore across the Pacific archipelago, killing at least six and leaving widespread destruction.
With winds of more than 185 mph, Cyclone Pam razed homes, smashed boats and washed away roads and bridges as it struck late on Friday and into Saturday. Aid workers described the situation as catastrophic.
"The situation is a disaster," Jacqueline De Gaillande, the CEO of Vanuatu Red Cross, told NBC News. "Most people have lost their homes. All the roofs have gone. People are outside trying to find their belongings on the ground. Lots of trees have fallen on the houses. It's really a big disaster."
De Gaillande told NBC News that six deaths have been confirmed, but the number could rise when rescuers reach Vanuatu's more remote islands, most of which had lost all means of communication.
With power lines and phone circuits down, officials in the capital had no way of knowing what the scope of the damage was on the outer islands, where the storm made a direct hit.
"We haven't been able to communicate outside Port Vila," said Paolo Malatu, the coordinator for the National Disaster Management Office. "At this point, the damage is severe and we haven't had figures of how many houses destroyed. ... It's really bad."
Malatu said two people were confirmed dead and another 20 people were injured in the capital, Port Vila.
Aid agency Oxfam said up to 90 percent of housing in the nation's capital, Port Vila, had been seriously damaged.
"This is likely to be one of the worst disasters ever seen in the Pacific," Oxfam's Vanuatu director, Colin Collet van Rooyen, said in a statement.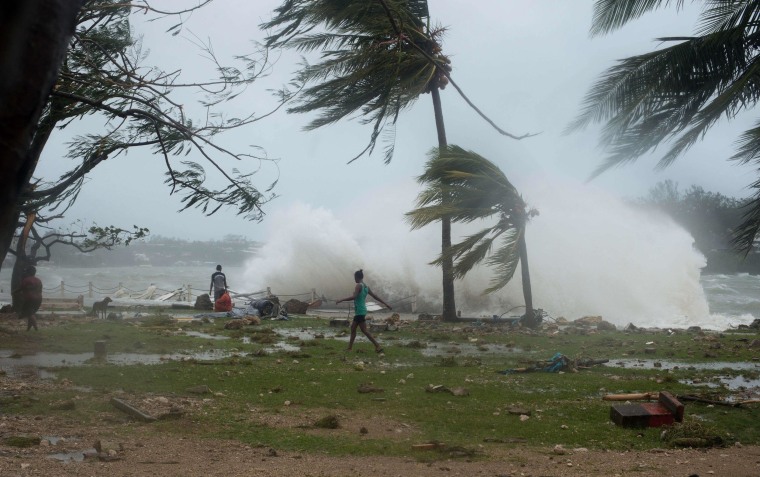 "The scale of humanitarian need will be enormous and the proud people of Vanuatu are going to need a lot of help to rebuild their homes and their lives. Entire communities have been blown away."
The Australian Defense Force said two C-17A Globemaster III military transport planes would deliver humanitarian aid and disaster relief supplies over coming days. The first shipment of aid and emergency management officials arrived in Port Vila at around noon Sunday local time, the Australian government said.
New Zealand also promised funds and sent crews and eight tons of supplies to Vanuatu, according to the foreign ministry spokesman. Two more planes would bring medical and Red Cross personnel from New Zealand on Monday, the spokesman said.
Cyclone Pam made landfall just after 11:20 p.m. local time Friday. Residents were still hunkered down Saturday night, but awoke to calmer weather Sunday.
In Port Vila — one of the few parts of the country that still had open lines of communication — families took shelter in schools and churches that were being used as emergency shelters, relief organization UNICEF said.
"Some of them have been destroyed or suffered some damage, but at least they are some of the more stable structures in the capital," said Najwa Mekki, a UNICEF spokeswoman.
Because many homes are built with flimsy corrugated or thatched roofs, "it's very likely that families will have to stay in the evacuation centers for a while," Mekki said.
"The island is simply flattened," said Peter Lawther, a Red Cross shelter specialist, in a statement released Sunday, which said 26 evacuation centers had been set up in Port Vila alone.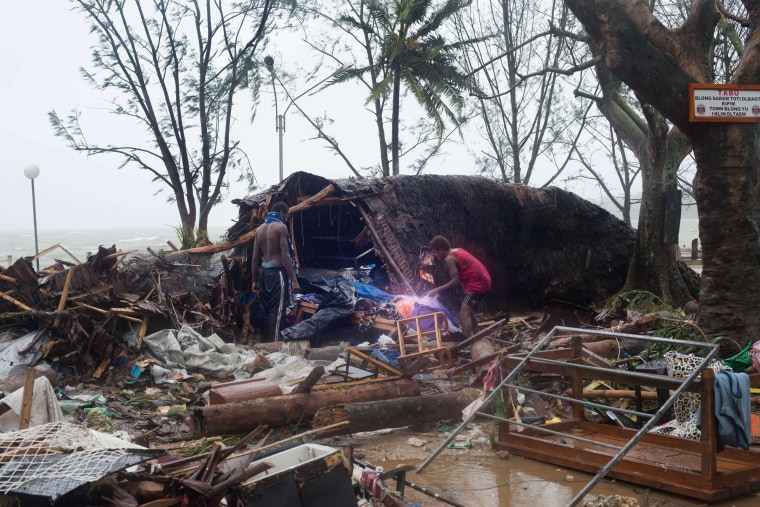 In a video diary filed from the capital city, UNICEF's Alice Clements said she had spent the night huddling underneath a bathroom sink.
"I'm listening to the roof, which sounds like it's lifting, and I'm just holding on for dear life here," she said. "This is going to be a horrific humanitarian disaster."
Photo Gallery: Monster Storm Sweeps Through Vanuatu
Chloe Morrison, a World Vision emergency communications officer in Port Vila, told The Associated Press that the streets were littered with roofs blown from homes, uprooted trees and downed power lines. She said she had heard reports of entire villages being destroyed in more remote areas.
"It's still really quite dangerous outside," she said. "The damage is quite extensive in Port Vila, but there are so many more vulnerable islands. I can't even imagine what it's like in those vulnerable communities."
"It will still take some time before we really understand the full extent of the damage," Aurélia Balpe, head of delegation for the International Federation of Red Cross in the Pacific, echoed in a statement released Sunday.
U.N. Secretary General Ban Ki-moon said the impact and scope of the disaster wasn't yet clear, but he feared the damage and destruction could be extensive. The U.N. said it was preparing to deploy emergency rapid response units.
"We hope the loss of life will be minimal," he said during the World Conference on Disaster Risk and Reduction in Japan.
The president of Vanuatu, Baldwin Lonsdale, was also at the conference, and told participants that he did not yet know the extent of the cyclone's impact.
"I am speaking to you today with a heart that is so heavy," he said. "I stand to appeal on behalf of the government and the people to give a helping hand in this disaster."
Located about a quarter of the way from Australia to Hawaii, Vanuatu has a population of 267,000 spread over 65 islands. About 47,000 people live in the capital. A westward change of course put populated areas directly in the path of Cyclone Pam's winds at the equivalent of a Category 4 hurricane.
IN-DEPTH
SOCIAL
— Matthew Grimson, Elisha Fieldstadt ,The Associated Press and Reuters contributed to this report.